The facts: How we're fighting hunger in Ethiopia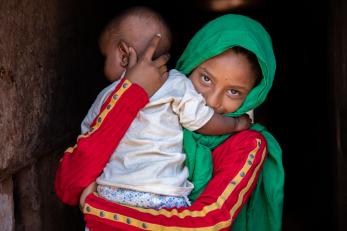 June 27, 2019
Whether there's food on the tables of millions of families in Ethiopia is dependent primarily on one thing: the weather.
Separated from the sea by Eritrea, Djibouti and Somalia, this landlocked country in the Horn of Africa is home to nearly 105 million people, almost all of whom rely on rain-fed agriculture, including crops and livestock, for the food and income they need to survive.
This heavy reliance on agriculture has left families vulnerable to hunger for decades, and recent droughts, exacerbated by other hazards like flash floods, extreme poverty, conflict and displacement, have left millions of people in crisis.. Today, the United Nations reports nearly 8 million people do not have the food they need, including 4.2 million children.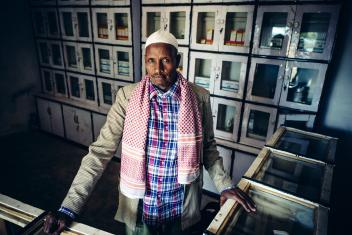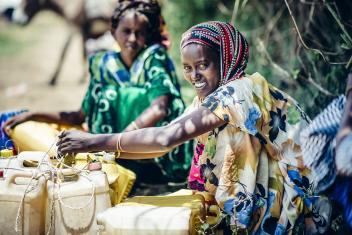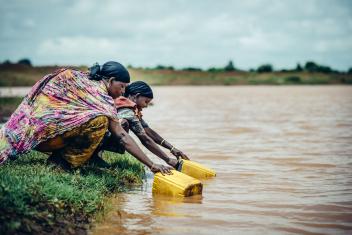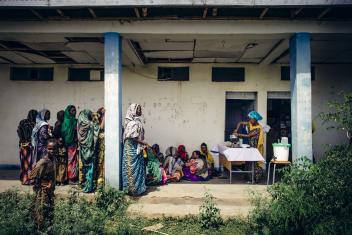 We've been on the ground fighting hunger in Ethiopia since 2004, helping families access more food, earn steady incomes, build resilience against unpredictable weather patterns and survive emergencies like the 2011 Horn of Africa hunger crisis, when drought put 13 million people in the region at risk of starvation.
Now, as the country copes with yet another dry spell, get the facts about hunger in Ethiopia and learn how to help communities overcome it once and for all.
---
What was the 2011 Horn of Africa drought and hunger crisis?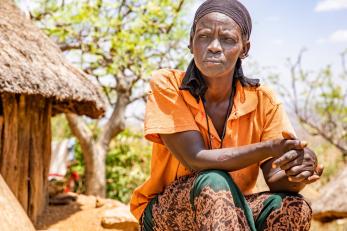 In 2011 and 2012, severe regional drought in the Horn of Africa hit at a time when inadequate rainfall and inflation were already keeping people from growing or accessing food. Armed conflict worsened the situation by making it even more difficult for families to cope and survive. Around 13 million people in Ethiopia, Somalia and Kenya faced starvation, with a famine declared in Somalia in July 2011.
Famine is the most severe classification of food insecurity, and conditions are catastrophic when it's declared: 20 percent or more of a population doesn't have the food they need, at least 30 percent are suffering from severe acute malnutrition, and people are dying of hunger-related causes.
Emergency assistance prevented widespread fatalities during the 2011 crisis but tens of thousands of people still lost their lives. Millions more were displaced from their homes and saw their livelihoods decimated.
Read about our response: Saving children in the Horn of Africa ▸
What happened after the 2011 crisis in Ethiopia?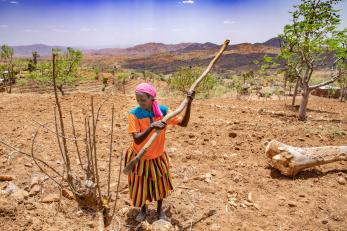 Weather patterns gradually returned back to normal and, after a couple of good rains, most families were able to recover their assets — animals, seeds, tools — and move forward. But much of the stability that was gained was short-lived.
Both of Ethiopia's regular rainy seasons — the March to May belg and July to September kirempt rains — failed in 2015. This late, intermittent and below-average rainfall led to the most severe drought in Ethiopia in over 50 years.
Poor rainfall persisted through 2016 and 2017, the combined effects of the droughts causing extensive loss of crops and livestock and food shortages in parts of the country, especially the northern and eastern regions. Around 10 million people were in need of food assistance as a result.
Around the same time, increased intercommunal violence began making the already-fragile situation worse, forcing people from their homes and farms, driving humanitarian needs and fueling a displacement crisis that still exists today.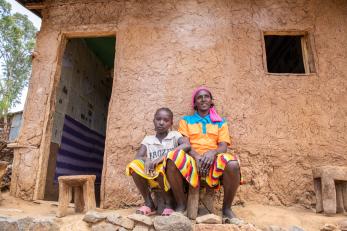 Before these crises, the country was making progress. Thanks to significant investment by the Ethiopian government, it has experienced great economic growth and community improvements like roads, electricity and other public services.
Ethiopia has also made headway in many development goals over the past two decades: poverty and child malnutrition rates are down, and life expectancy, maternal health and enrollment in primary education are up.
But insecurity, including conflict and chronic weather crises, continues to get in the way of progress and there is still a long way to go. Millions of people live below the poverty line and regularly struggle to access the food they need to survive. And much of the country's health and stability remains extremely vulnerable to drought and other natural disasters.
What's happening in Ethiopia today?
Recovery from these recent crises has been fitful at best. Irregular rains have continued since 2017, including new drought conditions caused by failed spring rains this year, slashing access to water, pasture and crops and making it difficult for families to restore their livestock and food sources.
The new drought conditions alone are expected to leave 3.8 million people in need of immediate life-saving support.
Heightened violence within the country has made matters worse: 2.1 million people are internally displaced, having fled their farms, livelihoods and communities for safety. Without access to their usual food and income sources, they have no way to meet their basic needs. Additionally, conflict in neighboring countries, including South Sudan and Somalia, has forced nearly a million people to seek refuge in Ethiopia, putting additional strain on limited resources.
Currently, more than 8 million people are estimated to be in need of food assistance in Ethiopia, 4.5 million of whom are acutely malnourished, and 9.5 million are in need of non-food emergency assistance.
The Famine Early Warning Systems Network reports families are already struggling to survive with limited purchasing power, high food prices, low animal productivity and insufficient crop growth — and it expects conditions to deteriorate.
As the effects of chronic droughts have spread, we've worked to help families prepare and cope in the southern and eastern parts of the country, where we've been working for many years, including the very dry, harsh and hard-hit regions of Sitti and Afar.
Why does hunger keep happening in Ethiopia?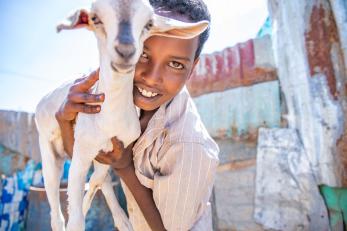 More than 80 percent of Ethiopia's population lives in rural areas that are completely dependent on rain-fed agriculture for their livelihood, whether it's growing crops, raising livestock, selling seeds and tools, or other jobs linked to the industry. The country's economy is largely based on these activities as well.
And the belg and kirempt rainy seasons are what keep them functioning.
But increasingly erratic rainfall and extended periods of drought, due in part to climate change and other unpredictable weather patterns like El Niño, make it difficult for much of the population to consistently grow food, keep animals healthy and earn money.
How does climate change affect hunger in Ethiopia?
The weather is intrinsically linked to health and hunger in Ethiopia. When rain doesn't fall as expected, farmers can't always grow the quality or quantity of crops they need to provide for their families, meaning they can't produce what they need to eat or what they would normally sell at the local market for income.
During drought, water for drinking and daily tasks becomes limited or nonexistent.
Dry land doesn't produce the pasture animals need to graze, either, which leads many to get sick, stop producing milk and die. Without healthy animals, herding families have no source of milk, meat or income.
Changing and unpredictable weather patterns also, at times, cause heavier rains than usual, which can overflow rivers and trigger flooding that completely wipes out crops, shelters, livestock and land.
While every country on earth is affected by these shifts in weather, climate change disproportionately affects families in poor countries, like those in Ethiopia, who support themselves with agriculture and live hand to mouth even when the weather is consistent.
The effects of unpredictable rain and other shocks can therefore be devastating for these families. Without any other options to support themselves, people are often forced to skip meals or sell their belongings to survive. Others abandon their homes and land altogether in search of food.
Unpredictable weather contributed to more than 3 million people being displaced from their homes in Ethiopia in 2018.
Quick facts: What you need to know about global hunger ▸
Can people in Ethiopia buy more food?
It's difficult. Many people in Ethiopia face chronic hunger and poverty and have little to no financial safety net to get them through an emergency. According to the World Bank, Ethiopia is one of the poorest countries in Africa, with around a quarter of its population living in extreme poverty.
Drought and other crises significantly decrease food supplies in farming areas, too, because fewer crops have been grown and harvested. What is at hand then becomes more expensive, making it hard for already-struggling families to purchase what they need even if the stock is there.
And because agriculture is Ethiopia's primary and most viable source of income, livelihoods that aren't dependent on it in some way are rare in most parts of the country. When the agricultural industry is weak, it impacts the purchasing power and stability of entire communities, not just the people who grow crops or raise animals.
How do people in Ethiopia cope with hunger?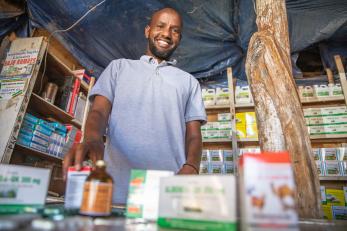 Traditional bank accounts are uncommon, with few people having access to financial resources like savings, loans and credit to rely on in case of emergency. Herders, however, have savings and investments in their livestock: camels, sheep, goats or cows. That's why we focus on helping herders keep their animals healthy and connect them to markets where they can sell them for income when they need to.
How women are leading the fight against hunger ▸
When it's going to be difficult to keep an entire herd healthy and fed — during a drought, for example — herders can earn top dollar and then be better equipped to care for their core breeding animals if they sell a share of their livestock before it's too late.
Learn how our radio soap opera is teaching families about nutrition and animal health ▸
Other rural families are often forced to send someone to the city to try to earn a little money as a day laborer, like a bricklayer or home cleaner, when they're struggling to make ends meet.
And millions of people challenged with hunger in Ethiopia regularly receive food and cash through a food aid program run by the Ethiopian government and development partners.
Who does hunger affect in Ethiopia?
Hunger in Ethiopia is widespread. The majority of the population is vulnerable to food shortages because so many of them rely on regular rains for their food and livelihoods: According to the United Nations Office for the Coordination of Humanitarian Affairs, the main kirempt rains feed 80-85 percent of the country.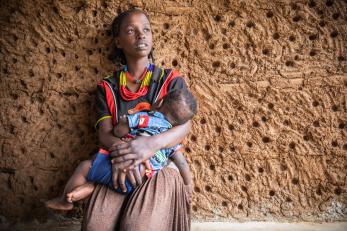 Herders are slightly more equipped to withstand emergencies because they have investments in their animals. Farmers, or families who already don't have enough to eat, more quickly plunge into crisis because they have fewer assets to help them manage setbacks.
People with higher nutritional needs, like children, pregnant women or breastfeeding mothers, are especially impacted when they don't have enough food. Hunger can have long-term, disastrous effects on the health and development of all these populations — it keeps people from reaching their full potential and can lock them in a cycle of poverty, and more hunger.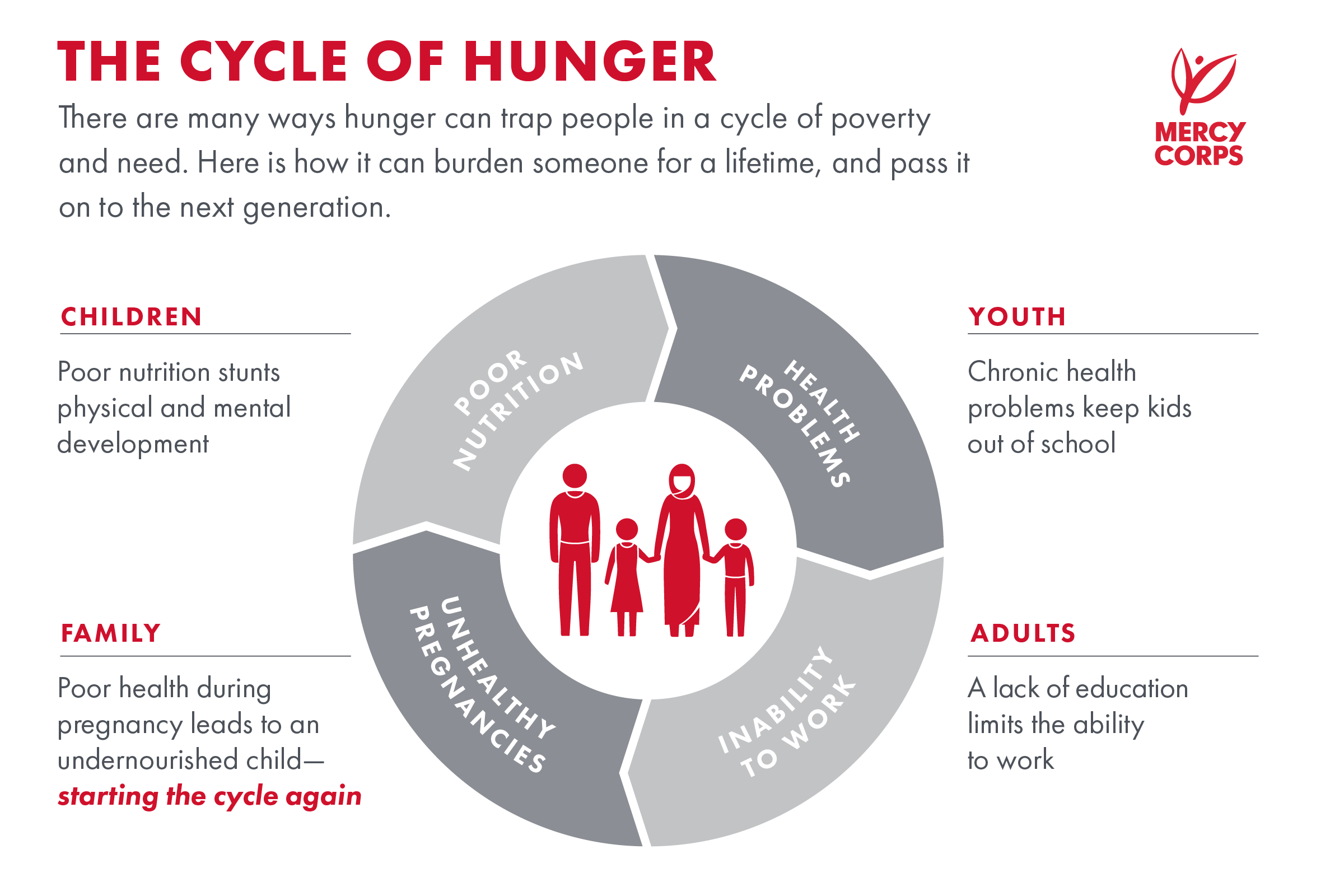 Why are women and children more vulnerable to hunger?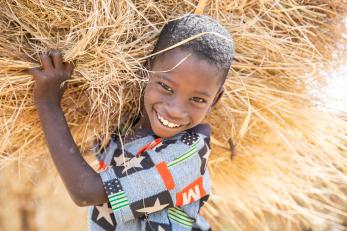 For women and children in Ethiopia, the same risks that make hunger a chronic threat for everyone — drought, poverty, conflict — are heightened by additional challenges that prevent them from getting the food and support they need to meet their specific nutritional needs, including limited access to medical care; a lack of education about diet diversity, health and nutrition; and cultural norms that prioritize the needs of men and boys.
The combined impact of these barriers is devastating: only 16 percent of mothers in Ethiopia receive postnatal care within two days of giving birth, and just around half exclusively breastfeed their babies.
According to UNICEF, around forty percent of children in Ethiopia are stunted and only 45 percent are fed at least three times a day. Undernutrition contributes to nearly a third of infant and child deaths — almost 200,000 children die before their fifth birthday every year.
There are currently 370,000 children in Ethiopia in need of treatment for severe acute malnutrition.
Learn more about the effects of malnutrition ▸
What can be done to fight hunger in Ethiopia?
For over a decade we've been working to help agricultural families fight hunger in Ethiopia, recognizing that their long-term stability depends on their ability to adapt to climate change, maintain healthy, productive livestock, and improve their overall nutrition. This crisis can be beat.
Our efforts to help Ethiopia include helping people access education and diversify their incomes, as well as teaching local health facilities to treat malnutrition and educate families about health, hygiene, breastfeeding and balanced diets.
Knowledge can be transformative in the fight against hunger, as it boosts parents' ability to maintain a sanitary home environment and make informed choices about what to feed themselves and their children. In turn, cleaner, better-nourished bodies can fight diseases and absorb more of the nutrients from the food they are getting, which makes them more productive and better able to pull themselves out of poverty.
We also connect herders to markets where they can purchase fodder and medicine for their animals when necessary, and help train local veterinarians to ensure rural communities have access to good, year-round livestock care. Healthier animals mean more stable livelihoods — and more resilience to hunger.
In response to the 2015-16 drought we supplied herders with animal feed, scaled up training and supplies for veterinarians, and linked commercial livestock traders with herders who needed to sell animals in hard-hit areas of the country. This meant critical income for herders who may have lost everything had they waited until their animals were both too sick to produce milk or meat and too sick to sell.
We've been working with the Ethiopian government to manage increasing rates of malnutrition by helping it provide medical care and malnutrition treatment in remote communities where hunger and poverty are rampant.
And to help the country overcome these cycles of crisis for the long term, we've partnered with the government to manage their early warning systems network, which monitors things like rainfall and market information to predict food shortages before they happen.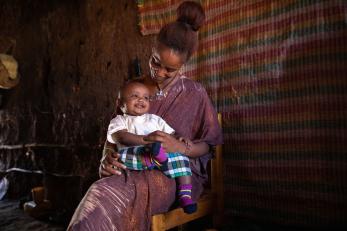 Despite the challenges of today, we see a future without hunger in Ethiopia. We're focused on building more resilient communities that can work their way out of harm by forging healthy families, establishing strong markets and strengthening the capacity of local governments to appropriately respond to climate risks now and in the future.
Help us provide even more food, water, shelter and support to the people who need us around the world.
Tell Congress: People are in need of lifesaving assistance. We must continue to support them.