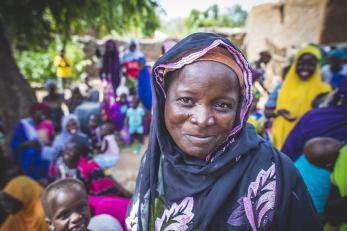 January 25, 2017
Souabayahaya sits on a wooden stool in her village in Niger and pours water into four metal bowls resting on the dusty ground. A small crowd of mothers sits in front of her watching intently, their children balanced in their laps.
"In our tradition, we make porridge, but this porridge is different from our traditional porridge because it contains some nutritious elements," she tells the women as she mixes the water into powdered millet and roasted groundnuts, two locally-grown ingredients. "You can see that now that you're giving this kind of food to your children, your children are not falling sick easily. They're always in good health."
She finishes mixing and hands the kids the porridge. "It is a bodybuilding food," she says. "I mix it so the children can be well."
In many places, traditional gender roles often restrict women to the home. Globally, women spend up to 10 times more time per day caring for children and the elderly than men do, and up to three hours more per day doing housework.
Mercy Corps sees the opportunity to empower women around the world with resources and knowledge, so they can make positive choices about their homes — what they eat, when they go to the clinic, how they spend their money — that make their families healthier and their communities stronger.
In Niger, a country where the adult literacy rate is 15 percent and 44 percent of children suffer from chronic malnutrition, we're helping women like Souabayahaya lead the way to improved nutrition, health and hygiene in their villages.
We train "leader mothers" like her — Souabayahaya has seven children — to teach other village women important lessons about diet diversity, hygiene, infant care and cooking. Armed with knowledge, the women who attend the small group demonstrations share what they have learned with other mothers in the village, creating a network effect.
"[Before] they didn't know that a porridge could be made from our crops here," Souabayahaya says. "They didn't know about exclusive nursing. They didn't know about family planning. They did not know about mosquito nets. They did not know how to look after children. But now things have changed. There's been a great, positive change."
Another leader mother, 27-year-old Balkissa, agrees. Thanks to the leader mothers' work, she says that more pregnant women in her village get regular health checkups and fewer children fall ill. How leader mothers are changing lives in Guatemala ▸
"Before this activity … you would find more than 50 women in a health center who had just taken their children there because they were sick," Balkissa says. "But now you see things have gone far and everything works now. I'm very happy."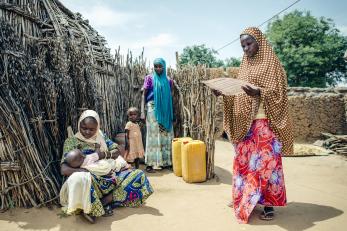 Balkissa just completed a house inspection for Aichatou, a 27-year-old mother in her group. As she checked Aichatou's house, constructed from wood thatching and mud bricks, she noted the firewood needed to be moved away from the house.
"She needs to take it away because mosquitos can go inside and hide, and at nighttime, they can come out," Balkissa says. And more mosquitos means an increased chance of her family contracting a mosquito-borne disease, like malaria.  
Otherwise, the house looked good; Aichatou passed the inspection, which was a relief. She has seen the benefits of Balkissa's teachings, and she was eager to demonstrate that she fully grasped them.
"Before, my child was sick from time to time," Aichatou told Balkissa during the inspection. "But now, for months, he has never been sick."
We're helping women step up to lead their communities and build healthier families not only in the areas of nutrition, sanitation and infant care, but also in finance.
In southeastern Ethiopia, 15 women aged 20 to 50 gather in a small shed just off the main road through the town of Kebribeyah. Surrounded by bags of wheat, the women circle up in front of a lockbox, which requires three keys: one each for the cashier, the chairman, and the secretary.
When everyone is present, the women turn their keys and open the box. Inside? The pile of money they've collected over the past several months.
The women meet once a week to save money through the savings group Mercy Corps helped them organize. This week, everyone in the group contributes an additional 15 birr (around 65 cents) into the pool, from which the women can take loans.
Access to even this small amount of money can be life-changing for these women and their families. By working together and pooling their money, they build themselves a financial safety net to cope with emergencies and even fund new livelihoods.
Sahara, a 50-year-old widow and mother of seven, has been a member of the finance group for almost a year and a half. She borrowed 5,000 birr for two months to purchase bulk wheat and butter, which she resells in smaller quantities to support her family. She repaid the loan, and now the money is available for another woman to borrow.
"I was better off taking the loan," Sahara says. "It increased my income and the quality of life of my household."
Across Ethiopia, women who see such positive, immediate results from working together are motivated to step up and help their communities overcome other challenges, too.
Halima, a 19-year-old who lives with her son in a rural area outside Dire Dawa, began holding her own cooking demonstrations shortly after attending a Mercy Corps leader-mother demonstration in her village.
At home she began cooking porridge with oats, vegetables and beans for her baby, instead of the sugar water and butter mixture that is common, and she has seen first-hand how nutritious meals can improve a child's health.
"Since I got a good benefit, I had a desire to share the information with other members of my community," she says.
"I was inspired, so I started to take the lead to cook the food for the public and demonstrate cooking to the community. My next plan is to share the information on how to cook for my neighbors and other villages as well."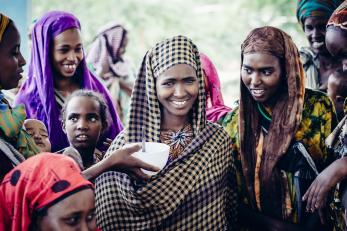 Around the world, the training and resources women like Halima, Sahara and Aichatou receive through Mercy Corps are allowing them to improve their families' lives and create change in their communities.
Now, they can begin to realize the future they may have only dreamed about. Sahara sends her children to school. Aichatou hopes that her children will study to become "health agents." And Halima aspires that her son will grow up healthy, and become an engineer.
Empowered by her experiences, Halima is confident that the work she and other women do will continue to improve lives.
"If I demonstrate and take the lead, the community is eager to learn," Halima says.
Help us provide more support to youth and families who need us around the world.
Turn your knowledge into action by setting up a personal fundraising page.