Radio soap opera tackles nutrition in pastoral communities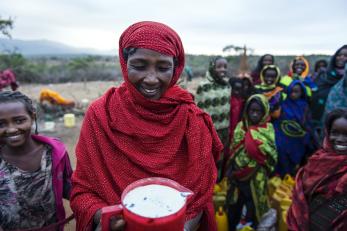 March 23, 2015
Dima Halke's livelihood is milk. As the only provider for her eight children, 49-year-old Dima sells the milk her cattle produce to buy food, medicine and supplies for her family. Her cows are her only asset — and her only source of income.
Like the rest of her pastoral community in Ethiopia, Dima's survival is dependent solely on her livestock.
And when droughts parch the pastures her animals need to graze on, Dima's cattle can't produce the quantity and quality of milk her family relies on. As she struggles to keep her livestock healthy, she must choose to spend precious funds on animal feed instead of food and medicine for her family. If she doesn't, she risks losing the only livelihood she knows.
But what if Dima could learn how to keep her animals strong and her family healthy by tuning into her favorite soap opera each week?
This month, in partnership with creative powerhouse Warner Bros., we launched a radio soap opera to get inside the homes — and minds — of traditional pastoral families in Ethiopia. Through drama, love and conflict, we want to educate these communities and challenge some of the key behaviors that threaten their long-term food security, health and wellbeing.
More than 83 percent of Ethiopia's population lives in rural areas, many as pastoralists and herders like Dima, who depend exclusively on the land and their livestock for food, milk and income. For these populations, securing food — and getting enough of the right foods — is a daily struggle.
Ingrained cultural behaviors like inadequate livestock care, poor maternal health and insufficient infant nutrition make it difficult for them to maintain consistent earnings and healthy families. And their fragile health and livelihoods inhibit their ability to cope with the harsh conditions — drought, irregular rain, poverty and diminishing natural resources — they're up against.
While these challenges are complex and recurring, changing the lifestyle behaviors that make families even more vulnerable will help them stand stronger — and recover faster — in the future.
Emergency response evolves to long-term commitment
When the worst drought in 60 years hit the Horn of Africa in 2011, it plunged 12 million people into a food crisis. Mercy Corps' partnership with Warner Bros. began in response to this catastrophe, with the development of the We Can Be Heroes campaign, which raised awareness and over $1 million in funds to support Mercy Corps' relief efforts.
Since then, through the USAID-funded Pastoralists Areas Resilience Improvement through Market Expansion (PRIME) program, Mercy Corps has been dedicated to helping families in the Somali, Oromia and Afar regions of Ethiopia, where 2.2 million people are identified as pastoralists or herders, build long-term resilience to the issues that make them chronically vulnerable to hunger and food shortages.
We are helping people diversify their incomes, develop reliable farming methods and improve their overall nutrition. And now through the radio soap opera, also part of PRIME, we aim to transform some of the inherent behaviors and beliefs that prevent these families from thriving.
"This initiative taps into the strong Ethiopian tradition of oral storytelling and harnesses the power of stories to entertain and educate," says Dominic Graham, Ethiopia Country Director for Mercy Corps. "Our goal is to help people facing repeated drought, hunger and poverty improve their long-term health through better decision making."
The idea was the suggestion of a staff member in the Mercy Corps Ethiopia office. Promoting behavior change using entertainment has proven to be effective against other social issues — and taking on a similar initiative turned out to be the perfect opportunity for Mercy Corps and Warner Bros. to build on their partnership.
Bringing the soap opera to life
Four Warner Bros. volunteers extended their creative expertise to develop interesting characters, compelling storylines and an impactful promotional strategy. They shared best practices for writing and marketing with our Ethiopia staff members to ensure longevity of the program, and spent time in Ethiopia in order to help shape stories that would be compelling and authentic.
And with a decade of experience working in Ethiopia, Mercy Corps contributed local insight and a deep knowledge of the nutritional barriers that plague different regions of the country.
The result is a radio drama that will air in Afar, Oromia and Somali, with dialect and characters tailored to each of the three regions. Incorporating the details that make each of these areas unique, like names and common greetings, establishes familiarity and assures each audience can connect with the characters and messages.
Listen to the theme songs for each of the regions' shows:
The show will run for three years with a target audience of 1.2 million people, particularly pregnant women and new mothers, who are highly vulnerable to dietary deficiencies.
Key nutritional messages — proper eating for pregnant women and young children, dietary diversification, equitable household decision-making and the importance of livestock health — are woven into the shows' narratives.
So while the characters — and the audience — are experiencing love triangles, community gossip and family disputes, they are also confronting traditional beliefs and environmental challenges that conflict with their health and wellness.
In the first season, the show addresses the critical dietary needs of pregnant women through Shafiya, who is carrying a baby and needs more food than her husband grants her. Will she hide money from him in order to buy an extra meal at the market, or deny herself and respect her marriage as her mother advises her to?
The audience will also meet Humad, who understands that his family's health is closely linked to his livestock's health. There has been no rain and his starving animals are not producing the quality of milk his family needs, so he decides to sell some of his cattle in order to feed the rest of his herd. His competitor Ga'as, whose herd is also sick, criticizes Humad. Ga'as believes he now has the upper hand because he has a larger herd than Humad. Which man has made a better choice? How will each family cope if the drought continues?
Meanwhile, Ga'as' son Anihabba, who is on break from medical school, is torn between two women. Hasna is the woman from his village whom he is expected to marry, and Asiya is the community animal health worker who is working in his village for a few months before returning to the city. Ga'as wants Anihabba to stay in the village to help him care for his sick livestock. But will Anihabba defy his father and leave for the city with Asiya instead?
Listen to the full first episode and read the translated script ▸
"We know the technical messages. We've got all the numbers. We have a clear set of messages we want to get across, absolutely, but people relate to other human beings, not to lectures," says Karri Byrne, Chief of Party for the PRIME program in Ethiopia.
"These stories are about people Ethiopians can relate to. The audience can argue about what the characters should have done, and that dialogue is really what we want. We want people talking about this show, because that means that they are listening. And hopefully, we've made it entertaining in a way that makes them talk about the messages just as much as the characters."
The radio soap operas premiered last week and are being promoted by billboards, pamphlets and stickers in areas like markets and community centers. Mercy Corps is also organizing community listening parties to promote listenership.
The objective is to spark conversations — and lasting behavior changes — that will help vulnerable pastoral families in Ethiopia build healthier, brighter futures for themselves starting with their day-to-day choices.
"When the show airs, I hope that above all people are entertained," says Albert Bugoff, Director of Digital Media for Warner Bros. Worldwide Television Marketing. "And if one person listens to the radio show and takes a moment to challenge their own belief system on how they are managing their lives and livestock, we've accomplished our goal."
"It will help us to support one another," responded Galma Teche, one of the listening group leaders in Oromia, after the drama premiered. "It teaches us about our future, so we can reflect and see ourselves, so we can improve our lives."
Help us provide even more support to the people who need us around the world.