Around the world, people are experiencing both the subtle and stark effects of climate change. Gradually shifting weather patterns, rising sea levels and more extreme weather events are all clear and devastating evidence of a rapidly changing climate.
The impacts of climate change affect every country on every continent. They're creating unprecedented challenges for millions of people already burdened by poverty and oppression.
The increased frequency and intensity of extreme weather events like hurricanes, wildfires and droughts threaten the world's food supply, drive people from their homes, separate families and jeopardize livelihoods. And all of these effects increase the risk of conflict, hunger and poverty.
Visible evidence and climbing numbers demonstrate that climate change is not a distant or imaginary threat, but rather a growing and undeniable reality.
The situation is dire. Climate change has become a climate crisis.
The latest United Nations climate change report warns that our window to address the threat is shrinking rapidly.
And it's people living in poverty who have the most to lose. For those on the frontlines of the crisis, the struggle to earn a living, feed their families and create safe and stable homes is made more difficult every day.
The climate crisis discriminates, but the efforts to fight it cannot. And though the work to protect the global environment is essential, so are efforts to protect people around the world. Solutions that help vulnerable communities are often overlooked. Mercy Corps is collaborating with our community partners and the world's most innovative organizations to reshape how humanity can adapt and thrive.
Read on to learn more about how climate change triggers conflict, exacerbates hunger and poverty, and what Mercy Corps is doing to help communities become more resilient in the face of change.
What are the biggest effects of climate change?
Climate change places compounded stress on our environment, as well as our economic, social and political systems. Whether it comes in the form of unbearable heat waves, harsh winters or extreme weather events like Hurricane Maria in Puerto Rico or Cyclone Idai in Zimbabwe, climate change undermines development gains and leads to shortages in basic necessities like food and water.
Climate change threatens the cleanliness of our air, depletes our water sources and limits food supply. It disrupts livelihoods, forces families from their homes and pushes people into poverty.
Research suggests the planet has lost around one-third of its arable land over the past 40 years, in large part due to climate disasters and poor conservation, and every year more trees and soil are lost. More than 1.3 billion people live on deteriorating agricultural land, putting them at risk of depleted harvests that can lead to worsening hunger, poverty and displacement. Soil is being lost between 10 and 100 times faster than it is forming.
And natural disasters are becoming increasingly frequent and destructive. The number of people affected by natural disasters doubled from approximately 102 million in 2015 to 204 million in 2016. Fewer people were affected in 2017, but at a higher price, with the year's events costing a total of $335 billion and driving a 49 percent increase in economic losses over the previous decade. These damages can be nearly impossible for families living in poverty to overcome.
As climate events worsen, people are also threatened by more gradual changes, such as climbing temperatures and declining rainfall.
Droughts alone have affected more than 1 billion people in the last decade, and the damage hits the agriculture industry — the primary source of food and income for many people in developing countries — particularly hard. Between 2006 and 2016, more than 80 percent of drought damage was absorbed by agriculture, and 2017 data from the World Bank reported drought has wiped out enough produce to feed 81 million people every day for a year since 2001.
As these situations grow more desperate, food shortages could also force families to leave their homes and migrate to other countries.
"We see climate as a magnifier, and in many cases a multiplier, of existing underlying causes of risk."

— Sarah Henly-Shepard, Mercy Corps Senior Advisor for Climate Change and Resilience
Climate change is one of many root causes of conflict around the world: it leads to food shortages, threatens people's livelihoods, and displaces entire populations. Where institutions and governments are unable to manage the stress or absorb the shocks of a changing climate, threats to the stability of states and societies will only increase.
Who is most affected by climate change?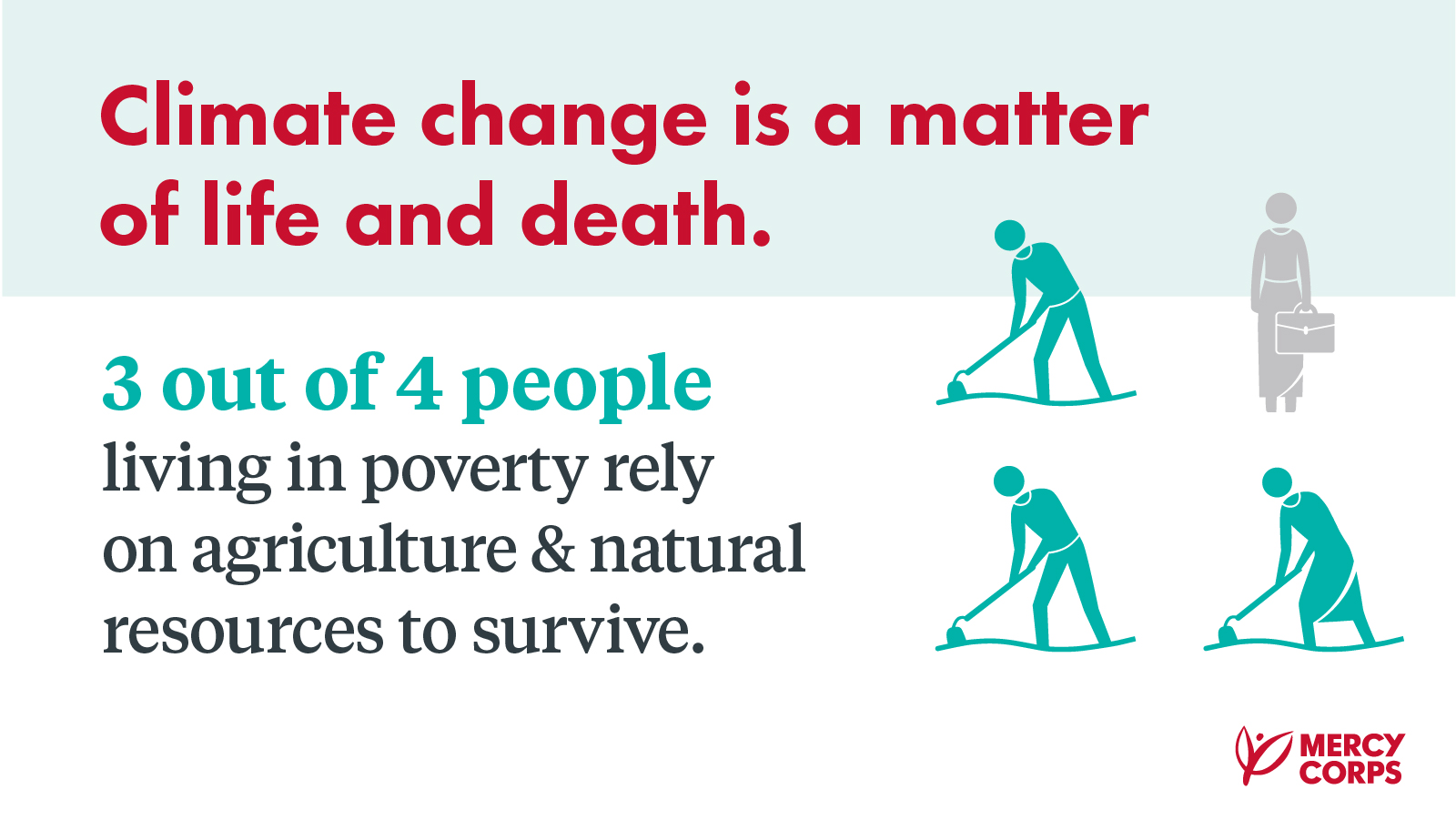 While everyone around the world feels the effects of climate change, the most vulnerable are people living in the world's poorest countries — like Haiti and Timor-Leste — and the world's 2.5 billion smallholder farmers, herders and fisheries who depend on the climate and natural resources for food and income.
Increasingly unpredictable weather patterns, shifting seasons, and natural disasters disproportionately threaten these populations, increasing their risk and their dependency on humanitarian aid.
Three out of four people living in poverty rely on agriculture and natural resources to survive. For these people, the effects of climate change — shifting weather, limited water sources and increased competition for resources — are a real matter of life and death. Climate change has turned their lives into a desperate guessing game.
As the effects of climate change increase, so will their desperation.
How does climate change increase conflict?
Conflict is the primary cause of poverty and suffering in the world today. And it's exacerbated by climate change.
By amplifying existing environmental, social, political and economic challenges, climate change increases the likelihood of competition and conflict over resources. It can also intensify existing conflicts and tensions.
In the Democratic Republic of Congo, shifts in the timing and magnitude of rainfall undermine food production and increase competition for remaining arable land, contributing to ethnic tensions and conflict.
And in places like central Nigeria and Karamoja, an area of land that straddles the border of Kenya and Uganda, where resource scarcity has been a long-standing challenge, climate change has further reduced pasture and water resources, increasing competition and resulting in violence, such as cattle raiding.
"Climate change is not a distant threat. It's a driver of fragility and conflict, and it's leading to a hungrier and more vulnerable world."

— Eliot Levine, Mercy Corps Deputy Director of Environment, Energy and Climate
But while climate change can lead to conflict, it can also provide an opportunity for collaboration. These challenges present a unique opportunity for collective action and cooperation in order to mitigate the impacts. For some communities, food, health and lives will depend on cooperation over conflict.
In Uganda, Mercy Corps is helping one South Sudanese refugee form a friendship without borders ▸
What's the relationship between hunger and climate change?
Climate change threatens the world's food supply.
Floods and droughts brought on by climate change make it harder to produce food. As a result, the price of food increases, and access becomes more and more limited, putting many at higher risk of hunger.
Undernutrition is the largest health impact of climate change in the 21st century. The number of undernourished people in the world has been increasing since 2014, reaching nearly 821 million — a staggering 11 percent of the entire global population — in 2017. The vast majority live in developing countries — research shows hunger to be particularly on the rise in South America and almost every region in Africa. More than 30 percent of people in eastern Africa faced hunger in 2017.
Much of the increase is linked to the growing number of conflicts, which are often exacerbated by climate-related shocks. According to the 2019 Global Report on Food Crises, more than 113 million people in 53 countries were plunged into crisis levels of hunger in 2018; two-thirds of them were in places affected by conflict or insecurity. And climate and natural disasters alone triggered food crises for an additional 29 million people — mostly in Africa — with shocks such as drought leaving them in need of urgent assistance.
How does climate change create climate refugees?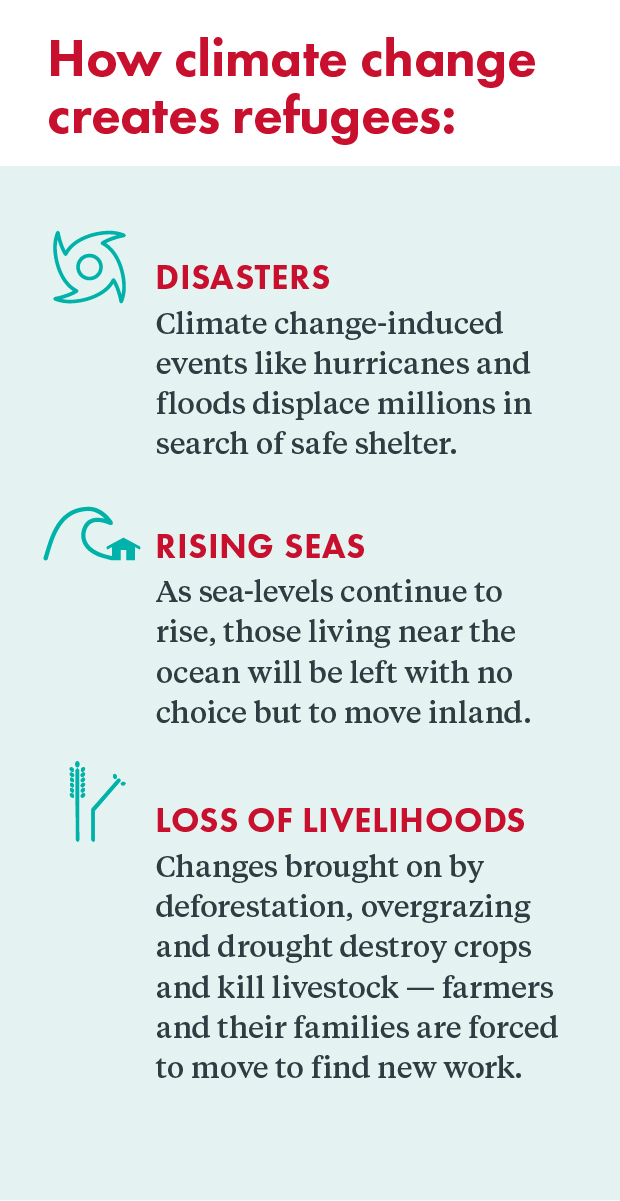 Rising sea levels, extreme weather events and prolonged drought force millions of people to lose or move away from their homes every year in search of food, water, shelter or jobs.
More than 60 percent of all new displacements last year were the result of weather-related disasters, with a total of 17.2 million people around the world being driven from their homes by shocks like drought, hurricanes and landslides — almost 50,000 people every day.
Meanwhile, gradual changes brought on by deforestation, overgrazing and decreased rainfall slowly transform pastures to dust, destroy crops and kill livestock, effectively challenging the livelihoods of millions of farmers. These families are forced to leave their homes behind in search of basic necessities and new work.
And as sea levels continue to rise, those living near the ocean — about 40 percent of the world's population — will be left with no choice but to move inland.
Almost all of these displacements are occurring in developing countries, where people have fewer resources on hand to cope with progressive shifts or sudden disasters.
More climate refugees will be displaced as the situation worsens.
What's the forecast for the future and climate change?
The impacts of climate change continue to exceed previous scientific forecasts, worsening and multiplying at dramatic rates that will only be amplified in the years to come.
Access to clean water is likely to become even more limited, and the risk of hunger and famine will become even greater than it is today. By 2050, climate change reportedly has the potential to increase the number of people at risk of hunger by as much as 20 percent. The majority of those at risk live in Africa.
Tens of millions of people are expected to be forced from their homes in the next decade as a result of climate change. This would be the biggest refugee crisis the world has ever seen.
Between 2030 and 2050, climate change is expected to kill an additional 250,000 people each year, from malnutrition, malaria, diarrhea and heat stress, while continuing to jeopardize clean air, safe drinking water and sufficient food supply.
How is Mercy Corps helping?
Around the world, in places as diverse as Puerto Rico, Ethiopia, Mongolia and Indonesia, Mercy Corps is helping people adapt to climate change.
We do this work by considering the challenges each community is facing and then developing localized solutions that will make the biggest impact. In order to create real and lasting change, the social, economic and political realities underpinning climate change must be addressed, in addition to mitigating the effects on the ground.
Our climate resilience work tackles the impacts of climate change — particularly disappearing livelihoods, rising food insecurity, increasing disaster and escalating violence — by empowering communities to adapt, innovate and thrive.
Read more about our approach to climate-resilient development ▸
Helping alleviate hunger and loss of livelihoods
As weather patterns become more unpredictable, small-scale farmers around the world are facing new challenges to grow their crops and their livelihoods. We're helping them get more out of the resources they have by connecting them with a network of information and services.
We're pioneering new ways of putting reliable climate information and services in the hands of those we work with — improving individual, household and community capacity to cope with change. In some cases this means working with government and private sector technology companies to increase the ability to access the information they need to reduce their risks.
We help farmers diversify their crops and redesign their farmland to maximize their productivity and protect the soil in the face of increasingly severe and frequent droughts. We also train herders on how to keep their animals healthy in drier conditions.
To support their work, we also help increase their access to banking services such as loans and savings, as well as insurance products to help protect their hard work.
We connect many of our farmers and herders — like those in Kenya and Mongolia — with new technologies they can access with their mobile phones. These technologies provide weather updates, crop prices, and resources they can explore around preventing diseases and increasing yields.
Our work even extends to adapting market systems that can thrive in a changing climate.
In water-scarce Jordan, we're introducing cutting edge drip irrigation technology to farmers, and providing real-time satellite data to determine where irrigation services need to be supplied and extended. In Afghanistan, we're establishing new agricultural markets to link farmers with potential buyers and maximize their income, create more jobs and enhance rural economies.
How we're helping herders build resilience in rural Ethiopia ▸
Preparing communities for worsening disasters
Natural disasters are growing more frequent and more severe, threatening the lives of the world's most vulnerable people and the infrastructure they depend on. We help communities rebound from disasters while strengthening them to be more resilient to the next ones.
We do that by investing in and initiating disaster mitigation tactics. These tactics help people better prepare for disasters to come.
In Tajikistan, we reinforced river embankments to slow the effects of flooding. In Indonesia, we're addressing the growing challenge of urban flooding, which climate change is making worse, by helping people identify when flooding might occur, developing early warning systems and establishing evacuation routes.
Around the world, we're also teaching students and community members about climate impact, risk management and disaster preparedness so they're better prepared for the future.
In Puerto Rico, we've developed resilience hubs, taking existing community centers and providing them with solar power and disaster response kits, facilitating search-and-rescue trainings and developing community action plans, so community members know what to do to stay safe in the event of an emergency.
We also collaborate with local and national governments to improve their ability to manage and prepare for weather-related risks. We work with governments to improve the way water and land is managed, build and manage plans for improving disaster response, and support the development of policies and plans that reduce vulnerability to climate change.
CASE STUDY: A governance approach to building climate resilience in Indonesia ▸
Addressing conflict caused by climate change
With the climate crisis causing natural resources to vanish, competition for remaining resources is on the rise. To resolve conflict and stop violence before it starts, we help communities and their governments build for the future where people protect and share natural resources.
We provide the tools for people to overcome their differences and collectively manage resources — like training community leaders to build conflict management skills.
"Climate change increases the risk of conflict. It degrades land and leads to competition over precious natural resources. Over time, conflict can displace entire communities and lead to life-threatening hunger. But we can prevent it, if we proactively focus on these environmental risks and bring communities together to find solutions."

— Jenny Vaughan, Mercy Corps Director of Peace and Conflict
We see the shared experience of climate change as an opportunity for cooperation and collaboration, reducing the risk of conflict.
For example, in Uganda, we are facilitating resource-sharing agreements and promoting cooperation between communities to reduce conflict, providing a space for people living there to pursue new types of work such as cooking, cleaning or construction.
Help us build more resilient communities.
Tell Congress to reject cuts to aid.