A hotter planet, a hungrier world
June 05, 2017
Ali, 49, taps his staff gently as he shepherds his goats across the dry ground near his home in rural Ethiopia. Drought has been hitting his area with more frequency and intensity these days, depleting water sources and baking the surrounding pasture into dust.
The air is hot, the land rocky and littered with animal bones — relics of livestock that couldn't survive the extreme conditions. Ali has just walked 50 miles to find water and fodder for his herd. One-third of them starved to death along the way.
Nearby, Meftuha and her husband, Abdi, stare at the empty pond they once used for cooking, drinking and watering their animals. Because of the drought, Meftuha rises at 6 a.m. to begin the 5-hour walk to collect water from another area. She frequently faints of exhaustion, but she makes the journey every other day anyway. They have already lost four of their five oxen; they can't afford to lose another.
As rural pastoralists, Ali, Meftuha and Abdi depend directly on the land for life: to grow food, to provide clean water, to keep their animals healthy and to earn money. But climate change has turned their livelihoods into a desperate guessing game, disrupting the rain they've trusted for decades to keep them alive.
How we're fighting hunger in Ethiopia ▸
Three out of every four poor people on earth rely solely on agriculture and natural resources to survive. For each of them, the effects of climate change aren't just an inconvenience: they're a matter of life and death.
And this painful reality isn't isolated to Ethiopia. It's happening on every continent across the globe — with particularly destructive consequences for the people who have the least ability to endure it.
A global threat that punishes the poor
Hurricanes in Haiti. Flooding in Timor-Leste. Drought in Nigeria. Heatwaves in France. The impacts of climate change are playing out in warmer temperatures, erratic rains and unpredictable weather patterns that pummel nations around the world.
And they're intensifying: The rate of weather-related natural disasters has more than tripled since the 1960s. The last drought in Ethiopia was the worst in 50 years. Nearly 90 percent of the 254 floods that struck Timor-Leste between 2002 and 2013 occurred in just the last four years. In 2015, China experienced 20 percent more natural disasters than its annual average over the previous decade.
"In many of the places Mercy Corps works, climate change is making historically more stable climate contexts much harder to predict."

—Eliot Levine, deputy director of Mercy Corps' environment, energy and climate team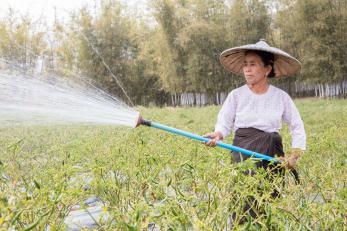 "No one is safe, irrespective of region," says Selvaraju Ramasamy, a climate change officer at the Food and Agriculture Organization of the United Nations (FAO). "Climate change affects everybody."
"In particular, the poorest are the ones suffering the hardest consequences of climate change, due to their extreme vulnerability and limited capacity to adapt."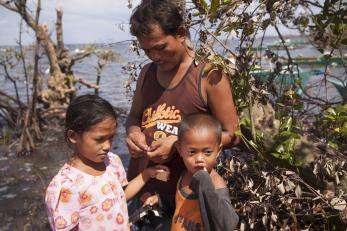 According to the Climate Vulnerability Monitor, climate change kills an average of 400,000 people per year already, largely by climate-related hunger and disease. And that number is projected to increase to 632,000 by 2030. Eighty percent of these deaths are in low-income populations that have contributed little, if anything, to the warming of the globe.
When Niño realized his family's means of survival was gone, he cried. "I have no money. I am poor and I can't even work now."
The fight to survive the hunger gap in Niger ▸
In poor communities around the world, farmers increasingly toil under hotter conditions. Failed rains reduce food supply. Rivers dry up. Heat waves kill thousands at a time. Flooding wipes away crops, destroys soil and contaminates clean water supplies. Hurricanes raze homes and demolish fishing boats and tools. People lose their livelihoods. They become more vulnerable. They go hungry. They die.
Climate change and hunger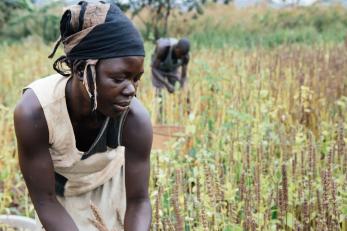 This destruction has a major impact on food. The Intergovernmental Panel on Climate Change (IPCC) reports climate change has already affected the global food supply, and threatens to decrease yields even more by 2050.
"The impacts of climate change on agriculture, and the implications for food security are alarming," Ramasamy says. "In many regions, agriculture and food production are already being adversely affected by increased temperatures and changes in precipitation patterns."
Wheat, a staple crop grown around the world — and one that is sensitive to heat — is one of the first to be affected. The IPCC projects wheat yields could drop 2 percent a decade going forward. Maize, another staple food in many developing countries, has already suffered negative impacts as well.
Fighting hunger in Uganda, one garden at a time ▸
"Farmers depend on certain seasonal patterns so they know when to plant and when to harvest," says Eliot Levine, deputy director of Mercy Corps' environment, energy and climate team. "But those conditions are changing rapidly. In many of the places Mercy Corps works, climate change is making historically more stable climate contexts much harder to predict."
Farmers don't know when to plant crops anymore. The rain comes later than it did the year before, or it's more sporadic. Warmer temperatures mean a crop a farmer once relied on no longer grows in his fields, because it's too hot for that crop to flourish.
Changing temperatures can affect the availability of diverse foods, like fruits and vegetables, which can have disastrous consequences on health and nutrition. And as supplies dip, prices increase, making it even more difficult for families to get what they need.
Eighty percent of deaths related to climate change are in low-income populations that have contributed little, if anything, to the warming of the globe.
Extreme weather, like failed rain, storms or flooding, can also hurt or halt food production. FAO estimates more than a quarter of all damage caused by climate-related disasters in developing countries between 2006 and 2016 was to the agricultural sector.
In the worst cases, these events can completely destroy a person's means of survival. The drought in Ethiopia? It killed up to 90 percent of crops in some places and at least 1 million cattle.
"The drought has severely affected this area," says Mohammed, 45, a local veterinarian. "We had to feed goats like we feed our children. There was no pasture, there was no farming, there was no foraging. Before the drought I had so many ambitions to increase my outlet, to increase my services and the area I operate. But due to the drought everything has stopped."
In Ethiopia and elsewhere, livestock and crops are savings, sources of food and means of income. So when the drought wiped out a third of Ali's cattle, it took a third of his entire livelihood with it.
That's why, for vulnerable people like him, one failed crop or disaster can mean an immediate plunge further into poverty and closer to starvation. Most are already barely subsisting to begin with and simply have no other assets to depend on.
To end hunger and poverty, then, we must tackle climate change, too.
Building resilience against climate change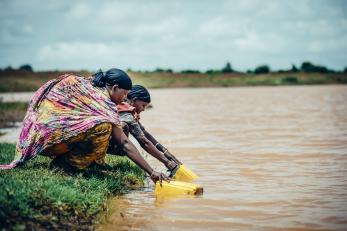 Back in Meftuha and Abdi's village, the pond that provides their water is nearly full, returned to a sparkling reservoir in the middle of the vast desert. Mercy Corps rehabilitated it to help contain and filter the rain that will fall when the rainy season returns, and provide more stable access to the vital resource.
Nearby, Mohammed mans the rural veterinary pharmacy we helped him open, which has improved pastoralists' access to the medicines and vaccines they need to keep their animals healthy, particularly during emergencies.
And Ali has newfound access to banking — thanks to a mobile banking app we connected him to — which means all his money isn't invested in his livestock, and he can send cash to his children attending university around the country.
"I want a good life for me and my children," Ali says. "I want to send them to learn, to get educated. I want them to work and start a business. In the future, I want to live a good life."
In Ethiopia and around the world, in places as diverse as Colombia, Mongolia, the Democratic Republic of Congo and Indonesia, Mercy Corps is helping people adapt to the specific climate risks they face, because we know it's a vital way we can help them build stronger lives once and for all.
We do this work by considering each community's unique challenges, then developing localized solutions that will make the biggest impact.
We help farmers diversify their crops, learn new technologies, and redesign their farmland to maximize its productivity and protect its soil. We also improve access to weather information, so people can make informed decisions.
We train herders like Ali, Meftuha and Abdi how to keep their animals healthy in drier conditions, and boost market systems that can thrive in a changing climate.
REPORT: How investing in resilience helps fight drought ▸
We teach communities how to better manage their natural resources, and help them build stronger homes and reinforce river embankments to make them less vulnerable to natural disasters. And we collaborate with local and national governments to improve their ability to manage and prepare for weather-related risks in their communities.
CASE STUDY: A governance approach to building climate resilience in Indonesia ▸
As the effects of climate change worsen and multiply at a dramatic rate, this work is more important than ever.
"Climate change is happening," Levine says. "It is already a significant driver of development challenges, and shocks and stresses that push people into poverty and keep them in poverty."
"We don't have a choice. It's already affecting the places we work, and we're never going to achieve our goals and objectives without addressing climate risks."
How you can help
Our work helping communities across the globe adapt and adjust to climate challenges is only possible because of caring individuals like you. With your support, our teams in more than 40 countries are able to reach more families with assistance, and help more communities learn how they can grow stronger for the future.
Help us provide even more food, water, shelter and support to the people who need us around the world.
Tell Congress: People are in need of lifesaving assistance. We must continue to support them.