From healthy pregnancy to happy baby in rural Tajikistan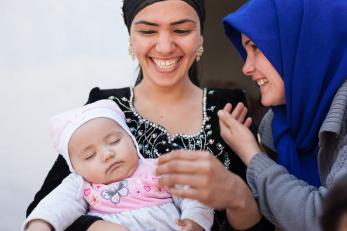 May 08, 2015
Raising a healthy child in Tajikistan can be fraught with challenges. In this mountainous country in Central Asia, more than 70 percent of families live in rural areas where access to medical care, especially care during pregnancy, is extremely limited.
And lack of education about maternal and childhood nutrition, particularly the importance of breastfeeding and diet diversity, means that many women and children in these areas are chronically undernourished.
In impoverished Khatlon Province, in southwestern Tajikistan, infant and childhood mortality rates are the highest in the country and 27 percent of children have stunted growth because they don't get the nutrients they need.
We're working to improve maternal and child health in 12 districts in Khatlon by increasing access to healthcare and providing critical nutritional education in their communities.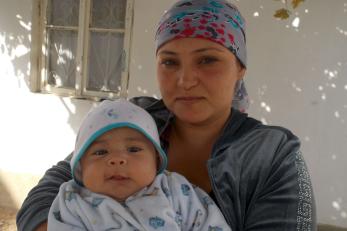 Like most mothers in Khatlon, Madina Qudratova didn't have any resources to teach her how to breastfeed her young children, or about the vital nutrients and disease protection, it would provide them. Without encouragement from health care providers or family members, most women in Khatlon customarily feed their babies inadequate formula milks, tea or sugar water instead of breast milk.
And in keeping with cultural tradition, newborns as little as five days old are tightly bound in a swaddle and placed in a cradle known as a "gavora". They spend up to 20 hours each day in the cradle being cared for and fed by the mother-in-law, and the new mother and baby miss out on the special bond that forms when a mother breastfeeds her child.
When Madina started attending the community health trainings Mercy Corps facilitated in her rural village, she quickly learned how critical breastfeeding is and she immediately changed her behavior.
"When I attended a health session for the first time, I was pregnant with my third child. I learned that breast milk is very important for children under 2 years old. It helps them grow healthy," says Madina. "Now my son is 5 months old and I breastfeed him. I feel breastfeeding brings me and my son closer together."
"I've also learned a lot about child nutrition and I have started feeding my older children more diverse food," she adds.
The community health trainings usually take place in a village home and provide the community's adolescent girls, pregnant women, current mothers and mothers-in-law with information to improve their families' lifelong health, including maternal nutrition, exclusive breastfeeding, proper hygiene and diet diversification for the whole family.
Through the leadership of a community health educator, the women participate in lessons including brainstorming, group work, discussions, hands-on food preparation and role-playing with dolls to better understand proper breastfeeding practices.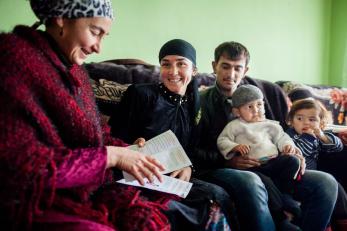 The community health educators also make one-on-one home visits to provide prenatal checkups, answer questions and reinforce health lessons with the entire family present. They even help them learn to manage their budgets so they can afford the food they need all year round.
It is also imperative that mothers have the confidence to seek professional care or guidance when they need it, so we're working to improve the capacity of local health systems.
Women in some villages must travel 80 kilometers just to see a doctor, and even then, the health centers are often understaffed, outdated and unsanitary. In Khatlon, where conditions are some of the worst, more than 30 percent of pregnant women choose to have their babies at home because medical centers are expensive and lack basic amenities like sanitized facilities and heat in the winter.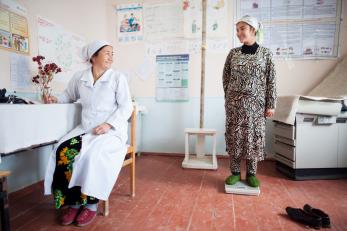 With educated, capable health professionals in their communities, pregnant women and mothers are more likely to seek care when necessary — and it can mean the difference between life and death.
We're teaching rural health personnel, many who have not had training in years, how to provide pre and postnatal care, monitor babies' growth, treat illnesses like diarrhea and pneumonia, and test for dietary deficiencies.
We also train them to promote healthy nutrition, breastfeeding and complementary feeding, so they can help mothers make the right nutritional choices for their growing children.
With the right treatment, education and encouragement, mothers in vulnerable parts of the world can have safe, informed pregnancies. And in Khatlon Province in Tajikistan, these resources are leading to confident, healthy mothers who are better equipped to give their children what they deserve — long, bright and happy futures.