Take Action Happy Hour with BRAVO Youth Orchestras
Performance
June 20, 2019 // 5:30 - 7:30 p.m.
Reception begins at 5:30 p.m.; Performance begins at 6:15 p.m.
General Admission: $15; Children under 12: $5; Tickets available here.
For several years Venezuela — once the richest country in South America — has been hurtling toward economic, social and institutional collapse, spurring a regional humanitarian crisis and mass migration. On World Refugee Day, Mercy Corps is joining forces with BRAVO Youth Orchestras and four celebrated professional musicians from the Portland community — including Inés Voglar Belgique, Assistant Principal Second Violin of the Oregon Symphony — for a special performance and fundraiser benefiting refugees around the world. This Take Action Happy Hour has a special focus on Venezuela as many families struggle to survive and cross the border in search of a better life.
BRAVO will welcome 20 students from their summer camp as well as four professional musicians originally from Venezuela and Chile, performing music to honor refugees around the world.
Professional musicians: Freddy Vilches, cuatro - professor at Lewis & Clark; Inés Voglar Belgique, violin - Asst Principal Second Violin of the Oregon Symphony; Marian Gutierrez, violin - BRAVO Teaching Artist; and Giancarlo Castro, trumpet - BRAVO Teaching Artist.
Refreshments provided.
About BRAVO Youth Orchestras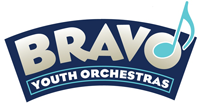 Founded in 2013, serving almost 200 students at Rosa Parks School in North Portland, BRAVO Youth Orchestras is affiliated with El Sistema, the international movement of social change through music founded in Venezuela in 1975. BRAVO is the first El Sistema-inspired program in Oregon.
Now in their 6th year, BRAVO provides both introductory music classes and advanced after-school instrumental instruction for nearly 800 students at 5 priority schools in the Roosevelt High School cluster. BRAVO students have performed at both of Governor Kate Brown's inaugurations in Salem, have performed onstage at the Arlene Schnitzer Concert Hall with Black Violin and the Oregon Symphony under the direction of Maestro Carlos Kalmar, and have been featured on NBC Nightly News with Lester Holt.
About the Musicians
Inés Voglar Belgique was born to a Slovenian family in Venezuela, where she studied music under the program "El Sistema" and violin with Roberto Valdes. She came to the United States in 1996 to complete her undergraduate and graduate studies at Duquesne University and Carnegie Mellon University with Andrés Cárdenes, then concertmaster of the Pittsburgh Symphony. Before joining the Oregon Symphony in 2004, she played two seasons with the Pittsburgh Symphony as an extra musician, including national and European tours. She also served as guest concertmaster of the Galicia Symphony Orchestra in December 2007 and has been a frequent concertmaster of the Astoria Music Festival Orchestra. In September 2012 she won the position of assistant principal second violin with the Oregon Symphony in a national audition. Currently, she is the violinist of the Palatine Piano Trio.
Freddy O. Vilches is a multi-instrumentalist, singer/songwriter, and educator based in Portland, OR. Originally from Santiago, Chile, Freddy has performed extensively throughout the US and Latin America (Chile, México, Cuba). He has recorded and performed with some of the best Latin bands in the Northwest, including Latin Expression, and Caliente, and performs regularly with his own Matices Latin Ensemble. Freddy is an experienced teacher and workshop presenter, he holds a PhD in Latin American Literature from the University of Oregon. He joined the Lewis & Clark faculty in September 2006, and is now an Associate Professor in the Department of World Languages and Literatures.
Giancarlo Castro D'Addona is an awarded composer, conductor and trumpet player. Giancarlo has been recognized as an exceptional artist from "El Sistema." Giancarlo's compositions have been performed in places such as Carnegie Hall in New York, Radio France Theater in Paris, and the Royal Albert Hall in London. He was recognized with a gold medal at the Global Music Awards in San Diego ‑ California (USA) as a composer in 2016. As a conductor, Giancarlo has performed with many orchestras and chamber music groups such as Simón Bolívar Orchestra (Venezuela), Paris Symphonic Orchestra (France), Orchestra Valentiana (France), Twin Ports Wind Orchestra (Minnesota) among others. His last work "Sonatina for Tuba" commissioned by Carol Jantsch, was premiered on May 31st at the International Tuba Euphonium Conference 2019 in Iowa.
Marian Gutiérrez was born in Venezuela and was also a musician with "El Sistema." At the age of 12, she was selected as a violinist in the Venezuelan National Children's and Youth Symphony Orchestra. In 2001 she moved to Caracas to study violin at the Latin-American Violin Academy then got a position in the Simón Bolívar Symphony Orchestra performing in worldwide theaters such as Carnegie Hall (USA) and Berlin Philharmonie (Germany). In 2017 Marian moved to Miami and was part of the first violin section of The Miami Symphony Orchestra and also as part of its production team. Marian is also passionate about singing - she was a national semifinalist in the "Canta en Frances" contest sponsored by the French Alliance of Venezuela in 2017. In 2018 she moved to Portland to be part of the teaching artists of BRAVO Young Orchestra and manager of the BRAVO Community Orchestra.