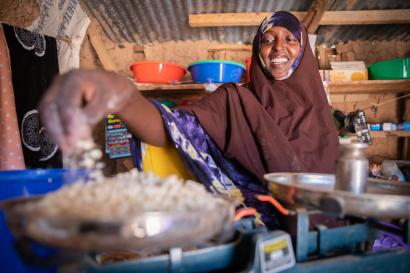 A gift of stock or mutual funds before December 31st could be your best way to maximize tax savings and meet your charitable giving goals this year.
Even if your stocks have lost value since you purchased them you can receive tremendous tax advantages. The key is in how you give the securities. Consult with your financial advisor and consider the following tips.
The smart way to give depreciated stock
For stocks that have lost value (depreciated) the key is to sell them first and then give the cash proceeds to Mercy Corps. You benefit tax-wise in two ways - you can take both the loss deduction and the charitable deduction.
The smart way to give appreciated stock
For stocks that have increased in value (appreciated), the key to receiving tax savings is to donate the shares directly to Mercy Corps. You receive a double tax benefit by:
Avoiding capital gains on the profit you've gained, and
Receiving a full tax deduction for the fair market value of your gift.
Making a stock gift is easy! Simply use the brokerage information below.
For gifts of appreciated securities, please provide your broker with the following information to facilitate the transfer of shares:

Mercy Corps Tax ID #: 91-1148123
DTC#: 0141
Mercy Corps Account #: 4526-2921
Broker: Wells Fargo Advisors
Please remind your broker to include your name, contact information, and any special instructions for use of the gift with your transfer. To expedite the processing of your gift, we suggest that you contact us with information about the type of stock and number of shares, as well as any special considerations you may have. Please direct information about your gift and any other questions to Donor Services at (888) 842-0842 or by email at donorservices@mercycorps.org.
For further questions, you may also contact Mercy Corps' brokers:
Adam J. Dale: adam.j.dale@wellsfargoadvisors.com
Senior Vice President – Investment Officer | Private Client Group
Wells Fargo Advisors
9755 SW Barnes Rd
Suite 290
Portland, OR 97225
Phone: (971) 394-2656
Toll Free: (800) 547-8575
Fax: (971) 394-2652