The Future of War and Peace with Candace Rondeaux and Rebecca Wolfe
Lecture
December 5, 2018 // 7:00 - 8:30 p.m.
Doors open at 6:30 p.m. Lecture begins at 7:00 p.m.
Tickets: $5 Student/Senior, $10 Regular; Available here. Tickets can also be purchased in the Action Center during normal business hours: Monday through Friday, 11 - 5 p.m. All tickets purchased in person do not include additional fees.
"This is one of those moments when technology is moving so fast that the old, settled ways of fighting wars are rapidly being overturned. And nobody knows what, exactly, will follow. ..." - Foreign Policy Editor in Chief, Jonathan Tepperman
When 80% of the world's displaced are forced from their homes because of conflict, we believe that what should follow is more investment in peacebuilding. Candace Rondeaux, Senior Fellow at the Arizona State University Center on the Future of War joins Rebecca Wolfe, Mercy Corps' expert on preventing and stopping violence, in a discussion on the changing nature of war and conflict, and how this change is affecting the way humanitarian aid operates around the world.
About the Speakers
Candace Rondeaux is a Professor of Practice in the School of Politics and Global Studies at Arizona State University and a Senior Fellow with the Center on the Future of War, a joint initiative of ASU and New America. An expert on international security affairs, she has previously served as a senior program officer at U.S. Institute of Peace where she launched the RESOLVE Network, a global research consortium on conflict and violent extremism and as a strategic advisor to the U.S. Special Inspector General for Afghanistan Reconstruction.
She spent five years living and working in South Asia where she served as senior analyst in Afghanistan for the International Crisis Group and as South Asia bureau chief for The Washington Post in Afghanistan and Pakistan. Her research interests include the dynamics of conflict and sectarian violence, transparency and accountability in governance, political Islam in modern Muslim majority states, Russian and post-Soviet affairs. In addition to the Post, her work has been featured in Lawfare, Foreign Policy, Foreign Affairs, The International Herald Tribune, The Boston Globe, The Russia Journal and The Village Voice. She has also been a frequent guest analyst on CNN, Al-Jazeera, BBC World and National Public Radio.
Prior to her postings in South Asia, she produced award winning journalism on criminal justice and legal affairs, contributing to Post's Pulitzer Prize winning coverage of the 2007 Virginia Tech Massacre, coverage of Hurricane Katrina and the Terri Schiavo case for The St. Petersburg Times in Florida, and the 9/11 attacks in New York for the investigative team at The New York Daily News.
A graduate of Sarah Lawrence College, she holds a B.A. in Russian Area Studies, M.A. Journalism from New York University, and an MPP in Public Policy from the Woodrow Wilson School of Public and International Affairs at Princeton University.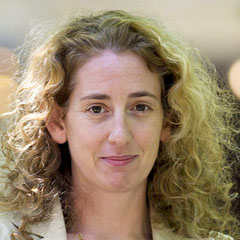 Dr. Rebecca J. Wolfe is a leading expert on political violence, conflict and violent extremism. Currently, she is the Director of Evidence and Influence for Mercy Corps and an affiliate at NYU's Steinhardt School. Dr. Wolfe is able to draw on her practitioner and academic backgrounds to effectively research important development issues, design interventions that are theoretically grounded and evidence based, and communicate to multiple audiences.
Over her career, she has developed conflict prevention and violence reduction programs globally, including Kenya's largest youth development program, gang violence prevention in Guatemala City, countering violent extremism programs in Nigeria and Yemen, and community-based conflict management interventions in Iraq, Syria, Sri Lanka, Indonesia and Tajikistan. She has also published research on why young people engage in violence and how development interventions can be designed to reduce this support.
She was recently a Fellow at Yale University's Political Violence Field Lab. Dr. Wolfe has taught at Princeton University's Woodrow Wilson School for Public and International Affairs and at the Wagner School for Public Service at New York University. She received her PhD in Social Psychology from Harvard University.