What do refugees need after leaving everything behind?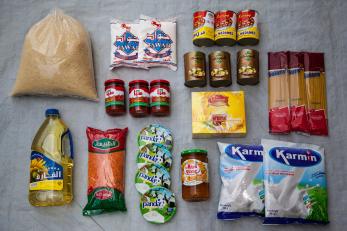 June 15, 2015
Imagine fleeing your home with little more than the clothes on your back and what few items you can carry. You are running for your life — forced to leave your house, job, school, car, belongings and memories behind.
This is the reality for 5.6 million Syrians who have fled to neighboring countries for safety from the war that has ravaged their nation for more than eight years.
MORE PHOTOS: We asked refugees: What did you bring with you? ▸
After so many years away from home, the most important thing many refugees need now is work — a chance to earn money for their families and rebuild the lives they knew. In Syria and around the world, Mercy Corps provides the job skills and cash-for-work opportunities refugees need to earn legitimate incomes and contribute to their new communities.
But in the moments that immediately follow the decision to leave — once refugees cross the border, empty-handed and in a foreign land — how do they make do?
Below, learn about some of the essential items Mercy Corps provides to Syrian refugees living in host communities and camps in Jordan. The supplies help the most vulnerable refugee families survive and cope after losing so much.
Food
It is very difficult for Syrians to obtain permits to work in many of the places they've sought refuge, and many flee with little or no belongings and money. Without livelihood opportunities to help them earn income, refugees struggle to purchase even the most basic necessities, including the food they need to keep their families healthy and strong.
Without food, refugees' ability to be productive and begin rebuilding their lives is severely diminished. We distribute food items like pasta, cooking oil and milk to help them feed their families and focus on the future.

Give now to help more refugees get the food they need ▸
Cooking utensils and dishes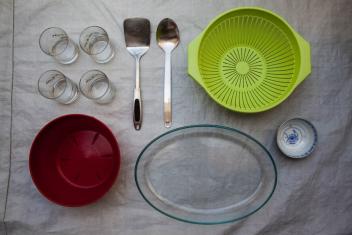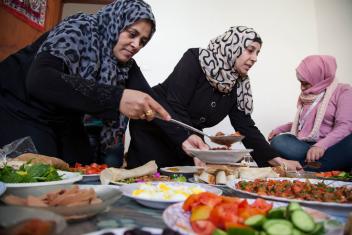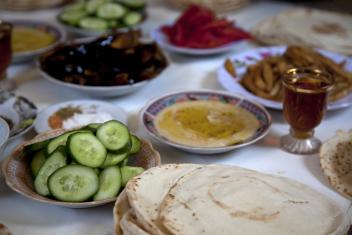 After fleeing home and leaving everything behind, even the most basic household tasks can feel impossible. Refugees must wash, clothe, shelter and feed their families with only the supplies they were able to carry. It's an incredible burden — at a time when fear and uncertainty are already overwhelming.
Cooking utensils and dishes help refugees put their homes back together in the most basic way, and enable them to prepare safe, nutritious meals for their children. The tools also give Syrian families the opportunity to keep an important part of their culture alive — cooking and socializing around food.

Learn how you can help refugees meet their basic household needs ▸
Hygiene items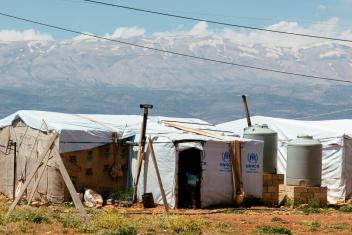 Refugees often live in crowded or makeshift shelters without proper water or sanitation systems: tent settlements, chicken coops, abandoned buildings — wherever they can find relative safety. These dire conditions can have disastrous consequences on their health and morale.
Without basic hygiene supplies to help them stay clean, refugees are at heightened risk of disease, malnutrition, and losing the confidence needed to face an uncertain future. Hygiene items like soap, toothpaste and razors are essential to helping refugees stay healthy and maintain their dignity. Learn more about the water crisis in Jordan, where more than 1.4 million Syrian refugees have now sought refuge.
Newborn supplies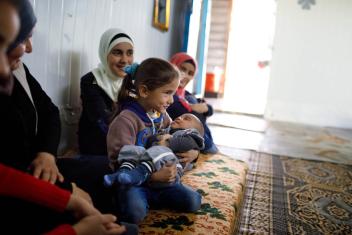 Life doesn't stop when someone becomes a refugee — people still have happy milestones like getting married or having a baby. But caring for a new baby in a camp or refugee settlement can be especially challenging.
We make sure parents have newborn supplies — bottles, blankets, diapers, formula — to provide for the new addition to their family. These items help refugee babies stay healthy and safe, and support their parents as they move beyond crisis and closer to a whole, happy future.

Find out more about our work helping refugee parents cope and move their families forward ▸
Clothing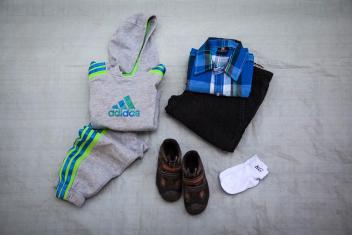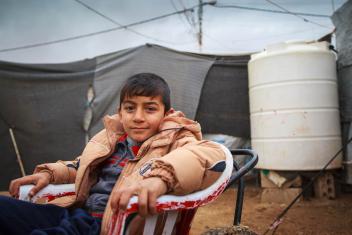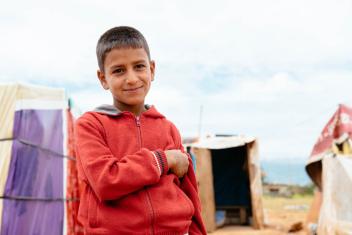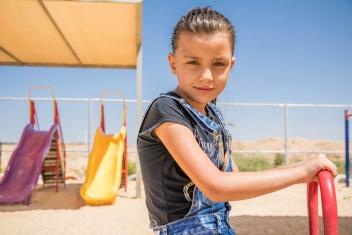 Children don't stop growing when they become a refugee, either. And because so many refugees flee with only what they are wearing, there is a constant need for clothing in refugee communities, especially for quickly growing youngsters.
Clean, quality clothing helps protect refugees from the elements — frigid winters and sweltering summers — and sets them up for success as they try to work, attend school and otherwise recover their lives.

Help us provide even more support to Syrian families in desperate need of help ▸
School supplies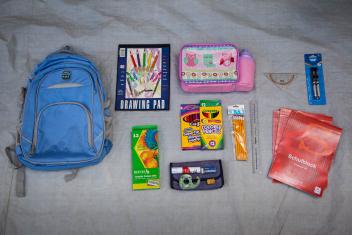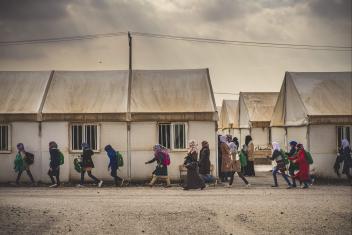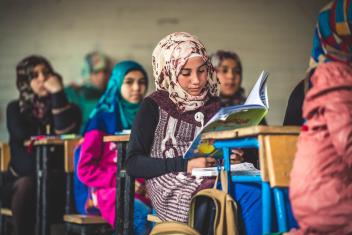 Of all the things young refugees must leave behind, one of the most significant is their education. Many young Syrian refugees have been out of school for years due to displacement, poverty and limited educational resources in their places of refuge. The effect of this is tragic: millions of Syrian refugee children unable to learn and have a chance at a future free of crisis.
In Jordan, where getting children into school can be challenging, we work to ensure the most vulnerable kids make it to the classroom. Our Khabrona.info app helps refugees secure the documentation they need to register for school, while school supplies like pencils, rulers, notebooks and backpacks are crucial to their ability to learn and succeed.

Learn more about our critical work getting refugee children to school ▸
Stuffed animals
Many young refugees have experienced things no child should: bombing, killing, hunger, running for their lives on foot. In camps and communities, they must cope with these things along with the confusion of being in a new place, all without any of their comforts from home.
Stuffed animals are a small joy for children who have been uprooted from their houses, schools and friends — and forced to leave their toys behind.

Learn how refugee parents comfort their children through these difficult experiences ▸
Books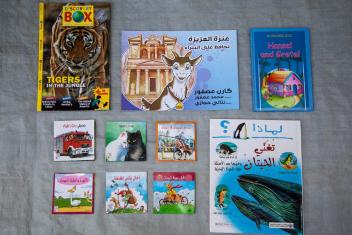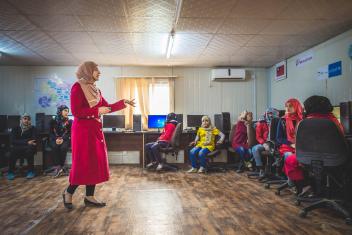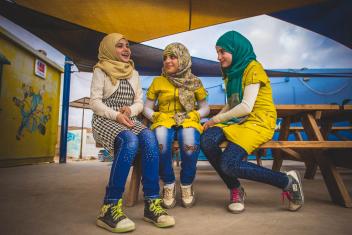 Whether they're living in host communities or refugee camps, it's essential that refugee children have opportunities to grow, learn and continue their development. Without these chances to return to normalcy, we risk losing an entire generation of Syrian children to the stress and chaos of growing up amid war.
We provide books for kids to read in the child-friendly spaces we maintain in Zaatari camp. These spaces are safe places for refugee children to play, make friends, learn new skills and participate in activities that help them heal from their experiences.
Soccer shoes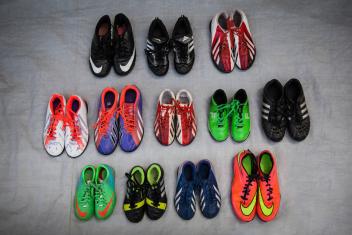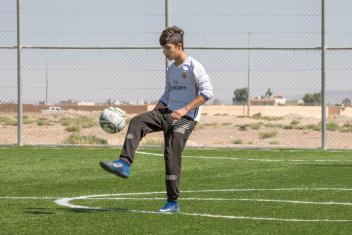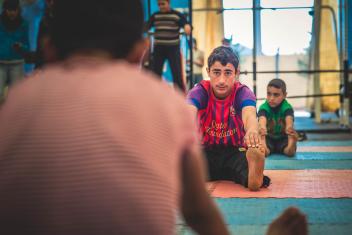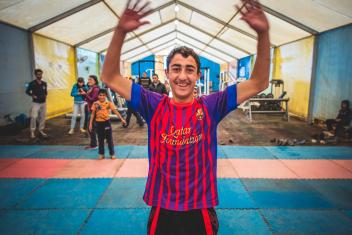 We've also provided soccer shoes to children who play on the sports fields in Zaatari. Sports and games are an important outlet for refugee children, offering them a safe, productive way to spend their time and energy and teaching them critical life skills like self-confidence, teamwork, respect for others and commitment.
These activities also help young refugees develop healthy relationships with peers and coaches, which is vital to helping them overcome trauma and feel a sense of normalcy. This work is made possible thanks to support from UNICEF, UK Aid, and Foreign Affairs, Trade and Development Canada, as well as generous donors like you.
Help us provide even more support to families in crisis around the world.
Ask your friends to contribute to our effort to help families survive, recover and rebuild.