How refugees get the job done in their new cities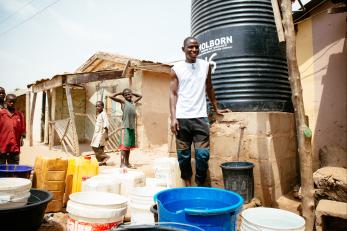 August 03, 2016
Adamu was asleep when he heard men from Boko Haram gathering outside his home. Just a teenager, he knew that Boko Haram targeted young people in Nigeria for recruitment.
Now they were outside his window, looting his neighbors' homes in the dark.
With no time to gather anything, Adamu fled barefoot into the night. He would spend a week in the bush, scavenging for food and living off what he could find in villages along the way.
In a matter of minutes, he had become a refugee.
Elsewhere in Nigeria, community leaders in the city of Gombe faced a mounting problem. Their city was hosting greater numbers of people fleeing Boko Haram, which meant a growing strain on their already scarce neighborhood resources.
The problem was worse in Gombe's Bolari neighborhood. With food, water and shelter already limited, the influx of displaced people seemed to threaten anything left: To fill a single jerrycan of water, people in Bolari were lining up for three hours at water taps.
Looking for a solution, community leaders turned to a hole in the ground. The neighborhood needed a new water tap, which could provide enough water for the growing population. But first they needed to dig a new borehole, install a pump and connect the water tank. They would need someone who could maintain the system and make repairs to keep it running.
The answer, they found, was waiting nearby. Now 20, Adamu had made his way to Gombe and was living in the neighborhood. He was safe, and now that he was settled, he was ready to work.
Why refugees want to work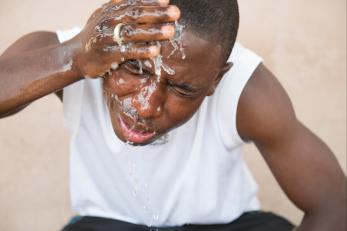 A refugee's story does not end with resettlement. In many ways, a new story is beginning: There is a new life to build, a community to discover, and — for millions of men and women — a vocation to restart.
More than 65 million people are displaced around the world, more than any point in human history. That immense statistic overshadows the range of professional identities underneath: The world's displaced people are engineers, shopkeepers, carpenters, doctors and teachers.
Refugees want to provide safety for their families, and, once they are able, they want to work again. Like Adamu, they want to contribute to their new community.
"Refugees bring to their new home the skills and work ethic they used in their old jobs and countries," says Sasha Muench, Mercy Corps' Senior Director of Markets, Economic Recovery, and Growth. "They are eager to work to support their families and can be a huge benefit to the host country because they are willing to take on undesirable jobs."
For Adamu, the water pump became an opportunity. Mercy Corps provided the equipment and materials needed to turn the borehole into a functioning water point, setting up a cash-for-work project that hired people in the community to do the labor. Adamu was one of two IDPs on the eight-man crew.
Thanks to Adamu's work, people in Bolari now have free access to as much water as they need — as many as six jerrycans a day with no long lines. Additionally, because of the knowledge he gained in the work, Adamu has since been hired to work on two other neighborhood water projects.
"I really want to become somebody in the future," Adamu says. "Now I have passion for this borehole. If I see someone ready to allow me to learn under him, it is something that I will really want to be doing."
The 'substantial contributions' of refugees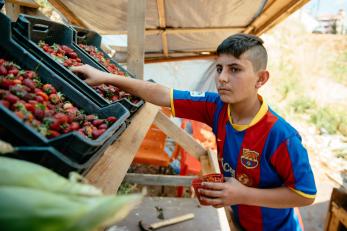 Work doesn't just provide a sense of purpose for displaced people. It also helps local economies, which benefit from an often eager and skilled new workforce base.
Scholarly research is growing on the economic impact of refugees, including in the countries most seriously strained by displacement: Turkey, Lebanon and Jordan, which have taken in 2.2 million, 1.1 million and 600,000 Syrian refugees respectively, according to the United Nations.
While resettling large numbers of refugees can put a strain on local schools, water and sanitation services in the short-term, it provides a number of economic benefits once they are settled.
According to the Organization for Economic Cooperation and Development, Turkey's economy is set to grow 3 percent this year, thanks in part to a major jump in Syrian-owned businesses. Lebanon's economy will grow by about 2 percent — the highest since 2010 — and Jordan's gross domestic product will rise by about 3 percent.
In the U.S., a growing population of Bosnian refugees has helped Utica, New York rebound from years of decline, while Cleveland, Ohio has seen consistent economic growth from the more than 4,500 refugees it has taken in. A 2013 report found that refugees in Cleveland created a total economic impact of $48 million in 2012 — a tenfold return on the $4.8 million it cost to resettle them.
"In advanced economies, once refugees have adjusted to their new life after resettlement, they can provide substantial contributions to the workforce," the report said.
Growing a small business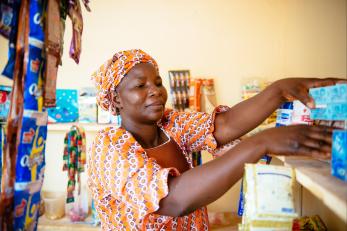 Esther, 44, knows how it feels to want to contribute. She lost her husband and her home to Boko Haram insurgents in Nigeria and had to flee with her four children. They escaped into the bush for three days until it was calm, then they moved to Gombe, arriving with nothing.
With no job, Esther had no way to restart a household or feed her children.
Mercy Corps provided Esther with vouchers for food and household items. Then when she was ready, she received job skills training and seed money to start a small business. A local village savings and loan association (VSLA) in the neighborhood helped Esther and other IDPs begin to save money.
Esther used the seed money to buy a sewing machine, and used the money she earned from sewing dresses to buy simple items to sell like water, biscuits and sweets. Soon, using savings from the VSLA, Esther built a brick-and-mortar storefront in front of her house and expanded her inventory. Now she and her sisters-in-law cook food, which they sell in a local market.
More than a year later, Esther still mourns the life she used to have. But with her small business, she no longer feels like she's only a refugee — she's part of the community in Gombe, and a contributor to the local economy.
"I now feel like I have recovered completely," she says, "because I can provide for my family adequately."