May 09, 2016
Hajia Talatu flashed a wan smile when she described her life before Boko Haram changed everything.
"When my husband was alive, life was very sweet, life was very easy. He provided everything for us," she remembered.
Her husband's work as a truck driver was enough to support her and her eight children. That all changed two years ago, when her husband and some of the other men from their village were killed in a Boko Haram ambush on their way to the market.
Soon after, insurgents raided their village, killing indiscriminately and burning the school and homes.
Attacks like this made Boko Haram the world's deadliest terrorist group in 2014. According to the Global Terrorism Index, 77 percent of the group's victims are civilians. 
How Boko Haram recruits youth ▸
For Talatu and her family, the last two years have brought a dizzying – and traumatic – reversal of fortunes. Today, she and her 8 children live hand-to-mouth in Bajoga, a town in northeastern Nigeria's Gombe state, far from their home in Yobe.
"At home, we could eat three square meals," Talatu said. "But here if we get one, we thank god."
Their hunger is a potent illustration of how vulnerable they are now, and what it means to be an internally displaced person.
Despite loss, women build a future
Esther, 44, and her four children fled Yobe last year, after Boko Haram militants killed her husband, a police officer, and raided their village. The family spent three harrowing days walking in the desert.
Esther and her children arrived in Gombe with only the clothes on their backs.
Newly widowed and suddenly responsible for providing for her family, Esther relied on Mercy Corps' vouchers for food and household necessities to start over in Gombe. She couldn't afford to enroll her children, aged 5-15, in school or meet any of their other needs. She knew in the long run she needed to establish some kind of livelihood.
She applied for a seed money grant from Mercy Corps so she could buy a sewing machine. Along with the $100 grant, we provided business training as well as membership in a savings group and lessons about money management to help her on the path to self-sufficiency.
With the money she made sewing, she bought small things to sell around her neighborhood: purified water, biscuits, sweets. Each week she deposited 1,000 Naira (about $5) with the savings group. She borrowed 10,000 Naira (about $50) from the savings group and bought the equipment to start a small fish pond at her house.
From the money she made selling fish, she repaid her loan with interest in two months.
Esther withdrew 35,000 Naira ($175) from her savings and used it to build a small shop in front of her house. Now her neighbors come to her to buy food and household necessities.
A young boy ran up to the shop window with a crumpled bill in his hand. His mother had sent him to buy a small broom. Esther passed the broom through the window and took his money. She put it away so she could deposit it at the next savings group meeting.
"I have seen the importance of savings," she said.
Esther has re-enrolled her children in school, and she says she makes enough money to meet the family's needs.
"I now feel like I have recovered because I can provide for my family adequately," she said.
For a family who lost everything, it's another reversal of fortunes. And while there are some things Esther knows she'll never get back, she is building a more hopeful future day by day.
A common story of escape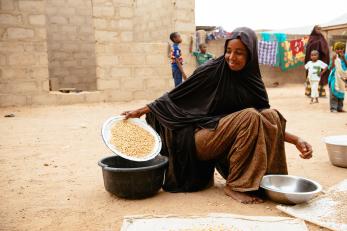 Hajia Talatu and three other widows displaced by the prolonged war with Boko Haram sat on mats on the floor with me, describing the hardships they now face.
The other women jumped in, clearly wanting me to understand how dramatically things have changed.
"Where she was coming from, she was a big woman!" Hussaina said, referring to Talatu. They call her Hajia, the honorific adopted by Muslim women here who have made the pilgrimage to Mecca, and point out her gold tooth, another sign of that status.
Hajia Talatu made the trip just five years ago, when her home was peaceful and her family prosperous. There's a kind of resigned gallows humor among the group. "See? Boko Haram has even made her poor!" Hussaina said.
Talatu and her children, along with some of their neighbors, fled into the bush to escape the insurgents. Their stories are similar. Talatu described a harrowing journey through a blistering desert. On their long walk to safety, they saw many people succumb to dehydration, exposure and snakebites.
Fueled by fear, even the youngest children walked. "My own 5-year-old, he ran. My youngest, even 2 years old, he ran," Hadiza, a mother of 5, told me. "They had to."
The effect of Boko Haram in Nigeria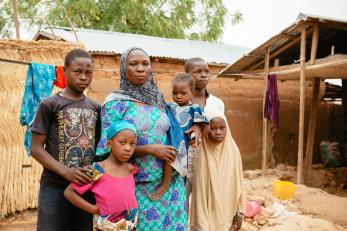 For many displaced families, gathering even the most basic items to establish a new home is beyond reach. They have no income and little access to jobs. Mercy Corps has begun giving vouchers to these families loaded with enough money to buy household necessities like pots, plates, blankets, clothing, and jerrycans for storing water.
"When we were running from Yobe, we didn't bring anything. Not even a spoon," said Adama, a mother of 9 who escaped with Talatu's family. "So for us to have these items, we really need them. They are very helpful."
Mercy Corps is one of few international responders in this region facing a massive humanitarian crisis. About 2 million people have been displaced by the Boko Haram insurgency. We give people vouchers they can use to buy food and household items, the most urgent needs of those struggling to establish themselves in a new place.
But the reality is that people here need a more sustainable solution to the challenges they face. With Boko Haram insurgents still terrorizing villages across northeastern Nigeria, it's not clear when it will be safe for people to return and begin to rebuild their homes.
That's why Mercy Corps is also helping internally displaced people in Nigeria start small businesses and generate enough income to meet their own basic needs.
Make a gift to support Mercy Corps' work in some of the world's toughest places.