For refugees with disabilities, a back to school to remember
September 08, 2017
Malak wraps her small hands around a piece of yellow clay, carefully molding it into shapes matching the Arabic alphabet. As she works, she makes jokes and swings her tiny legs beneath the table, her high-topped feet not near to grazing the floor.
At 15 years old and barely 2-feet tall, Malak has a combination of health issues including dwarfism and severe scoliosis. Because of the war in her home country — Syria — she's now also a refugee.
What you need to know about the Syria crisis ▸
Malak made the painstaking journey to Zaatari two years ago, arriving as a stranger in a sprawling desert camp home to 80,000 other Syrians. Bustling markets and a torrent of activity disguise the reality that this is a temporary city — filled with uprooted families — designed in response to the world's worst refugee crisis.
For those who live here, finding safety in this sea of caravans has meant losing nearly everything else entirely. For Malak, that included her home, her friends and, not least of all, her education.
How we're ensuring young refugees don't lose their futures ▸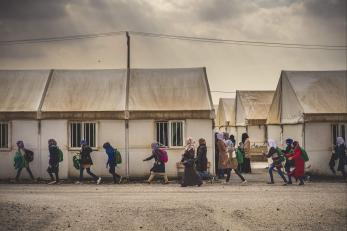 In six years of bloodshed, more than half a million Syrians have sought refuge in Jordan, an influx of people that has strained vital resources like shelter, jobs, clean water and schooling. For 40,000 young Syrians here who want an education, countless obstacles — inadequate facilities, overcrowding, poverty, a shortage of qualified teachers — stand in the way.
Those with disabilities have that much more working against them: services for disabled students were limited before the war; now they are almost nonexistent.
For the first two years after Malak's arrival in Zaatari, a lack of resources kept her from attending — the facilities just couldn't accommodate a student of her size.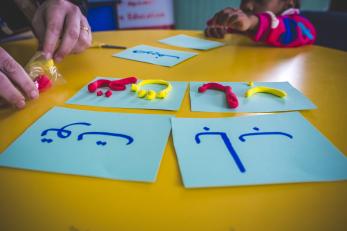 Around 10 percent of people crossing the border from Syria have some sort of disability, so Mercy Corps' inclusive education program aims to prevent those of school-age — like Malak — from being refused an education simply because they have special needs.
So far we've helped over 3,000 students with disabilities enroll in schools throughout Jordan by providing essential equipment like wheelchairs, glasses and hearing aids, as well as the staff they need to be safe and supported.
New glasses bring a refugee boy to the head of the class ▸
When we heard Malak's case, we worked with her school to enroll her, too. Mercy Corps provided a specially-fitted desk so she could be integrated into the regular classroom, and paired her with her own teacher, Haleema, to receive one-on-one physical therapy and academic support to help her catch up with her peers.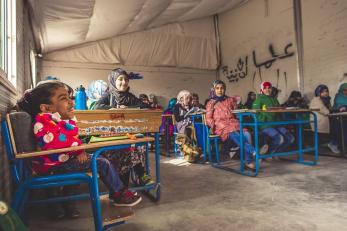 Malak is loving, social and perpetually optimistic — but she has missed years of her education because of her physical ailments. Even in Syria, the various therapies and treatments she required made it difficult for her to keep up with her classes.
Malak credits Mercy Corps with just now being able to read.
"I receive a lot of things here, a lot of useful things," she says. "I do exercise. … I learn lots of math and I learn how to read and how to multiply numbers. I feel good. It is helping me be on the same level as my classmates."
"There is a change in her academic skills," Haleema confirms. "She is better, and when I teach her words she can write them. She used to not be able to write the correct word with the correct letters, but now she's improving."
VIDEO: Hear from our team member, Omar, on why we can't give up on Syria's children ▸
Haleema, a Syrian refugee herself, has been trained by Mercy Corps to provide physiotherapy, occupational and speech therapy, and academic training tailored to the unique needs of each student she works with. For Malak, activities like molding clay into letters provide the dual benefit of improving her literacy and strengthening her hands, which are weak and tire easily, making it difficult to write.
"It's the best place for a child with a disability to be — in school, not in a special center," Haleema says. "It's for her sake, to feel equal with the other children and not less than them, and to have opportunities in the future."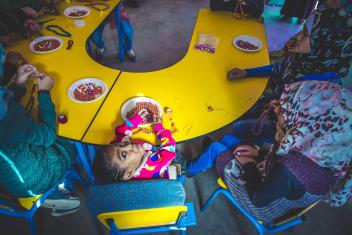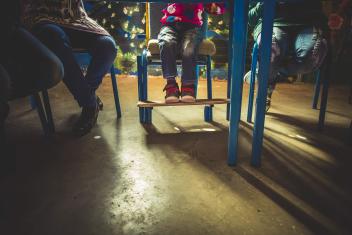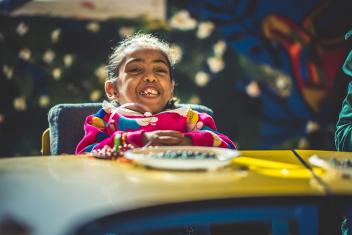 As Haleema stands by her side, Malak curls her fingers around the clay letters and methodically places them on the flashcard in front of her. Though the work is hard and the progress slow, she remains happy, no longer questioning she'll have the same chances as any other student.
With a bright smile and the assurance she is wholly supported, she now has the freedom to dream of the future.
"I want to be a teacher," she says.
How you can help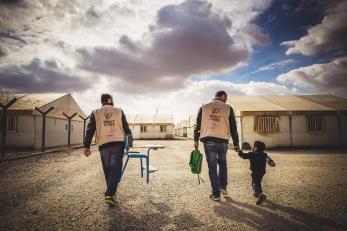 For young Syrian refugees like Malak, the programs we provide can mean the difference between a life of despair and a future of hope. And those programs rely on the compassion and kindness of people like you.
We've worked in the region for 20 years and are committed to helping young Syrians and the countries hosting them for as long as it takes. As the number of those in need keeps increasing, your support will allow us to do even more for young refugees.
Help us provide even more support to families in crisis around the world.
Ask your friends to contribute to our effort to help families survive, recover and rebuild.