How refugee parents comfort their children
August 10, 2016
Hugs. Kisses. Cuddles. Small reassurances. Big promises.
Regardless of the method, every parent strives to provide the same things for their child: A warm home, a life of joy, and the feeling that, no matter what, they are safe and protected.
A war, however, makes this a monumental task. The usual challenges of being a child — bumps, bruises, the occasional lost toy — increase tenfold. Falling bombs, destruction, and the loss of loved ones, homes and schools become the daily reality. Comfort remains critical but is much more challenging to give.
In five years of conflict in Syria, over 80 percent of the country's children have been touched by violence like this in some way. Millions are out of school, in need of humanitarian aid and at risk of losing their futures.
Of the 4.8 million Syrians who have been forced out of the country, over half are children.
Despite these circumstances, their mothers and fathers manage to bring them times of happiness and relief. We asked some of them how they ease their children's fears — this is what they said.
They give them pets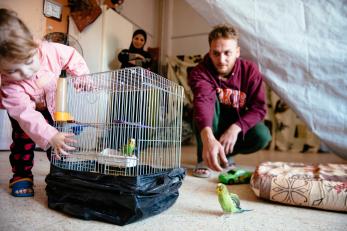 "I try my best to keep my children happy with the only means that I have," Ayman says. "I play with them a lot. I try to make them laugh by tickling them. I got them two birds and when they wake up in the morning the first thing that they love to do is to open the cage of the birds and watch them fly, and I hear their laughter, and I feel that they are happy. But I know this is not enough."
Ayman, his wife and their two daughters, ages 1 and 2, live in an old math classroom in an abandoned school in Lebanon. He can't find work and the family struggles with severe hunger and poverty every day. Every resource Ayman does have is invested in his daughters' wellbeing — he frequently goes days without eating so he can buy food and diapers for his girls.
"I am willing to be hungry and to be sleepy," he says. "I don't want anything for myself … but I want the best for my children because they deserve the best. My children are my whole life."
They make up stories
"[My son] used to ask, 'What's happening?' when he heard bullets. I told him they were shooting birds," Daad* says. "I was happy to give him that idea. When they were shooting heavily and he would see me afraid, he would say, 'Don't worry, Mama! They're shooting birds.'"
Despite the war around them, Daad and her husband held onto their life in Syria as long as they could, leaving only after their family was threatened. Now, as refugees in Lebanon, Daad is doing everything she can to turn a rudimentary tent into a safe home for her family.
"I always talked with my husband about how we need to work harder to make a better life for our children," she says. "We don't know now what's happening, but even if we get tired, we'll still work hard because these children deserve a better life."
*Name has been changed to protect identity and safety.
They hold them close
"The situation [was] hard in Syria," Walaa says. "When we heard planes, I tried to say that it was very far away, not happening here. Whenever a bomb fell or we heard an explosion, we made sure that our children were near us to help them feel safe."
But when a rocket landed on their home in Idlib, Syria and severely burned her daughter, Fatima, there was nothing left to do or say. The war was on top of them; they had to run.
Now, in Greece, Walaa uses cash assistance from Mercy Corps to support her children, treating them to a small package of peanuts or a soda when she can. "So they can forget the hunger and the horrible days they've lived. So they can be happy," she says.
And until the sight of soldiers and the sound of planes no longer send her children into fits of tears, Walaa will keep them near.
"We always try to have them close to us so they feel safe. Because what's safer than being in your arms?"
They remind them they are safe — now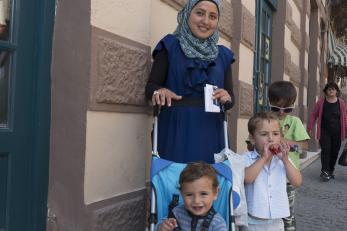 "[I say] you're safe here and you will not see what you've seen in Syria," Hanan says.
Her young children, all of whom are under the age of 5, have only known war in their lifetimes. When they arrived on the shores of Lesbos, Greece, with Hanan, they expected to find violence and destruction there, too.
"When we arrived on this island there were many planes flying over, and that made them scared. It was very hard for them to adjust," Hanan says. "But I try always to comfort them and make them aware that these are normal things and there is no war in this country."
"And I am trying to do activities with them like speaking English [and] going with them to different activities to make their life normal again. Bit by bit they are actually adjusting very well."
Learn more about how war affects children ▸
They make them laugh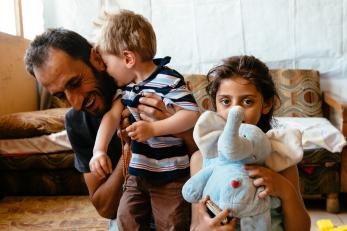 "To make a child happy you have to give him all of his needs, but I can't give him all of his needs," Modyan says. "But what I can do for the moment is make them laugh and make them smile. That's all I can do."
Modyan and his family fled Syria when shelling and war planes closed in on their town. They now live in an abandoned school in Lebanon and have no income to provide food, water, medical care or proper shelter for their children.
Modyan laments he can't give his children everything they need, so he tries to give them plenty of playtime and affection instead. "I caught you. I'm catching you. I have you!" he says, tickling his young son.
"I love my kids. They're always with me," he continues. "[But] they have nothing. They have nothing. The only thing that we can give them is emotions. Emotions and love. That's the only thing we can do."
They help them remember the good times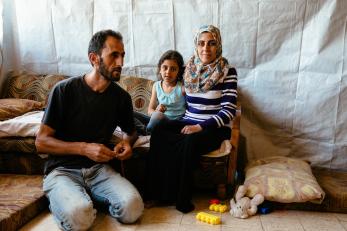 "I will revive the memory of our house in Syria by telling them 'Do you remember this? Do you remember that?'" Rabah adds.
Reminding her children of happy memories and making connections to their life in Syria is Rabah's way of helping her children cope with what they've been through — and what they've lost.
"If my daughter sees something she likes, let's say a tree or a house, or she saw something — a blanket — whatever it is. I will tell her 'Do you remember we used to have this tree at your grandpa's house? Do you remember your grandmother used to knit just like this?' This is our bond right now."
They look for the brighter tomorrow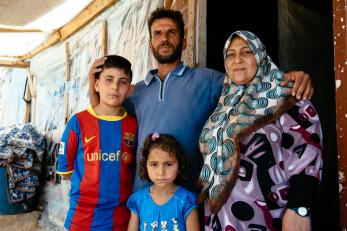 "I try to comfort them by telling them we have difficult days, but we also have better days," says Hamida (right). "If today was difficult, you're going to have a better day later on. I try my best to keep my children optimistic."
Hamida and her husband, Abdelbasset, decided to leave their home in Syria when they felt they could no longer keep their family safe.
"The children knew there was a war. They actually witnessed the shellings. A shell dropped right next to our house, so they saw that. They saw a lot of people leaving from the city of Aleppo … They knew, this is a war and we have to leave because it is not safe anymore."
The family has escaped the constant shelling and warplanes but, as refugees in Lebanon, their future is uncertain.
"I really hope my family lives a much better life than they are living right now," Hamida says. "[I hope for them] to live in peace, to live comfortably. Not to live in this dire situation like they are doing right now."
They prepare them for a better future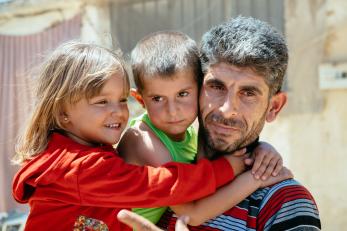 "I try my best to keep them learning, to keep teaching them something, so they are always learning something," Ziad says.
Ziad lives with his family in a tent settlement in Lebanon since fleeing the war in Syria. Conditions in the camp are dire — hunger, poverty, poor sanitation and inadequate shelters are rampant — but Ziad has found purpose running an informal school to keep the settlement's children, including his own, moving forward.
About 10 kids meet in his tent twice a week to learn basic subjects and values, and do activities that help them express their feelings.
"The importance is not just teaching subjects, but teaching hope. It's going to give them an effort so they can do something in their future," he says. "If you don't give children hope, it's the same as losing a whole generation, because this is all they have. The future is all they have."
What we're doing
Mercy Corps is on the ground helping families affected by the Syria crisis survive and recover for the long-term. In camps and communities throughout the region, we help them meet their immediate needs like food, water and shelter, and provide cash so they can buy the things they urgently need to get by.
We're also focused on ensuring Syria's children have the emotional support and opportunities they need to overcome this crisis. We build safe spaces to help them heal and continue their development, we connect them with activities that allow them to express themselves and cope with trauma, and we bring in educational programs so they don't miss out on their futures.
Help us reach Syria's youth with the support and protection they need.
Ask your friends and family to contribute to our efforts to help Syrians fleeing the war.