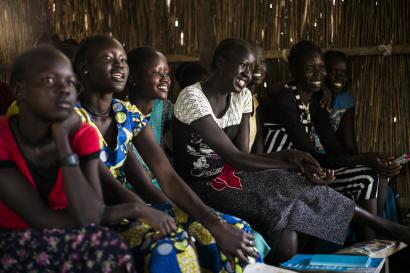 Mercy Corps has been working in South Sudan since 2005, and has continued through the country's independence in 2011, helping communities work together to respond to and recover from emergencies. Last year, we reached over 380,000 people across the country.
The context
Political conflict, compounded by economic woes and drought, has caused massive displacement, violence, and dire food shortages as South Sudan marks a decade of independence. A peace accord in 2018 and the formation of a unity government have given renewed hope, but over 8 million people—nearly three quarters of the population—are in need of humanitarian assistance, including around 5.8 million people experiencing hunger.
Food security is expected to deteriorate, with 7.2 million people estimated to face crisis levels of hunger with the onset of the July to August lean season, the period of time between harvests when food stores are low. The ongoing conflict and insecurity have pushed millions to the brink of starvation for years. In 2017, famine was declared in two counties in South Sudan and has remained a persistent threat since.
In 2020, communities were hit with intensified violence, major flooding, and the COVID‑19 pandemic. Ongoing conflict continues to deepen the current humanitarian crisis. More than 1.6 million people remain internally displaced and 2.2 million have fled to neighboring countries. Immediate needs for clean water, health care, sanitation, food, shelter, and protection are dire, and millions of people now require urgent support to survive and get their lives back on track.
Our impact
Since 2005, we have been working with South Sudanese communities to recover from emergencies and strengthen their resilience to future challenges. In response to COVID‑19, we've adapted our programs in order to continue working with communities. Today, we focus on four areas:
Humanitarian preparedness and response
Mercy Corps develops emergency preparedness plans and participates in coordination efforts with other humanitarian agencies, including through the U.N. South Sudan Humanitarian Fund to identify effective action in response to sudden crises.
Water, sanitation, and hygiene
We are working to improve access to safe, improved, and sustainable water, sanitation, and hygiene services for crisis-affected communities. We've done this through rehabilitating boreholes in villages and camps for displaced people, constructing communal latrines, raising awareness of good hygiene practices, and distributing hygiene items like soap and women's sanitary products.
Food security and resilient livelihoods
We provide cash so people can access food in local markets and meet other urgent needs. At the same time, we work with households to help them become more resilient to threats like conflict and floods by giving them more durable livelihoods. For example, we are introducing improved farming and post-harvest practices, and supporting local services like ploughing and grain storage. We are also supporting initiatives like honey production, introducing modern beehives and honey processing techniques. Lastly, we help establish community savings groups, which pool savings and allow members to borrow small sums of money to support their livelihoods in times of need.
Education and child protection
We provide children, adolescents, and youth who have been impacted by the conflict with access to safe spaces, psychosocial support, and skill-building activities. We also support education by rehabilitating classrooms and working with local communities to provide school lunches.
Join us in building a more equitable world.
Use your voice and urge Congress to take action.