A Step Towards Resilience: Pioneering Market Systems Development in Humanitarian Response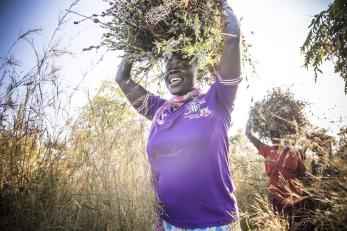 February 26, 2019
Protracted displacement requires a new generation of solutions beyond long-term relief aid. Considering global patterns of extended timeframes for displacement and repeated displacements over time, it is unsustainable to indefinitely provide direct assistance that maintains people in a situation of dependency.

Donors, governments, and aid agencies debate what are viable alternatives that meet humanitarian needs while also strengthening resilience and self-reliance of affected populations. Inundated with hundreds of thousands of South Sudanese refugees after renewed fighting broke out in South Sudan in 2016, this debate is relevant and time sensitive in Northern Uganda.

Mercy Corps is responding to the South Sudanese refugee influx in Uganda by testing the use of a market systems development approach to build the resilience and self-reliance of refugee and local Ugandan communities. This approach seeks to meet the immediate needs of refugees while at the same time enabling them to take increasing control of their recovery through local systems and resources.

In a recent evaluation of a pilot project implemented in Uganda's West Nile sub-region, there are promising signs of early market systems change in the form of behavioral shifts among actors at all stages of the agricultural value chain and demonstrated potential for increasing farmers' agricultural incomes over the long-term. The pilot evaluation provides a greater understanding for what is possible, raised critical issues about which components of a market-based approach work well in the context Northern Uganda, and where investment is required to further support learning on market-based information gathering, change and development.