A big bet on helping refugees build their dreams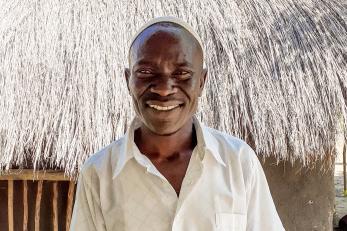 February 10, 2021
Before the war, Rashid had a prosperous life in South Sudan—he grew food on his own plot of land and also ran a small shop that brought in enough income to support his growing family (he and his wife have six children ranging in age from 6 to 20). But when the civil war that displaced more than 2 million people across his country came too close to home, Rashid and his family had to leave everything they had behind. With violence encroaching on their small village, they fled carrying just a few personal belongings—clothes, bedsheets, and some food. The family ultimately arrived at Rhino Camp, a refugee settlement in northwestern Uganda, in 2017. And while they were eager to put down new roots, their struggles were unfortunately far from over.
Uganda hosts Africa's largest refugee population. With limited resources, basic necessities like food and clean drinking water are out of reach for far too many people here, Ugandans and refugees alike. While those who make it to Rhino Camp may have a home, building a life is a more daunting challenge.
When they first arrived, Rashid and his family lived in a grass-thatched home, which was immensely difficult during the rainy season, when water poured right in. He was frustrated that his children were unable to make much progress in their very overcrowded schools; the whole family dealt with sickness and getting enough to eat. He used the little money he had from South Sudan to open a small shop selling beans and maize, but did not have enough capital to sustain the business. Like so many refugees, Rashid and his family were at first largely dependent on food assistance from humanitarian organizations. While this crucial aid is often lifesaving in the short term, Rashid wanted a sustainable solution that would allow him and his family to put their skills to work and provide for themselves, rather than remain dependent on assistance that might not always be there.
Rashid took a major step in this direction when he was selected to join a business training program run by Village Enterprise, a nonprofit organization that equips people living in extreme poverty in rural Africa to start sustainable businesses and savings groups through entrepreneurship and innovation. The training helped Rashid develop skills in money management and savings, and concluded with a grant to help him sustain his own small business, including buying new goods and supplies. Identifying a need in the community for hardware, he started selling nails and other materials people needed to build and repair their homes. Since then, he's not only been able to keep the business going, but has earned enough money to build a new, more sustainable home for his own family, and to send his children to low-cost private schools at the camp, where he is now pleased with the progress they are making in their education.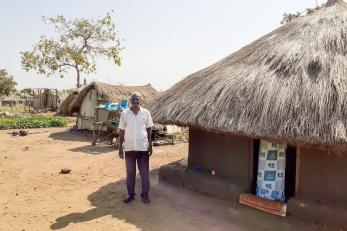 A new kind of humanitarian partnership
The training Rashid attended was part of a pilot between Village Enterprise and Mercy Corps that tested whether combining our two organizations' skills and experiences could help us reach more people and secure longer-lasting outcomes.
The Delivering Resilient Enterprises and Market Systems (DREAMS) for Refugees program brings together two evidence-based models: Village Enterprise's focus on poverty graduation (lifting people out of poverty) and Mercy Corps' expertise in market systems development—identifying profitable, sustainable avenues for refugees to build economic self-sufficiency.
Village Enterprise's graduation approach serves the most vulnerable refugees, helping them build a base level of income by providing training, mentoring, seed capital grants, and savings groups such as the one Rashid participated in. Through this method, they engage some of the hardest-to-reach people, those even other humanitarian groups on the ground often don't serve.
Meanwhile, Mercy Corps' market systems development approach focuses on the next step: we work with the private sector to understand the needs of refugees and identify opportunities for them to build and grow their own businesses. We connect refugees to the market-based services necessary to help their businesses thrive, including fostering connections to suppliers and buyers to help them get the goods they need, as well as creating connections to financial services, and access to land.
Each of these approaches has helped lift many refugees out of poverty, but neither can reach all refugees. The graduation model is proven to support people in escaping extreme poverty, but without access to strong and inclusive markets, there is the question of how graduates can grow beyond their initial micro-enterprises. Conversely, the market systems development model has been shown to increase income and strengthen livelihoods of refugees, but it cannot always reach those who do not yet have enough income and resources to consider starting a business. So we hypothesized that our approaches would be even more effective when combined.
With the DREAMS program, we combine these two approaches, first helping refugees graduate out of poverty through a sequenced set of activities designed to launch and sustain their microenterprises, then supporting them to scale those businesses by connecting them to dynamic markets, while further integrating them into their host communities. This integrated approach helps ensure that they not only have the chance to get ahead, but also the financial security to avoid slipping back into poverty.
The next level
That initial iteration of DREAMS took place in the refugee settlement where Rashid lives, as well as two other settlements in Uganda. Now we're planning to take this to the next level, expanding the program in Uganda and also bringing this solution to Ethiopia, another country with a large refugee population. DREAMS will help transform thousands of lives among the more than 2 million refugees who live in these two countries – especially women, youth, and others living in extreme poverty.
Why hasn't this type of partnership happened before? The truth is, current humanitarian models and approaches aren't really designed for the full scope of challenges that these refugee populations face. Refugee responses are typically short term, providing much-needed, but limited assistance such as emergency food or cash. Conversely, job training programs often focus on providing basic skills to small groups of people, and are not necessarily aligned with local market needs. What we are doing now, by connecting each of our organizations, is building a more holistic, systemic model that is adapted to the realities of refugees living in long-term displacement.
This new phase of the program is designed to reach 30,000 households across Uganda and Ethiopia, impacting more than 150,000 lives. Crucially, working together leverages our two organizations' strengths and areas of expertise to help us reach more people with more support. We don't need to become jacks-of-all-trades if we can work together in ways that play to our strengths. COVID‑19 has only upped the urgency for these types of partnerships. Millions more people are facing humanitarian crisis situations due to the pandemic, and they need solutions that will help them survive immediately and support them in building economic self-sufficiency.
Our commitment to invest in and scale up a series of breakthrough solutions
The rising popularity of big bet philanthropy—investments of $10 million or more in ideas meant to create transformative solutions to deep-seated social problems—is largely a response to a recognized need to connect the dots between the ideas needed to solve these big challenges, and the investment needed to make those ideas a reality. At Mercy Corps, we have made a commitment to testing and scaling innovative models and believe DREAMS can be a breakthrough solution. By bringing our two groups' combined decades of experience together to provide holistic long-term solutions, DREAMS represents a totally new model of approaching global poverty. Not only is this program on course to assist many thousands of people, but this successful evidence-based model can be replicated by other humanitarian groups around the world.
With this in mind, we're extremely honored that Village Enterprise, Mercy Corps, and IDinsight (a global advisory, data analytics and research organization that serves as the external evaluator for this program) have been named one of five finalists for the Larsen Lam ICONIQ Impact Award. This brand new initiative was launched in January 2020 by philanthropists Chris Larsen and Lyna Lam, and the Sea Grape Foundation, with support from ICONIQ Impact and Lever for Change, to identify actionable ideas that will transform the lives of refugees and displaced people. In addition to the opportunity to compete for the $12 million prize, finalists also will receive technical support and expertise from the Bridgespan Group and Lever for Change.
We're excited to take the lessons learned from this successful pilot and scale up in a big way. By combining the expertise of our two organizations, we have unlocked a new and exciting model that has the potential to transform millions of lives. It's a sustainable solution that will help refugees around the world to use their skills, follow their ambitions, and build their own dreams.