Leveraging Crisis Analysis Towards Resilience-building Responses
A Case Study from the DRC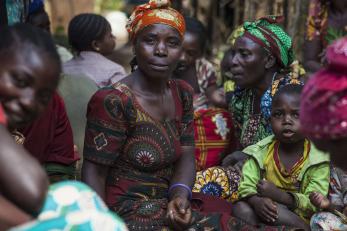 August 06, 2021
The need for continuous, granular, real-time risk analysis motivated inquiry into the relevance and applicability of rapid situational analysis tools—typically reserved for humanitarian settings—to resilience investments in protracted crises. This brief provides a case study in one such analytical method, Crisis Analytics at Mercy Corps, and its application to protracted crises in the Democratic Republic of the Congo (DRC). A study of three applications of Crisis Analytics in the DRC, displacement alerts, monthly-deep dives on relevant social, political, or economic issues, and perception-tracking, found that Crisis Analytics effectively supported Mercy Corps and other humanitarian actors in the DRC to shape appropriate, conflict-sensitive, and forward-thinking responses that laid the foundation for resilience.
Resulting recommendations for donors and implementing partners on the application and use of crisis analysis include:
Crisis analysis should be an essential component of humanitarian, peace, and development programs' decision making in conflict contexts to enable local investments to build resilience and avert future humanitarian need.
Programs should apply and use crisis analysis methods throughout all phases of resilience project or portfolio management in protracted crisis contexts, including design, monitoring, and adaptive management. This includes adapting existing monitoring, evaluation, and learning tools and processes to inform real-time decisions that can improve resilience outcomes in crisis contexts.
Donors should fund independent crisis analysis hubs at a portfolio-level, thus ensuring the continuous availability of highly relevant, actionable, real-time crisis data for humanitarian, development, and peace actors operating in a particular context.
Donors and implementing partners should leverage existing coordination structures to disseminate crisis analysis information widely and use the data for shared planning that informs collective action.
Resilience Rapid Learning Series
Lessons for Building Resilience in Protracted Crises and Conflict-affected Settings
The Resilience Rapid Learning Series provides practitioner and donor communities with insights and emerging evidence on how to build resilience in protracted crises and conflict-affected settings by documenting promising program approaches and contextual insights.
This series was inspired by a Conflict and Resilience Roundtable in June 2020, organized by the Resilience, Evaluation, Analysis and Learning (REAL) Award and the USAID Center for Resilience, and framed by Mercy Corps' paper Towards Resilience: Advancing Collective Impact in Protracted Crises. 
Research questions for each brief in this series align with the framework presented in the Towards Resilience paper, calling for collective action around three practice areas to drive  resilience:  
Rapid, real-time analysis of risk factors that drive and perpetuate fragility.
 Support to local market and social systems to strengthen sources of resilience to the  shocks and stresses defining protracted crises. 
Short-term violence prevention paired with efforts to transform the structural drivers  of conflict. 
Other briefs in this series include: