Towards Resilience: Advancing Collective Impact in Protracted Crises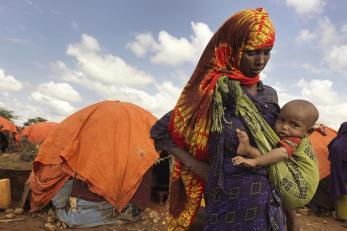 May 26, 2020
Download the summary ▸
Download the full report ▸
Download the policy brief ▸
Global crises are increasing in number, duration, and complexity. In places like Somalia and Northeast Nigeria, the recent COVID-19 outbreak promises to further decimate local economies, erode public trust, and upend social networks. Yet it is only the latest threat highlighting the limitations of international aid to achieve better outcomes for populations facing protracted humanitarian need. Advances in multi-year, flexible funding, and efforts to achieve collective impact by blending humanitarian, development, and peacebuilding assistance – the so-called "triple nexus" – are falling short because they do not address the fundamental incoherence of aid.
Our paper, Towards Resilience: Advancing Collective Impact in Protracted Crises, calls for humanitarian, peacebuilding and development action to align behind a resilience agenda to protect current and future well-being in conflict settings. This includes strengthening the capacity of institutions and communities to mitigate the drivers and effects of violence, alongside other risk factors such as climate events, economic disruptions, or disease outbreaks that exacerbate fragility.
Specifically, we call for collective action in the following three areas to drive resilience:
Rapid, real-time analysis of risk factors that drive and perpetuate fragility.
Support to local market and social systems to strengthen sources of resilience to the shocks and stresses defining protracted crises.
Short-term violence prevention paired with efforts to transform the structural drivers of conflict.
Recommendations
The approach outlined in the paper calls for a radical departure from business as usual. Given the political and moral imperative to achieve better outcomes, policymakers and implementers must rethink how humanitarian, development, and peacebuilding investments are conceived, delivered, and assessed. To guide the adoption and application of a resilience agenda, we recommend the following:
Ensure greater coherence of international responses by adopting and holding aid actors accountable to shared metrics of success.
Shift the assistance bias away from direct delivery and toward working through and in support of local market and social systems.
Ensure peacebuilding expertise and funds are part and parcel of the design and delivery of humanitarian and development investments in conflict-driven crises.
Allow for greater flexibility in mandates and approaches across funding streams.