Where are the world's toughest places?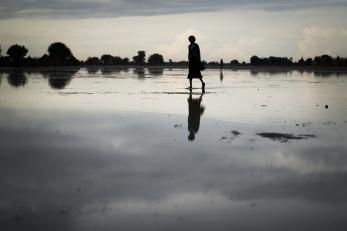 June 26, 2014
Conflict. Hunger. Poverty. Disaster. These are just a few of the challenges threatening the lives of families living in the world's toughest places.
The Fragile States Index, released by the Fund for Peace this week, ranks the security of 178 countries according to their ability to withstand these types of pressures, including displacement, water and food scarcity, unemployment, ethnic violence and many more social, economic and political strains.
Mercy Corps is hard at work in 16 of this year's 20 most fragile countries. In these tough places we're striving to help families grow food, access clean water, earn a living and envision a future for themselves despite the tremendous obstacles they're up against.
Below, read about a few of the ongoing crises in these vulnerable countries, and learn what we're doing to help families survive and overcome them.
No. 1: South Sudan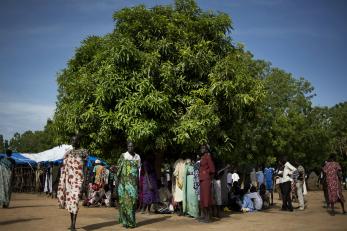 Brutal violence erupted in the capital of Juba in December 2013, plunging the world's newest country into a massive humanitarian crisis. The ongoing conflict has forced over 1 million people out of their homes and put the entire country at risk of famine.
Hungry families are already trying to survive on roots and leaves, and as the rainy season heightens, increased risk of disease threatens to make the situation even more dire.
Mercy Corps is distributing food, tools and seeds so displaced families in Ganyiel can grow crops before heavy rains make it impossible to do so. And we're delivering clean water and building latrines at the U.N. base in Bentiu, where 25,000 people have sought refuge from the surrounding violence.
Learn more about our work in South Sudan ▸
No. 3: Central African Republic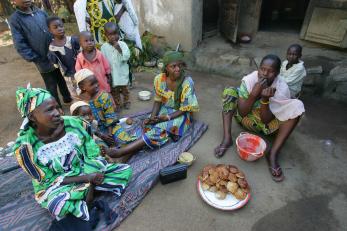 Families in the Central African Republic — one of the world's poorest countries — face chronic poverty, a lack of education, minimal health care and limited access to clean water. A violent coup d'etat in March 2013 triggered ongoing sectarian attacks that have crippled the country even further.
After more than a year of conflict, 550,000 people are internally displaced while more than 340,000 have fled the country altogether. Food insecurity, child malnutrition and risk of waterborne disease in crowded displacement sites, like the makeshift camp at the airport in Bangui, are rampant.
Mercy Corps is building latrines and delivering clean water and hygiene supplies to the airport site, where the need for water and sanitation is urgent. We also operate listening centers to provide emotional support, legal counseling and medical referrals for those who have suffered gender-based violence or sectarian attacks.
Learn more about our work in the Central African Republic ▸
No. 7: Afghanistan
Decades of conflict and political instability have plundered educational, job and economic opportunities in Afghanistan, leaving it one of the world's poorest and most volatile nations.
Eighty-five percent of Afghans rely on agricultural livelihoods, which makes them particularly vulnerable to the unstable economy. More than half the population lives below the poverty line.
Mercy Corps is providing vocational training to provide men and women with education and alternative livelihoods, and we're working with communities to help women learn job skills and start small businesses in a culturally-appropriate way.
Learn more about our work in Afghanistan ▸
No. 8: Yemen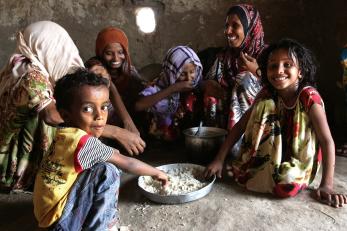 Prolonged conflict and political instability have dismantled social services, limited job opportunities and sent food prices soaring. As a result, Yemen is the poorest country in the Middle East — and one of the hungriest and most malnourished in the world.
Mercy Corps is helping the most vulnerable communities improve their access to food and water, and learn how to recognize and cope with future food crises.
Learn more about our work in Yemen ▸
No. 13: Iraq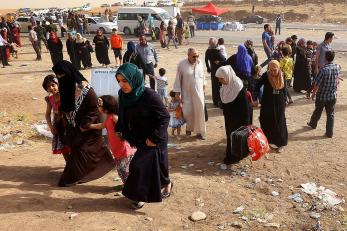 Families in Iraq struggle to thrive amidst ongoing violence, displacement and political dysfunction.
Violent outbreaks earlier this month prompted 500,000 people to flee their homes, exacerbating the needs of the already soaring IDP population, which includes around 1.5 million previously-displaced Iraqis and 225,000 Syrian refugees. Critical resources like water, shelter and hygiene supplies to support these displacement communities are scarce.
We are coordinating emergency relief for the new wave of displaced Iraqis, and supporting the country's Syrian refugees by distributing essential household supplies and providing safe spaces for children. We're also working to increase Iraqi citizen engagement and empower women and girls with the skills they need to improve their communities for the long term.
Learn more about our work in Iraq ▸
No. 15: Syria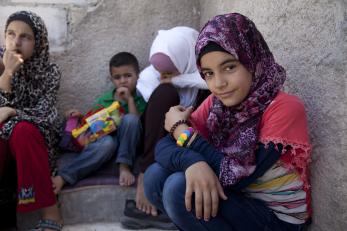 After three years of civil war, the crisis in Syria has become the worst humanitarian disaster of our time. Over 9 million people are displaced, and more than half the country's pre-war population of 23 million is in desperate need of humanitarian assistance including food, water and medicine.
Almost 3 million of the displaced are those who have fled to neighboring countries — an exodus that is destabilizing the entire region.
Mercy Corps is addressing the urgent needs — food, water, shelter and household essentials — of people inside Syria and in refugee communities in Jordan, Lebanon and Iraq. We're also providing critical support for Syria's children by providing safe spaces and activities that help them cope with trauma and continue their healthy development.
READ THE LATEST: Voices of Syria's youth: What it's like to grow up as a refugee ▸
No. 19: Niger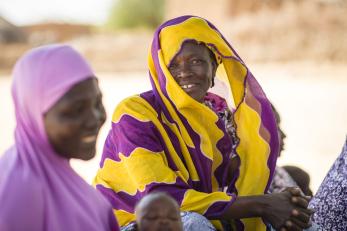 Recurring drought and erratic rains have wreaked havoc on families in Niger, who largely rely on agriculture for their food and income. Chronic poverty coupled with recent failed harvests have led to alarming food shortages in the region.
Around 2.5 million people in Niger face constant food insecurity, and over 40 percent of the country's children are malnourished.
Mercy Corps is working to help farmers keep their livestock healthy, learn more resilient farming techniques and develop new sources of income that aren't dependent on rainfall.
Help us provide even more support to the people who need us around the world.