Ways to give and support communities around the world this holiday season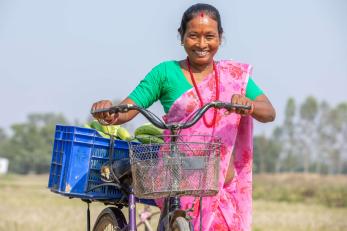 November 15, 2022
Across the globe, Mercy Corps works directly with communities to cope with and adapt to today's toughest challenges—while also collaborating on solutions to thrive into the future. As part of the Mercy Corps community, we know you care deeply about the opportunities we have to create lasting, sustainable change. When we come together, we can make an extraordinary impact.
During this season of giving, you can help communities lead the way to growing stronger and more resilient. Explore the many different ways you can get involved below—no matter how you choose to support Mercy Corps' work, your contribution will help shape a brighter future we all share.
Get started on your giving this season
Mark your calendars for #GivingTuesday
Begin your holiday season with us on #GivingTuesday! Just after Thanksgiving, #GivingTuesday is a global movement that celebrates the spirit of giving and collaboration. Join us on November 29th for this global day of giving and kickstart a season of supporting communities around the world. After you make a gift, you can share with your networks and ask others to join the movement. Make a #GivingTuesday gift ▸
Give while you shop with Amazon Smile
Do you shop on Amazon for holiday gifts or supplies? You can make a difference while you shop by using Amazon Smile and choosing Mercy Corps as your preferred organization. Every time you make a purchase, Amazon will donate a percentage of your purchase to Mercy Corps. It only takes a few clicks to get started. Set up your Amazon Smile now ▸
Choose your preferred payment method
For one-time gifts, in addition to most major credit cards, we also accept gifts through PayPal, Apple Pay, and Amazon Alexa (say "Alexa, I'd like to make a gift to Mercy Corps"). For monthly gifts, you can give with a credit card and once you've started your monthly gifts you can set up an automatic bank transfer, which eliminates any need to update expiration dates or card numbers.
Our most popular ways to give
Make a one-time gift
When you make a gift to Mercy Corps this holiday season, you can join us as we work together with local communities to help build a world where all can prosper. Your gift today will go where it is needed most, helping us mobilize our teams in response to humanitarian crises in places like Pakistan, Ukraine, Yemen, and Somalia—enhancing resilience and supporting communities to cope, adapt, and ultimately thrive. Make your year-end gift today ▸
Join Partners In Possibility: become a monthly giver
You can help communities create sustainable change by becoming a Partner in Possibility, Mercy Corps' monthly giving program. Make a monthly gift of any amount and join other dedicated humanitarians who are contributing every month to supporting communities as they emerge from crisis, and build toward a more inclusive, resilient future. It's easy to sign up, convenient for you, and helps reduce our administrative costs. Become a Partner In Possibility monthly giver ▸
Engage your community
Start your own fundraiser
Expand your impact by creating your own fundraiser and asking your community to join you in supporting Mercy Corps. A personal fundraiser is a great way to talk to your friends and family about the global issues that matter most to you—and with many gifts combined, you can make a big difference for those in need. During this season of giving, you can host an online or in-person event or create your own Mercy Corps fundraising page. Explore fundraising with Mercy Corps ▸
See if your employer will match your gift
If you don't see a matching gift offer in your mailbox or email inbox, you may still be able to have your gift matched! If you work for, or are retired from, one of the many companies with a matching gift plan, your gift can have twice the impact for families around the world. Some employers go above and beyond, doubling or even tripling your original gift amount at no cost to you. Find out if your employer will match your gift ▸
Ask friends and family to give with you
Sometimes all it takes to rally support for the causes you care about is a quick email or a shared social media post. If you receive a compelling email about Mercy Corps' work, forward it to your closest friends and ask them to join you in supporting communities around the world. If you see a Facebook post that speaks to you, it might speak to your network, too. Follow our social media accounts and share the stories of Mercy Corps' impact on Facebook, Twitter, and Instagram ▸
Invest in our work
Make a gift through your donor-advised fund
In this season of generosity, a gift via your donor-advised fund can be an easy and flexible way to manage your giving and help you achieve your philanthropic goals. Are you interested in recommending a grant to Mercy Corps through your DAF? Connect with your financial institution or foundation to start the process ▸
Donate cryptocurrency
Your cryptocurrency gift will help support all of our work around the world, including financial inclusion opportunities for many people who lack access to traditional bank accounts. Mercy Corps accepts more than 80 cryptocurrencies through a quick, easy, and convenient platform. Donating cryptocurrency directly to a nonprofit can have tax advantages, learn more from the IRS website or consult your financial advisor. Give cryptocurrency today ▸
Share your shares with Mercy Corps
While the end of the year is a time when many people are thinking about giving back, it's also a time to think about taxes. Gifting stock or mutual funds before December 31 can be a tax-wise way to achieve your charitable giving goals. Get the details on making stock gifts ▸
Plan a legacy gift and join our Mercy Corps Legacy Society
It's a big decision, but one of the most powerful ways you can support families facing conflict, crisis and disaster around the world is by including Mercy Corps as a beneficiary in your will. Your legacy gift connects your life story with our work for years to come—and with the lives of the millions of people we reach. Everyone who establishes a legacy gift is invited to join the Mercy Corps Legacy Society, and you'll receive exclusive updates and invitations to special events where you can learn more about the impact you're making around the world. Learn about all the ways you can leave a lasting legacy ▸