Make a difference all year long: Become a monthly giver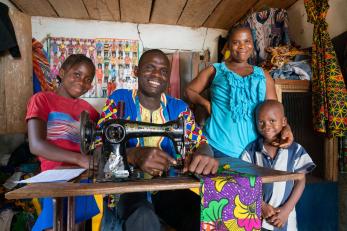 By signing up as a Partner In Possibility with your monthly gift to Mercy Corps, you are joining other humanitarians like you who are contributing every month to help people and families around the world survive crises, build better lives, and transform their communities for good.
COVID-19, conflict, hunger, and water insecurity - these are some of the greatest challenges of our time. Mercy Corps is able to help address these challenges and mobilize quickly because our teams are already in place, ready to help when needed. You can help us build a better, more just world for everyone by joining as a Partner In Possibility today.
The steady support of our monthly givers enables our organization to respond immediately when crises strike, and support communities in places like Ukraine, DR Congo, South Sudan, Syria, Haiti, and Yemen with long-term solutions that go beyond emergency aid and spark lasting change. Together, a better tomorrow is possible.
Why give monthly?
It's effective. Your reliable monthly gift helps us respond immediately to crises and go beyond short-term fixes to help people build back stronger.
It's easy. Monthly giving ensures you're powering possibility each month. You can pause your giving at any time, and you'll always receive an annual tax statement.
It's efficient. Giving automatically helps us reduce administrative costs, which means more of each dollar goes to families in need of support.
It's about community. You'll be joining others who are as dedicated as you are to sparking possibility and resilience worldwide.
86% of our expenses funded program services over the last 5 years.
Learn more
Charity Navigator
BBB
GuideStar
Charity Watch
Over the last five years, we have spent 86% of our resources on programs that help people in need. Charity watchdog groups give us their highest ratings for accountability, transparency and efficiency.
---
Mercy Corps is a 501(c)3 charity.
Your gift is tax-deductible as allowed by U.S. law.
Mercy Corps is a 501(c)3 charity.
Your gift is tax-deductible as allowed by U.S. law.