7 tech trends that are transforming humanitarian aid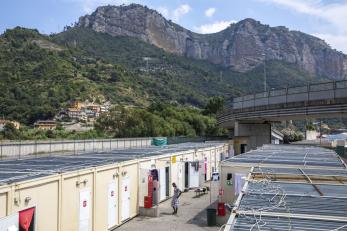 January 11, 2019
Whether due to war, climate change, or natural disaster, tens of millions of people around the world have been forced to flee their homes in search of refuge. As the global need for housing, food and medical relief mounts, new advances in technology are beginning to offer solutions to some of these massive challenges.
From drones and 3D printing to digital identity and virtual reality, here are seven trends that are already transforming humanitarian assistance around the world.
1. Innovations in internet access and connectivity
The internet has become so vital to our daily lives that in 2016 the United Nations Human Rights Council declared it a basic human right. Internet access is especially crucial for displaced people, who depend on it to contact loved ones as well as plan their futures.
In partnership with Cisco, we're piloting a program to provide Wi-Fi to thousands of refugees and migrants on the move in places like Italy, in partnership with the Italian Red Cross. Residents there can now use the internet to access resources like Refugee.info, which provides critical information for people on their journey toward finding new homes.
Internet access is also helping Syrian refugees in Jordan, where it's estimated that 62 percent of refugees don't know how to obtain legal documentation. The Khabrona.info app — the Jordanian version of Refugee.info — and its social media page contain critical information pertaining to documentation and how to obtain legal status. Learn more about how it works.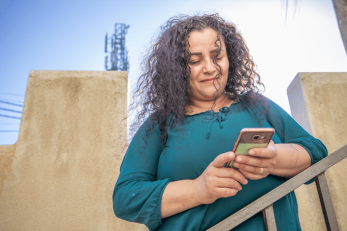 2. Digital identity
The World Bank estimates that over 1 billion people worldwide are unable to provide identification proving who they are. Digital identity is essentially a person's electronic fingerprint — their birth registration, vaccinations, educational certifications, and legal status, all stored online where it can't get lost.
We have joined ID2020, a global alliance that includes Microsoft, GAHI, Ideo.org, Simprints, and a variety of other actors to help promote principles of "good" digital identity.
In Liberia, national biometric ID cards are already in use. Citizens are required to use their biometric identification (in the form of retina scans, fingerprints, or facial recognition) to open a bank account, register to vote, and obtain a driver's license.
3. Distributed ledger technology
Distributed ledger technology (DLT) is a collection of data that is synchronized and shared across multiple locations. Unlike systems that rely on one centralized administrator or organization housing all of the data, this technology allows for more transparency, saves time, and creates a more resilient system of data sharing.
Blockchain, which keeps track of cryptocurrency exchanges, is the most recognizable example of this. However, DLT is a broader category than just blockchain. We're leveraging this technology and are the first NGO to become a member of Hyperledger, a project dedicated to the development of open-source distributed ledger technologies. With DLT, there are now even more ways for donors to help. People can purchase charity coins for organizations and donate cryptocurrencies as well. Beneficiaries can now receive more than just cash donations.
In Tunisia, the E-Dinar became the first-ever nationally used digital currency. Since 2015 the Tunisian government has been working on expanding the technology. It is now being used for bill payments, money transfers and managing identification.
4. Improved data analytics
Data sources and processing software are becoming increasingly more sophisticated and provide humanitarians with valuable insights into people's most critical needs. Data analytics take complex data sets and consolidate them into comprehensive dashboards that can better inform where and when aid is needed most.
These dashboards can help identify safe delivery paths for aid in conflict zones, for instance, or help find better locations to store warehouse goods.
"These are things that we've shared out with other NGOs we're working with, and now nine other NGOs are using the product we've developed," says Ric Shreves, senior advisor for Technology for Development.
In Niger, Mercy Corps is partnering with NASA to harness satellite imagery to help find underground water resources and build sustainable water access plans with the government to fight ongoing droughts affecting the lives of millions of farmers in the country.
In the Central Java province of Indonesia, we used Android tablets to assess data gathered from 408 small farms, which mostly grow potatoes and chilis. The tablet's Agri-Fin data processing application helped determine the farmer's needs and the most effective targets. In this isolated community, road conditions were poor and traveling on foot was the only option.
This technology produced real-time information concerning the mobility and agricultural needs of the farmers. Our team members were able to gather data much more efficiently.
5. Virtual reality
Children around the world are growing up surrounded by war and violent conflict, leaving many with additional challenges like mental health disorders, PTSD, anxiety and chronic stress. One new solution may come via virtual reality.
In Iraq, we're piloting a program to help young people who have undergone trauma by creating a digital safe space using virtual reality to create a calming environment. This immersive technology can reach more people for less cost and can help renew the chance for a normal childhood.
6. Drone applications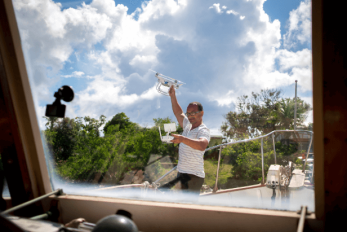 In places like Nepal and Timor Leste, drones are providing valuable imagery from infrared cameras to help monitor agriculture and identify things like crop growth and leaf blight.
But drones can also play an important role in an emergency. In Puerto Rico, we launched a drone training program to assist with emergency response efforts. Those who complete the training program will become certified drone pilots and receive their own drones. Once certified, they will be on-call to help the local authorities assess damage and get a better view of the landscape during emergencies.
Miguel, 39, and his wife, Merangeli, lost their house during Hurricane Maria. Miguel will soon undergo drone training and is excited about using this technology. "Drones will help us respond smarter and faster in an emergency," he says. "It gives us an eagle-eye view."
7. 3D printing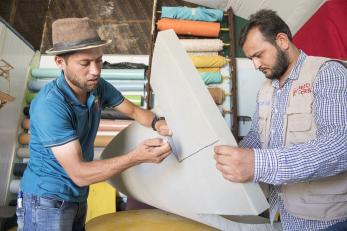 3D printing provides opportunities for innovation in multiple fields. For the humanitarian sector, it's a chance to bring much-needed equipment to vulnerable communities.
In Jordan's Zaatari refugee camp, we're helping children with disabilities through customization workshops that use skilled Syrian volunteers to build custom equipment like wheelchairs, walkers and desks. This workshop will eventually expand into using 3D printers, allowing volunteers in Zaatari to build things like prosthetics and assistive tools and parts.
Malak, 15, is a Syrian girl with dwarfism and scoliosis living in Zaatari. At 2-feet tall, she required a custom desk to accommodate her size. Thanks to the customization team she is now able to attend classes with her peers.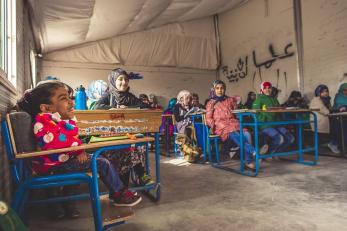 "I receive a lot of things here, a lot of useful things," she says. "I do exercise. … I learn lots of math and I learn how to read and how to multiply numbers. I feel good. It is helping me be on the same level as my classmates."
Every contribution helps us provide better services to the people we help around the world.
Turn knowledge into action by setting up a personal fundraising page.