Code for change: Gaza Sky Geeks graduate launches a career in tech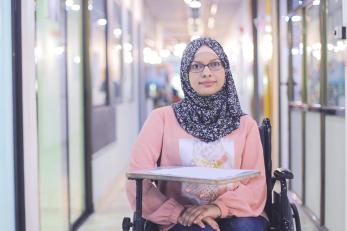 August 18, 2022
Mai R. Ubeid always knew she wanted to pursue her passion with tech. "As a kid, I owned a computer. It was my babydoll," she said. "I enjoyed playing around with the hardware and experimenting with the software."
After graduating university, some of Mai's friends were in the first cohorts to complete the newly launched code academy at Gaza Sky Geeks. They knew of her aptitude and enthusiasm for tech and encouraged her to enroll in the web developer bootcamp. "I did not only upskill as a front-end developer but was also able to make wise decisions regarding what my career path could look like," Mai said. For six months, Mai honed her coding in the immersive program.
With the support of her parents, three brothers, and three sisters, Mai was determined to pursue a career she had dreamt of and worked through challenges that arose due to her disability. "During my university years, I made sure to always meet deadlines and to be ahead of my tasks because there were times when my hands betrayed me. I wouldn't be able to move them or help myself do anything."
Mai was diagnosed with muscular dystrophy when she was 12 years old, a condition that affected her mobility and chances of completing her education. "Although I've sometimes felt weak and powerless, my family has shown unconditional support in every step I took."
When she completed the web developer bootcamp, she earned a spot in the Gaza Sky Geeks x Google for Startups internship program. It was through the Gaza Sky Geeks community—and her impressive resume—that eventually led Mai to landing a full-time position with the United Nations Relief and Works Agency (UNRWA) at the United Nations International Computing Center (UNICC), where she is the youngest developer in a team of diverse, international, tech professionals.
"The mere idea of being economically independent gives me, as a female, a lot of strength," said Mai. "It made me capable of supporting myself in so many different ways. Being independent gave me the feeling that I have the freedom to do a lot of things." Mai has always felt that opportunities for women in Gaza had been limited and she faced the added challenge of inaccessibility and accommodations for her disability. She confronted the obstacles with perseverance and is on a mission to tell the world that Palestinian women can make it in the tech field and serve as role models for other women around the world.
Being a role model for women is honestly what compensates for the bad days. It pushes me to do more.

Mai R. Ubeid,

Gaza Sky Geeks participant
Mai recommends Gaza Sky Geeks to every ambitious young woman she knows. She shares stories on how the Gaza Sky Geeks community is supportive, interactive, and pushes her to do her best. "I have always wished to give back to the community, and I believe I should always give back. It's a concept that I saw first hand at Gaza Sky Geeks."
---
About Gaza Sky Geeks
Through its extensive network of partner organizations, mentors, investors, and alumni, Gaza Sky Geeks is a community built for and by developers. Established in 2011 by Mercy Corps and Google, Gaza Sky Geeks is Palestine's leading tech hub that trains, nurtures, and supports emerging tech talent with the goal of creating a sustainable and inclusive digital job market in Palestine. What started as a Mercy Corps initiative supporting Gazan entrepreneurship through coding bootcamps in 2011 has transformed into a home for founders, freelancers, and coders to receive training and support for career opportunities. In addition to offering incubator and acceleration programs, Gaza Sky Geeks helps founders build successful startups, offers workshops for freelancers to enter the digital workforce, and trains coders for those seeking work as developers.
Join us in building a more equitable world.