Showing up for LGBTQ+ equality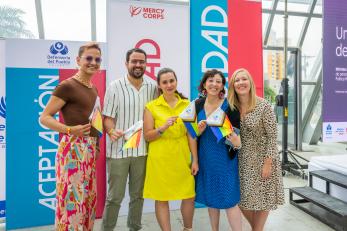 June 20, 2023
On the International Day Against Homophobia, Biphobia, and Transphobia, it was inspiring to see so many people from our communities gather to support for LGBTQ+ people in Barranquilla, Colombia. This day is a global observance dedicated to raising awareness and combating discrimination against lesbian, gay, bisexual, transgender, and queer individuals. Mercy Corps is  committed to supporting communities—and the most marginalized within them—and fostering inclusive cultures for all people to build a more resilient and equitable future.
The energy in the air was both empowering and sobering. We had come together to build solidarity for a community who often face undue challenges based on their LGBTQ+ identities. Hosted by Mercy Corps partner organization, Caribe Afirmativo, the event on May 17, 2023, had the aim to advocate for LGBTQ+ rights and bring attention to the injustices that the community faces.
For decades, Caribe Afirmativo has been fighting for LGBTQ+ rights and they had invited Mercy Corps to speak about how Mercy Corps Colombia has woven in support for LBGTQ participants in our programs. Since 2020, we've partnered with Caribe Afirmativo to launch Casas Afirmativas—these "Affirmative Houses" are safe spaces for Venezuelan migrants to receive legal support to obtain authorized immigration status, register for the national health system, support for livelihood opportunities, and attend support groups. The event highlighted a report recently published by local organizations in Colombia, "An X-ray of Prejudice: 2022 Annual Report on Human Rights of OSIGD people," which provides recommendations to local governments on how to set protections for LGBTQ+ people.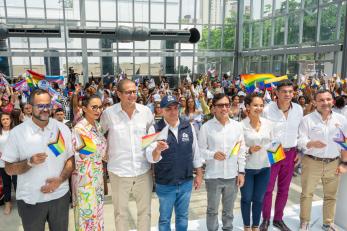 "Peace is costing us our lives," said Wilson Castañeda, Director of Caribe Afirmativo. "We have started to generate safe spaces for LGBTQ+ people. To make [Venezuelan migrants] aware of the rights they have for coming to Colombia and we are now in an exercise of talking to shelters and refuges to make them safe places for LGBTQ+ people." More than 7.1 million people have been displaced from Venezuela, with 2.5 million Venezuelans seeking refuge in neighboring Colombia. By working with partners like Caribe Afirmativo, Mercy Corps is able to support LGBTQ+ migrants and Colombians who face additional challenges to accessing support in their new homes.
"I had never been in a space where I felt so comfortable, where there were so many diverse people. How wonderful that there can be places where you can identify yourself and no one can judge you," said Steven Moreno, a Mercy Corps participant at Casas Afirmativas. "There have been countless barriers that have come my way, but as a gay man of the LGTBIQ+ population, I can give myself the courage to say that, with all these adversities I have come out ahead."
Having seen the positive impact of our LGBTQ+-inclusive programs, where Mercy Corps is serving LGBTQ+ migrants, who can feel marginalized within an already marginalized group, our Mercy Corps Colombia team, in partnership with Caribe Afirmativo, launched the "We Are All Colors" campaign. We want to amplify the voices of the Colombia team and share that we are intentionally working with LGBTQ+ participants who have distinct and specific needs. We were heartened to see Mercy Corps teams around the world join in on the "We Are All Colors" campaign on the International Day Against Homophobia, Biphobia, and Transphobia in May by sharing photos of themselves dressed in the colors of the Pride flag. At the event in Colombia, I shared some of the insights and learnings we've had since we began our partnership with Caribe Afirmativo, and how lifting one community helps to lift all communities.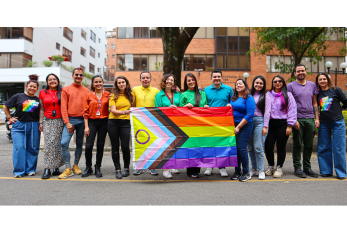 One of the most powerful moments of the International Day Against Homophobia, Biphobia, and Transphobia event was when attendees protested against the lack of support from higher government officials. The people who had come together for the event saw it as an opportunity to have a dialogue with lawmakers and leaders, and were empowered to advocate for themselves—loud and proud.
Join us in building a more equitable world.