A place of their own: LGBTQ+ migrants find community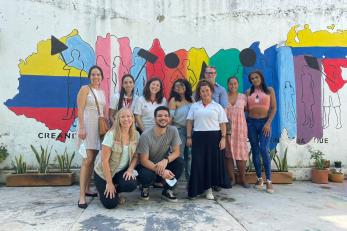 June 08, 2022
"We really feel full there, I feel open, with my partner, to show everything that I am," said Karely Zambrano, describing Casas Afirmativas in Cartagena, Colombia. The "Affirmative Houses" are physical safe spaces where migrants receive legal help to obtain legal immigration status, register for the national health system, and attend support groups—while also coming together to find an LGBTQ+ community. This was new for Karely, who had not lived openly as a lesbian in her home country. She is one of the more than 1.8 million Venezuelans who crossed the border to Colombia. "I had never been to a place like this because in Venezuela that was not allowed," she said.
Safe spaces like Casas Afirmativas are essential to creating inclusive support for all migrants. As a program manager at Mercy Corps Colombia, I was surprised to hear of the experiences of LGBTQ+ Venezuelan migrants who shared they could not hold hands with their partners due to fear of abuse. LGBTQ+ migrants have told me that they're able to live more fully here in Colombia, even despite all of the hardships that come from leaving one's home to begin life in a new country.
Through our partnership with Caribe Afirmativo, a local organization that has been fighting for LGBTQ+ rights for decades, we launched Casas Afirmativas in Cartagena and Medellín. "I say that's my house because you go there and no one is going to discriminate against you, no one is going to point fingers at you, no one is going to say anything to you because of who you are," said Rosana Leal, Karely's partner.
Rosana had migrated from Venezuela to Colombia four years ago to find help with a medical condition. Mercy Corps Colombia helped her register for the national health care system and she finally received diagnoses and treatment for her condition. Karely and Rosana met in Colombia and began to create a life together, forming handicraft and recycling businesses. During COVID-19 lockdowns, they were unable to leave their home to find recyclables, putting their livelihoods at risk. With cash assistance from Mercy Corps, they were able to meet their basic needs and had peace of mind that they could continue to build their future together.
Casas Afirmativas is part of a larger program called Avanzando el Futuro—Advancing the Future—that supports Venezuelan migrants and Colombians, prioritizing LGBTQ+ people, at-risk young people, single mothers, and people with disabilities. Avanzando el Futuro focuses on increasing livelihood opportunities, increasing access to health services, and offering mental health support. It was through serving migrants in Avanzando el Futuro that we understood the unique needs that LGBTQ+ migrants face, like how transgender migrants had greater challenges in receiving identification cards and understanding their rights. Casas Afirmativas provides a space for LGBTQ+ migrants to learn that they're entitled to the same benefits and resources as anyone else.
Our inclusive programming has encouraged our own team members to bring their whole selves to work. Staff members have shared their LGBTQ+ identities openly. Our partnership with Caribe Afirmativo has not only improved the lives of our LGBTQ+ participants, but also those of our own staff.
LGBTQ+ migrants can feel marginialized within an already marginalized group, and it's our hope to center their experiences in the story of their new life in Colombia. Casas Afirmativas is a safe space for migrants to form community during a transitional time in their lives where community can be a lifeline.
Join us in building a more equitable world.