Confident youth create change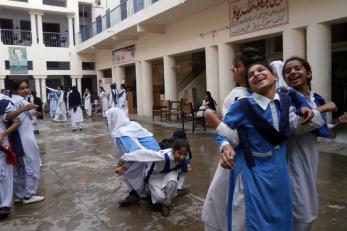 April 23, 2015
In Iraq and Pakistan, adolescent youth are facing huge challenges as they try to grow up amidst the conflict, danger and uncertainty that surrounds them. With fighting and other security issues interrupting their daily lives, it's nearly impossible to learn, grow and make important life decisions without a strong support system.
That's why our programs in these countries are designed to offer adolescents the crucial support they need at the time they need it most.
With support from The Coca-Cola Foundation and Coca-Cola Içecek, Mercy Corps is helping youth in Pakistan and Iraq by offering them a safe place to be active, learn essential life skills and become leaders in their communities.
After-school groups meet every week to play games and engage in meaningful discussions on topics like inclusion, teamwork, communication, relationships, goal-setting and social responsibility. Trained coaches provide direction, but each session is run by a young person so they can stretch their new leadership skills.
Both Iraq and Pakistan have been plagued by regional instability and violence. Growing up in these places is not easy — even when youth have access to school and family support, they may not have the confidence, guidance or skills they need to go after their dreams.
For young girls, the struggle of adolescence is compounded by long-held cultural beliefs that can hold them back from reaching their true potential. Instead of being supported and encouraged in their studies, girls are often pulled out of school early to help with household chores.
But in Lahore and Baghdad, girls in our program are treated equally to boys — for some, it's the first time they've experienced gender equality, engaged in sports or felt the freedom to express their opinions.
That freedom can be transformative.
Iraq: Meet Ala'a
In Baghdad, 17-year-old Ala'a is the youngest girl in a family of six. The neighborhood where she lives with her family regularly experiences bombings and kidnapping threats — they say it's now just a way of life.
Because of the constant threat of danger, Ala'a has little freedom. Her brother must accompany her to school every day. "My family is very protective of me," she says. "It made it hard for me to go to school when he was busy."
Before she joined Mercy Corps' youth program, Ala'a was painfully shy and had few friends. "I did not have the courage to make new friends," she explains.
But after just a few days of leadership training with the youth program, Ala'a came out her shell. She began participating in discussions, made new friends, and learned to develop her confidence and leadership skills.
Now, Ala'a runs discussions with other youth on her own. "I love my youth team members," she says. "We are friends now and we can learn from each other."
The effects of the youth program reach beyond the group sessions. Because of her newly-gained confidence, Ala'a is no longer afraid to speak her mind. "I feel that my family and friends are listening to my opinion now and I can discuss things with them more freely and openly."
Pakistan: Meet Mahnoor
In Lahore, a girl just a few years younger than Ala'a is learning some of the same skills through the youth program in her neighborhood.
Mahnoor, 14, lives with her large family in a poor area of Lahore, where most people are factory workers just trying to survive. Before joining the youth program, Mahnoor was doing poorly in school and struggling to find purpose.
While she was unsure at first, Mahnoor quickly became a capable leader in the youth program. After a few learning experiences, Mahnoor learned how to effectively lead a group of her peers in discussions by engaging with them and listening to them.
Before long, Mahnoor became a respected leader in the program and developed friendships with many of her peers. To improve her studies, Mahnoor started a study group with some of her new friends. "I realized after conducting sessions that as a team we can work better, so I thought to make a group for studying together," she says.
Mahnoor's family can see how much she's grown in just a few short months. Because of her new skills and improved confidence, she is doing better in school and is more involved in her own family. "She's active in sports now and she has started helping our family in different things. It's all because of the program's activities," says Mahnoor's sister.
In the last year, our youth program has trained approximately 5,000 youth leaders like Ala'a and Mahnoor. After learning new skills through the weekly discussions, youth are then encouraged to create events and projects that will further help their community.
Through the events that they have created, youth in Lahore and Baghdad have reached nearly 25,000 of their peers. The program is empowering thoughtful youth leaders in low-income communities where jobs and opportunities are tough to come by.
Young girls and boys are benefitting from the program in important but different ways. When both groups come together, they have the power to influence change. Young people like Ala'a and Mahnoor now have the confidence and skills they need to achieve their goals — and the courage to inspire others in their communities to do the same.
Help us provide even more support to the people who need us around the world.