Pakistan recovers in the aftermath of devastating floods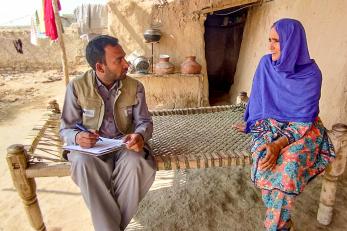 August 24, 2023
Across southern Pakistan, heavy monsoon rainfall caused devastating flash floods from July to October of 2022. The floods affected more than 33 million people—15% of the population—killed over 1,700 people, and left hundreds of thousands without homes. While seasonal monsoon rains are expected and support agriculture in Pakistan, the 2022 season was unlike any other in recent memory—with flooding inundating one-third of the country.
In the months following the floods, many families were living in makeshift tents by the side of the road, and were at risk for communicable diseases and infections. Floodwaters remained and had not fully receded, causing disruptions to agricultural production. "The worst flood-affected regions of Sindh and Balochistan already had a high prevalence of food insecurity, malnutrition, and poverty," said Farah Naureen, Country Director for Mercy Corps in Pakistan. "The 2022 flooding has made large agricultural land uncultivable, which has destroyed local livelihoods and will certainly lead to a food security crisis."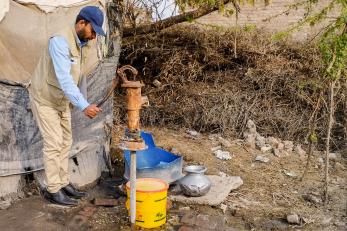 Communities in Pakistan continue to face a long road to recovery. The floods—which caused more than $10 billion in damages—have compounded existing challenges for many communities in Pakistan already facing increased food prices and malnutrition. During our site visits, where we followed up with participants on the emergency aid they had received, I met many families who had lost everything. They shared their stories about the destruction they experienced in the wake of the floods. Lost homes and livelihoods, crops that were no longer viable, the risk of water-borne diseases from contamination caused by dead livestock and open defecation due to lack of access sanitation. Communities were no longer able to retrieve clean drinking water since the flooding had both polluted the groundwater and had damaged hand pumps used to retrieve water.
It has been more than a year since the first floods. Mercy Corps has so far delivered emergency aid to more than 416,000 people across Balochistan and Sindh provinces in the most flood-affected areas in Pakistan to help communities rebuild. Mercy Corps was already present in these areas with existing programming. In the aftermath of the floods, our teams prioritized providing communities access to water, sanitation, hygiene, primary healthcare, multi-purpose cash, and infrastructure rehabilitation.
Mercy Corps teams responded to the emergency by setting up health camps with partner organizations, including the Pakistani government, to provide immediate healthcare. Mercy Corps delivered cash aid, essential supplies, access to clean water, livestock kits, and temporary shelters. We have focused on reaching large families, women-led households, and people with disabilities.
This humanitarian and climate catastrophe is yet another example of how countries that contribute the least to global warming are the ones that suffer the most. Pakistan contributes less than 1% of the world's greenhouse gas emissions. As Pakistan faces the unprecedented challenges of climate change, Mercy Corps is providing both emergency support and working on long-term solutions to help communities build resilience to climate shocks.
Across the communities where we collaborate and coordinate emergency responses with local organizations, I was heartened to see a ray of hope for recovery, reconstruction, and rehabilitation for flood-affected communities across Pakistan.
Join us to create a more inclusive, resilient world.