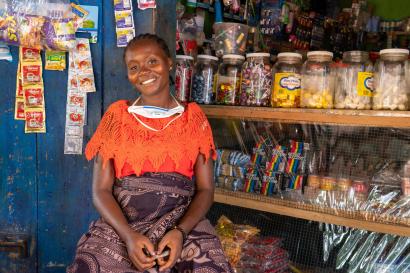 Mercy Corps has worked in Liberia since 2002, supporting recovery efforts following years of civil war and the devastating Ebola crisis. Last year, our programs reached over 86,000 people across the country.
The context
Liberia's 14-year civil war which ended in 2003 destroyed much of the country's infrastructure, health services, and education system. Just over a decade later, the worst Ebola outbreak in history arrived, killing over 4,800 people, devastating the lives of thousands more, and wreaking havoc on the country's economy. Today, 4.4 million people are still in need of humanitarian assistance and 63% of the population live in poverty.
Liberia is one of the most urbanized countries in West Africa, roughly half of the population lives in urban areas. This is partly the legacy of the civil war when cities were comparatively safe and attracted Liberians from other parts of the country. It is also indicative of a lack of economic opportunities in rural areas. Still, the industrial sector is small and opportunities in the urban economy are few.
Unemployment rates are high. Youth make up one-third of the population and are amongst the hardest hit by unemployment. Workers spend a significant portion of their income on housing, transportation, and food, having little ability to save or to access formal financial systems.
1.6 million people do not have enough to eat, and 30% of children under five are stunted. Liberia is heavily reliant on food imports for its subsistence despite an abundance of land and favorable climate conditions for agriculture. Poor farm to market roads, a sector that is perceived as unattractive by youth, and persistent urban migration are a few of the contributing factors.
While much progress has been made since the end of the civil war, Liberia's education system is still lagging behind. Public schools are technically free, but even small expenses for transport, school uniforms, material, and administrative fees are too high for many. It is estimated that 15-20% of 6-14 year olds do not attend school—one of the highest rates in the world.
Our impact
Since 2002, Mercy Corps has worked alongside Liberians to build pathways out of poverty, poor governance, and economic hardship. In response to COVID‑19, we've adapted our programs in order to continue reaching communities with critical support. We have also introduced new programming to prevent the spread of the virus. Today, we are focused on the following five areas:
Good governance
We work with marginalized communities to make sure they understand their rights and responsibilities and raise their voices in local decision-making processes. To help facilitate this, we support civil society organizations to grow their influence so that they can engage productively with public authorities. We also work alongside public authorities to design and implement effective and accountable policies and processes, especially around service delivery, revenue generation, and management.
Youth employment
Mercy Corps helps young Liberians build the confidence, skills, and opportunities to succeed as employees or entrepreneurs. We connect them to formal opportunities in the workforce or to small business development support. We also build partnerships that identify and nurture talent in the nascent tech entrepreneurship space, including in solar technology.
Renewable energy
We facilitate low-income and off-grid families' access to affordable renewable energy such as solar products and clean cookstoves. We do this by increasing their awareness of the products and providing training on how to use them. On the supply side, we partner with distributors, finance institutions, and government agencies to reduce barriers and change policies creating an enabling operating environment for clean energy adoption.
Financial inclusion
Mercy Corps improves access to a range of financial products, including savings, credit, and insurance for farmers and small businesses. We work with financial service providers to create and provide the products identified by young people as important for improving their employment opportunities.
Health and nutrition
Mercy Corps' holistic school health and nutrition program ultimately supports educational outcomes. We provide healthy meals at schools which both incentivizes attendance and improves children's attentiveness and ability to learn in the classroom. We also provide deworming medication to further reduce health-related school absences. In partnership with the Ministry of Education, we develop school gardens that are led by students, teachers, and parents to diversify school meals, encourage good dietary habits, and provide community members with opportunities to learn and implement strong agricultural practices.
Join us in building a more equitable world.
Use your voice and urge Congress to take action.