Emergency funds lift families up after Ebola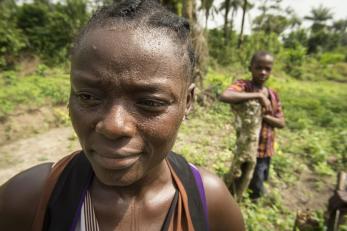 August 20, 2015
Ladylue Walker, 30, grows cassava to help support and feed her family — her husband, three children, mother and grandmother, plus her sister's five children — in Liberia, the small country bordered by Guinea, Sierra Leone and Côte d'Ivoire on Africa's western edge.
But making ends meet since the Ebola virus ravaged her community — and nation — hasn't been easy.
Since December 2013, the worst outbreak of the disease in history has sickened more than 28,000 people, killed thousands more, and wreaked havoc on economies across West Africa.
To help struggling families cope, Mercy Corps is distributing cash so they can support themselves as they work to recover from the devastating impact the epidemic has had on the region.
The initiative comes on the heels of the national public health campaign Mercy Corps instituted last year that reached 2.4 million people in Liberia with lifesaving anti-Ebola messages. The campaign helped the country make great strides in the fight to end the epidemic and even be declared Ebola-free in May 2015.
But Liberians aren't in the clear yet.
Six new Ebola cases were recently reported in Liberia, meaning families, communities and healthcare workers must remain vigilant to avoid another large flare-up. And even while the epidemic of the disease has slowed, the economic consequences of the crisis are still weighing heavily on families across the nation.
Many people experienced decreased income or loss of livelihoods completely because of Ebola. If the disease didn't affect their productivity directly, containment protocols did.
When the virus hit Ladylue's community, officials tried to stem its spread by restricting travel and public gatherings, like markets and "kuus", Liberia's traditional agricultural group labor system.
"I was growing vegetables. I used to sell things," Ladylue told us last December. "But I stopped because I was afraid. The people said we should not sell, we should not gather together. That's the reason we just paused everything."
Across the country, important trade borders were closed, markets were shut, shops and schools closed their doors, and travel limitations were put in place in an effort to keep the epidemic at bay.
"Now, I have no way to bring my cassava to market," Ladylue continued. "Finding food for my family has been difficult. If I can't sell, I can't buy things like fish and the other foods we need. We are eating what we prefer to sell."
As income-generating activities dwindled or disappeared altogether, many families like Ladylue's have struggled to support themselves, resorting to reducing the amount and quality of food they eat, selling household and livelihood assets, and borrowing money or buying goods on credit.
The widespread loss of jobs and income have been heavy burdens to bear for Liberians, approximately three-quarters of whom already lived below the international poverty line of $1.25 USD per day.
But through emergency cash distributions, Mercy Corps is helping those whose livelihoods have been disrupted recover and rebuild from the disastrous effects the Ebola outbreak has had on their lives.
So far we've reached 50,000 people with funds, and we plan to reach 100,000 more in the coming months. The money gives desperate families like Ladylue's purchasing power to buy urgent supplies including food, medicine and healthcare, and the spending gives the local economy the boost it needs for long-term recovery.
We've also distributed agricultural vouchers so farmers, many of whom were forced to sell equipment or eat seed stock during the worst of the outbreak, can buy the seeds and tools they need to restart their livelihoods and support their families.
And as more farmers resume their agricultural activities, it will give others in their communities better access to the food they need to recover and thrive.
While the Ebola epidemic has destroyed lives and communities in Liberia, Mercy Corps is dedicated to helping families move forward. We'll continue providing the support communities need to stop the virus once and for all, while giving devastated people resources to get back on their feet and on their way to a better, healthier future.
Help families survive crises and hardships in many of the world's toughest places.