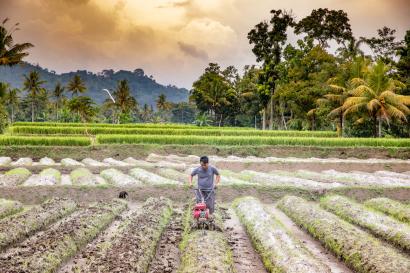 Mercy Corps has been working in Indonesia since 1999, helping people prepare for and recover from natural disasters and build better lives. Last year, we reached over 2.5 million people throughout the country.
 
The context
Indonesia is the world's largest island nation and fourth most populous country, consisting of more than 17,000 islands and 270 million people. As an archipelago, it is particularly vulnerable to natural disasters such as flooding, high tides, and extreme weather events. These disasters are becoming more frequent and intense due to climate change, which is causing seasonal changes and rising sea levels. Indonesia is also prone to volcanic eruptions and earthquakes which can trigger tsunamis with little to no warning. 
On average, at least one major natural disaster has occurred in Indonesia every month since the 2004 tsunami. And earthquakes with a magnitude of 5.0 or lower occur almost daily in Indonesia, while more major earthquakes have occurred about once a year throughout the nation's history. Because of this, Indonesia must remain in a constant state of preparedness. The infrastructure and economy also suffer ongoing impacts from its long history of major natural disasters.
Decades of rapid economic growth have greatly reduced poverty in Indonesia, but economic inequality has increased. Only 9.2% of Indonesians live below the national poverty line, reaching an all time low in 2019. However, 30% of the population, or 74 million people, are hovering just above the poverty line and risk being pushed under due to the economic impacts of the COVID‑19 pandemic. It is also likely that extreme poverty will increase for the first time since 2006.
2.7 million people lost their jobs in 2020 and millions more are underemployed or earning less than they did pre-pandemic. The people most affected live in urban areas and are employed in the informal sector, which is less stable and excluded from government-run support programs. Interestingly, millions of people who are losing jobs in other sectors are finding work in the agricultural sector. However, this means accepting wages well below the minimum cost of living.
Indonesia has the fourth largest unbanked population in the world—83.1 million people, or 30% of the population, do not have a bank account and can't access formal financial services like loans, credit, and insurance. Without access to financial services, it is more challenging to start and grow a business, save for the future, manage risks, and adapt to change. Additionally, 62.9 million micro, small, and medium businesses are unbanked, yet they play a critical role in the economy, employing nearly 97% of the workforce.
Our impact
Mercy Corps provides both immediate relief after an emergency and long-term support to help communities in Indonesia be more resilient and build back better. Our current work is focused on:
As Indonesia continues to face COVID‑19, we've adapted the way we work so we can continue to deliver our programs safely while also ensuring families have the knowledge they need to protect themselves and their communities against the virus.
Humanitarian and emergency response
Because Indonesia and the wider region are prone to natural disasters, we developed a dedicated team of expert emergency responders called the Indonesian Response Team (IRT). When a disaster strikes in Indonesia or the broader region, the IRT is there within days to provide immediate lifesaving relief to survivors during the critical first months. This includes items like food, water, shelter, and sanitation products. When markets are functioning, we provide cash instead of physical goods to help stimulate the local economy and lay a foundation for long-term recovery efforts. The team has responded to over 20 disasters, including earthquakes, floods, landslides, and tsunamis since they were established in 2007.
In an effort to prevent the spread of COVID‑19, we are constructing handwashing stations so that people can maintain good hygiene and reduce the risk of infection. We are also equipping communities with the knowledge they need to protect themselves against COVID‑19 through widespread awareness campaigns.
Resilience and climate change adaptation
We partner with communities, government, businesses, academics, and other actors to develop innovative programs and tools that reduce the impact of climate change. We work with local communities to implement early warning systems to help them better prepare for extreme weather. We also provide smallholder farmers access to real-time information on local micro-weather so they can quickly adapt to rapidly changing weather.
In order to scale our efforts and ensure sustainability after our programs end, we help inform policy and planning at the local and national government level. We're also helping Indonesia's disaster response agency increase their capacity at the national and local levels to better anticipate and respond to the needs after a disaster strikes.
When communities have the knowledge and tools to better prepare for the next natural disaster, they will spend less time and effort recovering and getting back on their feet.
Economic opportunities and development
Mercy Corps is working to improve economic opportunities for smallholder farmers as well as young micro-entrepreneurs, particularly women.
We provide agricultural and business training which includes information on agricultural best practices, business planning, and digital financial services so farmers can increase their productivity and boost their incomes. In rural areas, we support micro, small, and medium enterprises to grow through improved business management skills and practices. We also connect businesses to free mentors through MicroMentor, Mercy Corps' global online mentoring platform.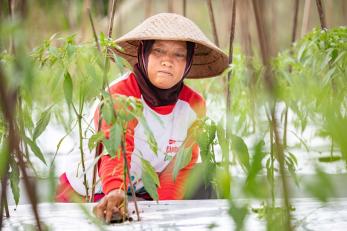 Join us in building a more equitable world.
Use your voice and urge Congress to take action.