Measuring Gender Dynamics in Resilience: Tools for Integrating Gender into Resilience-Focused Programs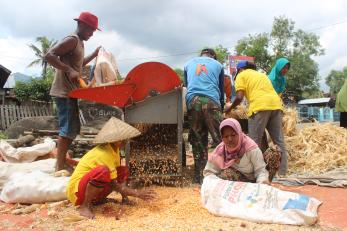 June 11, 2018
Gender inequalities in household decision-making, community participation, and market access limit women's ability to prepare for, respond to, and recover from shocks. They can also limit women's ability to access and benefit from program activities designed to strengthen resilience to shocks. Advancing women's participation in household decision-making, community organizations, and markets is critical to strengthening their individual resilience and that of their families and communities.
Designing programs that effectively strengthen women's resilience capacities requires an in-depth understanding of key gender dynamics in the program setting. Recognizing the need for context-specific gender and resilience analyses, BRIGE worked with resilience-focused programs in Indonesia, Nepal, and Niger to develop and pilot gender integration measurement tools. These tools help to identify gender-related barriers to resilience, measure how resilience programs affect these pathways, and support staff learning.
This toolkit, produced in partnership with the International Food Policy Research Institute (IFPRI), includes three tools which assess 1) household decision-making, 2) meaningful participation in community groups, and 3) market linkage access. The full toolkit is available for download as a PDF, and the editable file is available upon request so that you can adapt the tools and use them in your programs.