Conflict Analysis in Bouar, CAR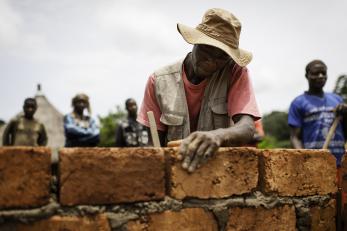 February 22, 2018
Read the report in English ▸
Read the report in French ▸
Mercy Corps in the Central African Republic (CAR) recently carried out a conflict analysis as part of its USAID-funded ASPIRE program. ASPIRE (which stands for Advancing Solutions for Peace through Intercommunity Reconciliation and Engagement) works with youth and community leaders to manage inter-group tensions, rebuild community cohesion, and strengthen pluralism in the town of Bouar and its surrounding areas.
This new conflict analysis provides an in-depth look at the actors, interests, and drivers of conflict in the Bouar region, while also providing recommendations aimed at de-escalating the conflict. Recommendations include:
Preventing livestock theft and organizing meetings between livestock herders and local authorities to prepare for the next cattle migration
Promoting the complimentary activities and shared interests of livestock herders and crop farmers
Ensuring the equal treatment of Muslims and non-Muslims by the administration
Restoring illegally occupied housing and property
Developing a "cash-for-work" type program for youth from areas with a high militia presence
Given the fluid conflict dynamics in CAR, this new analysis will be critical to NGOs and donor agencies - helping them ensure their interventions are based on the most current contextual analysis. The analysis is available in both English and French.