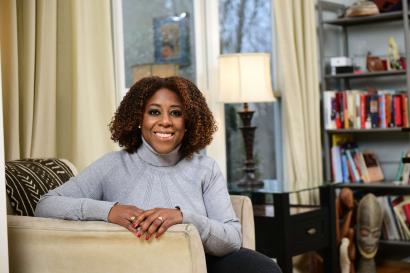 As Chief Executive Officer of Mercy Corps, Tjada D'Oyen McKenna leads a global team of over 5,600 humanitarians who provide immediate relief to save lives and livelihoods and work to create transformational change in more than 40 countries. Previously, she served as Chief Operating Officer of CARE, where she oversaw the organization's programming and global operations, and as Chief Operating Officer of Habitat for Humanity International. Tjada's career has spanned the private sector, government and the social services sector. 
Tjada can provide expertise and commentary on the biggest international issues making headlines - such as the the impact of the war in Ukraine on the global food crisis and efforts to mitigate it, like the Black Sea Grain Initiative, climate change as the biggest threat multiplier to conflict and poverty to refugee crises and conflicts spanning Mercy Corps' 40+ countries of operation in Latin America, Africa, Asia and the Middle East. Tjada is also a recognized authority on food security and hunger. She is currently the only African American woman at the helm of an international aid organization. She can speak about issues of colonialism and white saviorism in the humanitarian aid and development sector, and of gender, racial and ethnic diversity in C-Suite leadership. She can join interviews virtually or in-studio in Washington, DC. To book Tjada as an interview guest, please contact Lynn Hector at lhector@mercycorps.org.
Click here for Tjada's full bio, and connect with her on Twitter and LinkedIn.
---
Recent appearances
Tjada appeared at the Business of Fashion's VOICES event to discuss a worsening global hunger catastrophe compounded by COVID fallout, conflict, climate change and the war in Ukraine. To see more of her recent appearances, please click here. 
---
"The Ukraine war continues to illuminate the interconnectedness of our world and shows us that upheaval in any region can accelerate change for everyone, for better or worse. This must be a clarion call for the U.S. and global community to step up — not only for the people of Ukraine in their most harrowing hour, but also the tens of millions of people who will struggle to survive the global fallout. "
- Tjada in The Hill 
 
---
Tjada in the news
---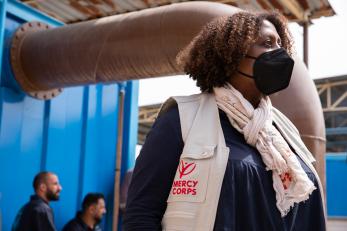 ---
Recent statements
---
"The global food security crisis is a window into the types of multi-factor global challenges we will likely face repeatedly if conflict goes unchecked, climate impacts increase in severity, and new global health security issues unfold. The international community and U.S. government must not only meet this moment by providing adequate humanitarian assistance to address acute food insecurity today, but by investing in and reorienting our assistance modalities to prepare vulnerable communities to weather these future shocks."
- Tjada at the U.S. Senate Subcommittee hearing on global hunger amidst the COVID-19 pandemic, May 11, 2022
 
Interested in booking Tjada as a guest?