For too long we've treated the symptoms of violence and not the causes. The Global Fragility Act and Strategy to Prevent Conflict and Promote Stability (SPCPS) will change that.
Download a one-page overview of the Global Fragility Act ▸
Download Mercy Corps' report 'Implementing the Global Fragility Act: From Policy to Strategy' ▸
Read Mercy Corps' evidence-based lessons for implementing the GFA and SPCPS ▸
In 2019, Congress adopted the historic bipartisan Global Fragility Act, creating the first-ever U.S. government strategy to tackle alarming levels of global violence around the world. That violence is causing unimaginable suffering and instability with almost 70 million people around the world on the run.
But now we can do more to prevent violence and conflict before it destroys families, communities and livelihoods.
What you need to know about the Global Fragility Act:
What the Global Fragility Act accomplishes
The Global Fragility Act treats the causes of violence rather than the symptoms. Here's what that looks like in practice:
Focuses U.S. foreign assistance on preventing violence and conflict in fragile countries
70 million people globally are on the run for one primary reason: violence. The Global Fragility Act will help address the global displacement crisis by creating a bold new U.S. strategy to prevent conflict before it breaks out and forces people to flee their homes.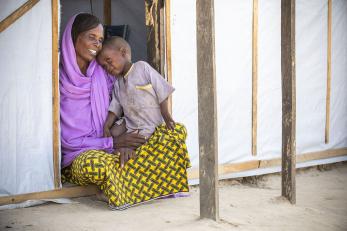 Saves U.S. taxpayers' money by preventing the outbreak of conflict rather than the costlier approach of containment
The Global Fragility Act will dedicate $1.15 billion over the next five years to preventing conflict and building peace in countries where violence is most likely to erupt. It will save U.S. taxpayers' money by preventing conflict rather than funding costly military responses. Research has shown that every $1 spent on peacebuilding would reduce the costs of conflict by $16.
Increases transparency and accountability by mandating biennial reports to Congress and the American people
The Global Fragility Act requires the Departments of State and Defense as well as USAID to provide regular updates on implementation of the act through biennial reports and briefings to Congress. Our coalition will work closely with Congress and the administration to advocate for consistent public hearings to ensure transparency and accountability to the American public.
Strengthens research to identify the foreign assistance programs and diplomatic approaches that are most effective at preventing violence and conflict
The Global Fragility Act requires by law that the administration develops this new initiative in consultation with impacted communities as well as international organizations that have experience implementing programs in fragile environments. Mercy Corps and its partners will bring our research and programmatic expertise to bear in advising the U.S. government as it designs and implements this transformative new initiative.
Dedicates $1.15 billion over the next five years for conflict prevention and peacebuilding in countries at risk of violence and conflict
We know that conflict prevention programs work. Mercy Corps, which operates in some of the world's most complex and fragile environments, including 17 of the 20 countries ranked lowest in the 2018 Global Peace Index, has studied the value of conflict prevention programs. We have consistently found that they enhance security and promote stability that can break devastating cycles of violence.
For instance, one research study in Somalia found that youth who gained access to improved secondary school and participated in civic engagement opportunities were 64.8 percent less likely as non-engaged youth to demonstrate moral or material support for political violence.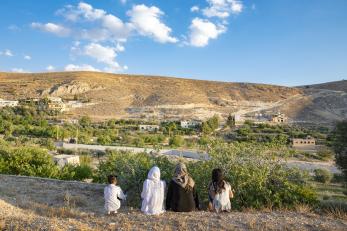 Congressional support for the Global Fragility Act
Passing this historical piece of legislation took determination and collaboration from congressional leaders on both sides of the aisle. Mercy Corps applauds the Global Fragility Act's lead sponsors Senators Chris Coons (D-DE) and Lindsey Graham (R-SC) as well as Representatives Eliot Engel (D-NY) and Michael McCaul (R-TX), the Chairman and Ranking Member of the House Foreign Affairs Committee.
Other original co-sponsors of the legislation include Senators Jeff Merkley (D-OR), Marco Rubio (R-FL) and Todd Young (R-IN) and Representatives Bill Keating (D-MA), Francis Rooney (R-FL), Adam Smith (D-WA) and Ann Wagner (R-MO). A bipartisan group of 26 senators and 20 representatives co-sponsored the bill, and their support was key to the Global Fragility Act's success.
Mercy Corps' role in developing the Global Fragility Act
Mercy Corps helped develop the Global Fragility Act and partnered with the Alliance for Peacebuilding, to lead a coalition of nearly 70 organizations in support of the legislation. Mercy Corps' community of humanitarians joined the effort by contacting their representatives to share their support for the act.
Our teams — working in the most fragile countries around the world — witness firsthand every day how investments to prevent and mitigate violence are far more effective than reacting to its consequences.