A new job, a renewed sense of possibility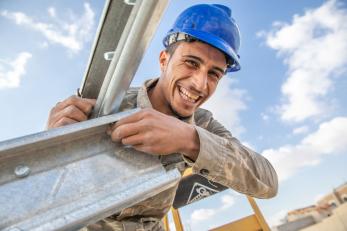 March 09, 2020
The shrill hiss of the drill drowns out his laughter as Laith, 23, swiftly attaches two pieces of steel racking together, a small crew of other workers joking on the rooftop around him. With the afternoon light behind them, the men busily measure and drill, preparing the roof for solar panels. With a steady focus Laith swiftly assembles two more pieces of framing.
Later, on his break, he tells us about his fascination with solar energy and how he wants to open his own solar panel repair business one day. What his easy grin doesn't give away is that dreams like this haven't always been so available for Laith.
When his father passed away several years ago, Laith was left partly responsible for supporting his mother. But, like many young people in Jordan, he struggled to find steady work after graduating high school. "We didn't have a stable income," he says soberly.
Sporadically working agriculture and odd jobs to make ends meet, Laith grew increasingly discouraged about his future — until a Mercy Corps vocational training in solar panel installation empowered him with a new outlook.
"Not being employed is very difficult, hard and painful. It's like being trapped in a closed well," he says. "The training that I received … was like somebody casting some light on the well, and I can finally get out."
The burden of youth unemployment in Jordan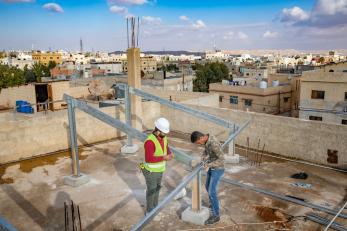 Regional instability and a sluggish economy have contributed to 20 percent unemployment in Jordan, with young people bearing an even higher burden. Nearly 40 percent of Jordan's youth are unemployed.
According to UNICEF, 100,000 young people start looking for jobs every year — but job supply is heavily outweighed by demand.
"The number of work opportunities is very little, while the number of people trying to work is so large," says Khaleel Najjar, a senior project manager for Mercy Corps' livelihoods programming.
Additionally, low wages, high transportation costs, inadequate working conditions, and cultural expectations that prioritize home life prevent young people from accessing steady, productive employment.
And the toll is psychological as much as it is economic.
"It's very difficult for young people to be unemployed," he explains. "When you're unemployed, you lose your hope of becoming notable in the future and achieving your dreams."
How Mercy Corps supports youth in Jordan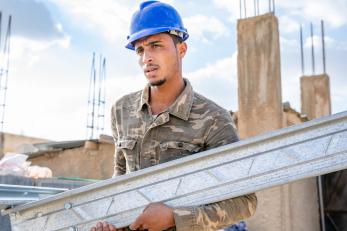 Young people like Laith make up more than 60 percent of Jordan's population, making them a huge source of possibility and positive change.
We invest in youth employment around the world, because we know when young people have access to productive livelihoods they can gain the confidence and economic stability they need to realize their potential — and drive their communities forward.
In Jordan, this work means generating opportunities that match the demand of job seekers, both in skill and quantity.
"We have been trying to focus a lot on economic development programs, with a focus more on job creation," Najjar says. More jobs equal more chances for youth to earn income, contribute to their communities and build a better future, for themselves and their country.
Our programs help people expand their businesses and hire more employees; support market development so industries are productive, resilient and equipped to grow; connect youth with apprenticeships and mentorship, so they can benefit from stronger personal networks; and provide training for in-demand vocational skills, like the solar panel installation class Laith participated in.
A new job, a renewed sense of hope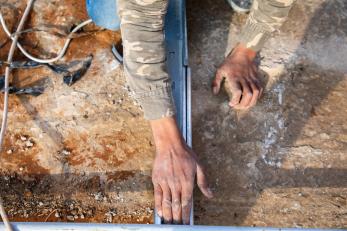 Now working full time installing solar panels, Laith is earning regular income to help his mother with expenses, pay family debts and support his own needs. But the biggest transformation is in his perspective. 
"It changed 180 degrees," he says.
His newfound career has inspired an interest in solar energy, in addition to independence and confidence about what he can accomplish in the years to come.
"This kind of work opens doors for me when it comes to possibilities and where I can be," he says with a wide smile, referring again to his new ambition to become a business owner someday.
Pausing, Laith checks the time. The sun is growing lower in the sky, signalling him to return to work soon. His coworkers are still clambering on the rooftop overhead, and he is anxious to join them.
"I feel grateful for this training," he says, preparing to head back upstairs. "It made me feel hopeful for the future."
Help us build stronger communities.
Tell Congress to reject cuts to aid.