Dreaming for the future: Youth around the world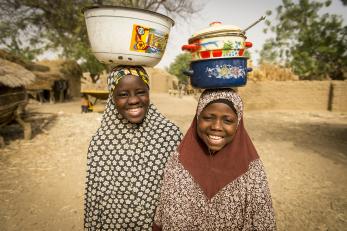 August 12, 2014
Around the world, 87% of youth live in developing countries. In those places, young people face a wide variety of obstacles and cultural challenges, including gender inequality, poor economies, recruitment into armed groups, lack of education, early marriage, conflict and displacement.
Growing up is hard to do no matter where you live, but in the world's toughest places, preparing for a productive future as an adult can be extraordinarily difficult.
Mercy Corps believes in the power of young people to change their own world — the decisions they make will create the foundations of future families, communities, and economies around the globe.
Through our work, youth are expressing their creativity, developing essential skills, working to change their communities, and dreaming of building a better future. Read their stories below.
Afghanistan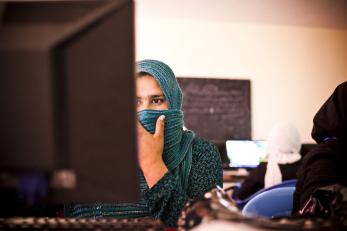 Shamsiya, 20, lives in southern Afghanistan, where cultural conflict and a precarious economy make it tough for young people, particularly women, to build careers.
She spends most of her days helping her mother clean the house and prepare food, but her parents, unlike many others, have supported her education and encourage her to continue her studies.
Mercy Corps built a vocational training center, as part of the INVEST program, in her area, and Shamsiya was quick to sign up. "When I learned about the computer classes I got very excited from the bottom of my heart. I am now very happy because I am familiar with computer programs."
The INVEST program offers classes for young women in computers and English as well as training in skills that are more culturally acceptable as women's work, like embroidery, tailoring and calligraphy. As of 2014, 5,500 women have graduated from the INVEST program, which is helping increase household incomes for 15,000 young people, both male and female.
Shamsiya doesn't know if her future husband will allow her to work outside the home, but regardless, she says that she will tell her children about the importance of women's rights.
Colombia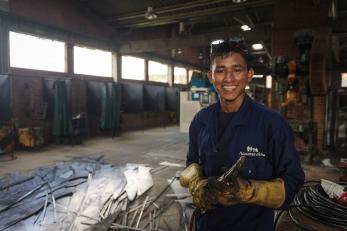 Jhon Freddy, 19, was recruited into a Colombian rebel group when he was just 13. As part of a Mercy Corps program that supports rehabilitation of former child soldiers, he now has an internship at a metal factory and is working towards a degree in mechanical engineering. (transcript available)
In Colombia, poverty is exacerbated by ongoing conflict between armed paramilitary factions and the government. Children and youth have few opportunities for education and are often recruited into the violence themselves.
To help more than 46,000 of the most at-risk youth, we are working with schools to strengthen teaching techniques, provide tutoring, and teach young people about violence prevention. To give them opportunities for a more positive future, our programs increase access to trade skills training, apprenticeships and labor markets.
Nepal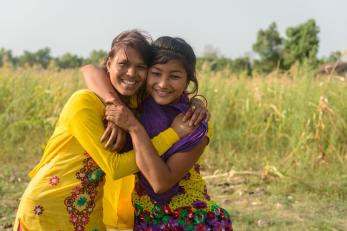 Friends Kalpana, 15, and Nirmala, 16, are both looking forward to participating in a new after-school program in Nepal that teaches girls business and life skills.
Kalpana was married two years ago and was forced to drop out of school. Despite her pleadings, she must now live by the rules of her in-laws, who do not support her education.
For Kalpana and other girls who can't go to school, Mercy Corps' STEM program (Supporting the Education of Marginalized Girls) offers them the essential skills they need to succeed without formal education. This program includes vocational training and start-up loans to help young women start their own businesses.
In Nepal, women who have a job or small business are more respected in the community and gain more control over their own lives.
Niger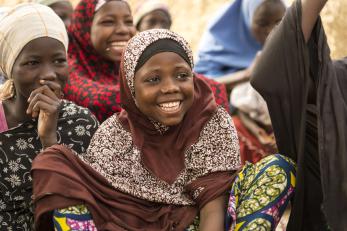 Badariya, 13, spends her days doing household chores and helping her mother make corn pancakes that bring a little money back to her family.
Her father has not allowed her to go to school, and Badariya is nearing the typical age of marriage in her region. But Badariya wants to study and dream about her future.
Twice a week, she goes to the girls' safe space in her village, which is part of Mercy Corps' Sawki program. There, she and other girls learn from older female mentors about life skills, how to make healthy choices, and what rights they have.
At these meetings, Badariya is free to imagine a better future for herself, have open conversations with other girls, and learn how to reach her goals.
The Sawki program is focused on addressing severe malnutrition that plagues Niger. To help communities achieve long-term food security, Mercy Corps' works to empower women and girls to make healthy choices like continuing their education and delaying marriage or pregnancy.
Somalia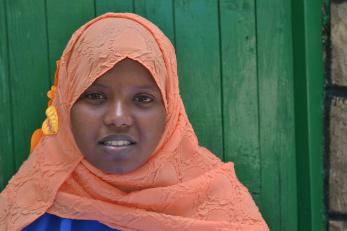 Saida, 20, was married off at 17 years old and is now a mother of four, including triplets. Because of her early marriage and having children, she lost her chance to finish school and instead spends her days cooking, cleaning and looking after the children.
But Saida dreams of bigger things. "I want to act as a role model for my community. I want to be a teacher to empower the next generation of girls."
In Somalia, Mercy Corps sponsors enrollment of female teacher trainees to a local university, which helps fill a void of female teachers and gives girls like Saida the chance to make an impact on the next generation of hopeful students.
South Sudan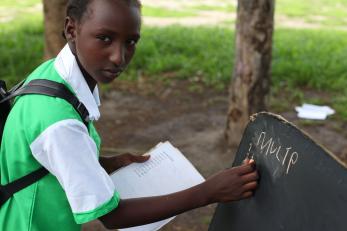 Zenaib, 10, is used to going to class outside, often surrounded by cows. Her school serves approximately 400 students but has no school house and no classrooms. During the rainy season, bad weather means no class for the day.
"I want to be a doctor when I grow up, but I don't know how I can ever have a future without an education."
Mercy Corps built a school with four classrooms in Zenaib's town so that she and other students can attend classes in a safe and protected environment.
As conflict continues to erupt in the world's newest country, keeping education a priority is a daunting challenge. We are working with the most at-risk students, girls and children with disabilities, to make sure that they have what they need to stay in school.
Syrian Refugees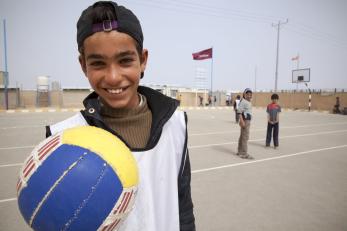 Mahmoud, 15, has been living at Za'atari refugee camp in Jordan for over a year. Like many other young refugees, Mahmoud misses his home and is struggling to make a new life at the camp.
"I am homesick! I hope to go back to Syria and go to school again."
Mahmoud says that he enjoys Mercy Corps' child-friendly play spaces because he can play football with his friends and people seem to be happier there than in the rest of the camp, where anger and frustrations often boil over.
Mercy Corps has 23 child-friendly spaces in Za'atari camp that serve 2,700 refugee children. For young refugees who are far from home and have had their lives turned upside down, safe play spaces offer a positive environment and encourage youth to heal from the trauma they have experienced.