Face forward: Young Palestinian refugee pursues a dream in Lebanon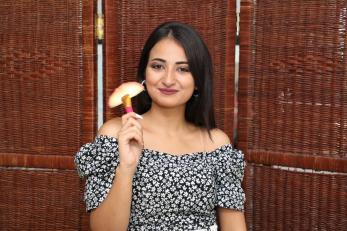 September 27, 2022
Six mornings a week, 18-year-old Hanine heads to her job at a beauty salon in Saida, Lebanon. She works as a beautician doing nails, eyebrows, and waxing. Hanine's favorite part is when she's providing makeup artistry.
"I go to the salon overly excited and happy because I love my work," said Hanine, who is a refugee from Palestine. "I am feeling very blessed that I am able to do it and that I had the opportunity to gain skills and improve myself." In addition to doing makeup for salon customers, Hanine provides makeup services as a freelancer to her own clients.
Becoming a makeup artist and seeing where it can take her is part of a dream she has held since she was a young girl. "I started watching artists do makeup on YouTube and I became inspired by one in particular. Her name is Najla from 'Hia Magazine' channel," she said. "I loveLove Najla's work. She is amazing, creative, and very confident about herself. Najla gives confidence to those who watch her and always explains things to the smallest detail, I hope one day I'll be like her or even better," Hanine said.
Hanine lives in south Lebanon with her parents and sisters. She had initially learned by watching and practicing on herself and anyone who would let her apply their makeup, mainly her sisters. She has been focused on it since her formal schooling ended when she was a ninth-grader.
"Because I am Palestinian, there are not many fields I could work in." she said. For young refugees in Lebanon, achieving one's dream is daunting. Unemployment among young people is more than double the national rate, and women's participation in the workforce is significantly lower than men's (29% vs. 70%). Marginalized communities in the country also suffer from higher unemployment rates, with refugees experiencing numerous additional barriers to employment.
The country, with a population of 6.8 million, has experienced generations of challenges. Nearly half of people living in Lebanon are in need of humanitarian assistance and approximately 250,000 are Palestinian refugees.
Mercy Corps has seen a lot of interest in livelihoods training to do makeup and other services that can be provided from home. Since women tend to shoulder more traditional gender roles where they are responsible for household duties and childcare—combined with COVID-related business shutdowns—women prefer skills they can practice at their home and with a flexible schedule. 
The beauty industry remains vibrant in Lebanon. People still need haircuts, and some can afford niceties such as a manicure and makeup. Often these things are the only bright spots to be felt during times like these.
For Hanine, getting on track toward her dream to become a makeup artist required receiving some of the education she missed by being away from school and she needed more cosmetology training. As a participant in a livelihoods program known as Fostering Resilience by Strengthening Abilities (FORSA), Hanine received training through a Mercy Corps partner, Q Pulse, who hired instructors and created the curriculum. In addition to the makeup training, FORSA also offered workshops in accounting, agriculture, graphic design, and more.
My dreams are so big! I am now open to learning new things to become one of the greatest makeup artists.

Hanine,

Mercy Corps Lebanon livelihoods program participant
FORSA supports people 16 to 34 years old in building life skills, confidence, and occupational training that is tailored to meet needs within the economy. In addition to hands-on training, the program provides mentoring and other career-building support, such as help preparing resumes, managing job interviews, and being work-ready once the job is landed.
"The life skills training also taught me a lot of things. First, it developed my character and made me persevere to achieve my goals, no matter the difficulties, to reach the dream that I want. And it made me feel more confident," said Hanine, who found a job at a salon on her own after participating in the program. "I'm currently working and I'm trying to make an income in order to reach my dream."
Since 1993, Mercy Corps has worked in Lebanon helping refugees meet urgent needs and strengthening their resilience. One of our main areas of focus is helping women and young people access work opportunities and earn an income. Through FORSA, more than 1,000 people in Lebanon have been able to gain skills and confidence critical to their livelihoods since 2019.
Due to Lebanon's currency crash and resulting economic upheaval, businesses struggle to stay alive and life is full of challenges. Despite this, Hanine said she hopes one day to open a salon of her own and have a YouTube channel that inspires young girls and women the way she is inspired.
Join us in building a more equitable world.