In the wake of the earthquake, we must remember Northwest Syria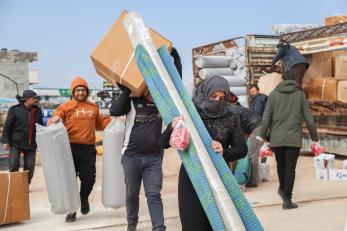 March 10, 2023
It has been more than a month since a catastrophic earthquake struck Turkey and Northwest Syria in February 2023, with a death toll of more than 50,000 people. The devastation has caused widespread infrastructure damage, displacement, and psychological trauma. The gap between need and response is desperate in Northwest Syria, where slow international response limits the ability of aid organizations to meet the scale of needs.
After a decade of conflict, 4 million people were already in dire need of humanitarian assistance in Northwest Syria before the earthquake struck. People are reporting that they cannot afford food due to limited cash and increased prices in half of the camps and communities where Mercy Corps is providing assistance. People are resorting to drinking unclean water and practicing poor hygiene because of damaged water networks and latrines. More than 50,000 cholera cases have been reported in Northwest Syria in the first week of March.
Since 2008, Mercy Corps has been providing emergency aid and addressing sustained needs in Syria. We were already supporting communities inside Northwest Syria and mobilized quickly in the aftermath of the earthquake. In addition to providing hygiene kits, shelter supplies, and other essential items, our teams are assessing damage to boreholes that supply clean water across camps for displaced people and communities where we work. Prior to the earthquake, 135,000 people in Northwest Syria relied solely on Mercy Corps for access to clean water and we have resumed trucking in and providing water access.
People in Syria will face enormous challenges in the months to come as they rebuild lives already torn apart by a decade of conflict. In addition to water, food, and shelter, recovery will hinge on supporting livelihoods and mental health services to deal with the compounded psychological effects of a grinding conflict and a catastrophic natural disaster.
Immediately after the earthquake, we saw how communities themselves are their own first responders until more help can arrive. Yet, the people in Northwest Syria feel entirely on their own. As news coverage of the disaster wanes, communities in Northwest Syria must find a way to rebuild, hoping that the rest of the world will remember about their plight.
Join us in building a more equitable world.