War in Ukraine threatens food security around the world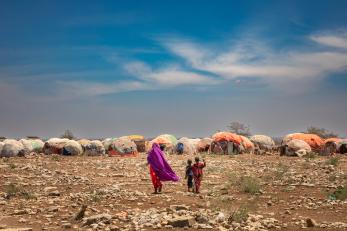 April 18, 2022
More than 11 million people have been displaced in Ukraine—with 4.9 million of them having fled the country—since the conflict began in late February. While we must support people directly affected by the conflict, we're also now seeing how the crisis has deeply impacted the global markets—threatening food security for many countries who rely on Ukraine and Russia's agricultural exports.
According to the U.N.'s Food and Agriculture Organization (FAO), Ukraine is one of the world's leading exporters of wheat, corn, and sunflower oil—providing 12% of global wheat exports before the conflict began. The FAO reports that almost 50 countries are dependent on Ukraine and Russia for more than 30% of their wheat import needs. Russia and Ukraine also export fertilizers used around the world for agriculture. Many lower-income countries rely on exports from Ukraine and Russia for food.
In Lebanon, where we import more than 80% of our wheat from Ukraine, we are experiencing the repercussions of the conflict in Ukraine firsthand. With half of the population living in poverty, bread is one of the few remaining affordable foods available to people who are struggling to survive the major economic collapse in 2019 and the Beirut Port blast of August 2020. The collapse of the Lebanese lira has meant the  price of bread—already 600% higher than it was at the start of the crisis in Lebanon in 2019—is now over 900% higher since the start of the conflict in Ukraine. Difficulties accessing wheat suppliers have resulted in shortages of staple foods, price gouging, and hoarding. If the government doesn't find alternative suppliers, many families will likely go hungry.
Mercy Corps CEO Tjada D'Oyen McKenna recently appeared on CBS News to speak about the ripple effects of the conflict in Ukraine. Once known as one of the "breadbaskets of the world," Ukraine's crisis has sharply impacted global food prices. Tjada warns against diverting aid away from countries whose emergencies have been compounded by the conflict in Ukraine.
And people in Lebanon are far from alone in suffering the shocks of the war in Ukraine. The price of cooking oil, beans, rice, sugar, and flour have nearly doubled in Somalia since the start of the conflict. The FAO reports that Somalia imports more than 90% of their wheat from Ukraine and Russia. In the Horn of Africa, which includes Somalia alongside Ethiopia and Kenya, more than 13 million people are already facing an unprecedented threat of hunger due to a catastrophic drought. USAID estimates that upwards of 55 million people in the Horn of Africa will be affected by severe food insecurity by the middle of this year if they do not receive emergency aid. The impending shortage of food staples, and its increased prices, will exacerbate crises for millions more in other countries who are already grappling with food scarcity like Syria and Yemen.
In the face of these compound crises, Mercy Corps is supporting communities to meet their most urgent needs. In the Horn of Africa, cash assistance is one of the most flexible and direct ways to support communities who need immediate access to food. We offer livelihood support by assisting pastoralists with vouchers for animal feed and veterinary care, and helping them to reduce their herd to a more manageable size by selling off livestock at fair prices. In Lebanon, we also provide cash assistance to small businesses and the agricultural sector so they can sustain their operations, which are critical for basic needs and local economies. Our efforts are to ensure that communities have access to affordable food supplies and not slip further into poverty as the Ukraine crisis continues.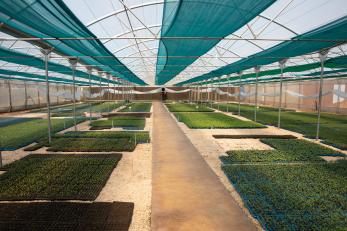 The FAO estimates that upwards of 30% of crops in Ukraine will go unharvested in this upcoming season and restricted infrastructure will limit their ability to process and export their yields. We are already seeing the impact in Lebanon and across the Horn of Africa, where we must act quickly to support communities who are already struggling to make ends meet. The devastation in Ukraine reaches far beyond its borders. Food crises around the world will continue to escalate without urgent humanitarian interventions providing equitable access to food.
Join us in building a more equitable world.