Why venture capital?
Mercy Corps Ventures highlights the role of entrepreneurs in driving resilience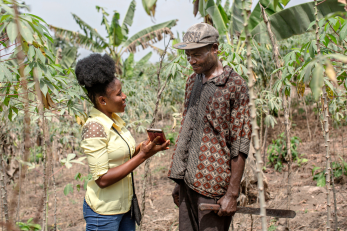 November 08, 2022
As Mercy Corps pursues its mission to build secure, productive, and just communities, it addresses global challenges from a number of angles—from emergency response, to development programming, to policy and advocacy.
But what about the role of venture capital?
One of our most exciting and quickly growing functions is impact investing. Mercy Corps Ventures invests in high-impact startups that are enabling people to withstand climate disruption and build their communities for a more equitable future.
The bigger picture
We are living during a period with dramatic advancements in technology and connectivity across the globe, accelerating progress toward economic development and increasing purchasing power in emerging economies.
At the same time, never before have we seen such extreme global upheaval, shocks, and instability.
Climate change is a key driver of many of the changes occurring at the global and local levels, across every economy, sector, supply chain, and industry. There are 3.3 billion people whose daily lives are at risk and highly vulnerable to climate change, and 130 million people will be pushed into poverty by climate change by 2030.
Climate change is also creating unforeseen opportunities. Evolving consumer preferences, technological developments, and new legislation are leading to the creation of new solutions, product categories, and market opportunities. For example, the costs of renewable energy technologies are decreasing while consumer preference for sustainable and transparent corporate practices is increasing. We are going through a fundamental shift in how people value land and natural resources, seen through the rise of tools such as carbon credits. As the global demand for food grows, so too does the business case for making these systems more efficient, equitable, and sustainable. To put a number to this, there is a $23 trillion climate smart investment opportunity into emerging markets by 2030.
As we reflect on both the threats and opportunities presented by climate change, we are acutely aware that underserved and marginalized households, small businesses, and workers have the most at stake. Groups within these communities are also disproportionately impacted, such as young people, smallholder farmers, land stewards, informal merchants, gig workers, displaced populations, and women.
These populations often lack access to inclusive and equitable resources and tools, such as bank accounts, insurance products, or accurate weather forecasting, that could enable them on their path to prosperity and economic growth. This leaves them unable to adequately prepare, withstand, and respond to disruptions becoming more common with climate change.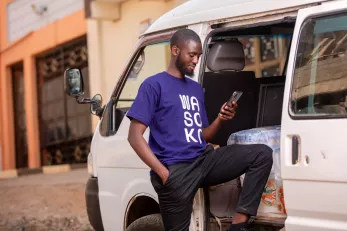 Why venture capital
The world's best builders, creators, and entrepreneurs are launching startups and developing transformational solutions at unparalleled rates, bringing energy and urgency to the current moment. Around the globe, these startups have the potential to reach 3.3 billion climate-vulnerable people, 1.4 billion unbanked people, and 162 million small businesses with innovative climate-focused and digital finance products that could drive their resilience.
Yet despite the potential, private capital has been slow to recognize this opportunity and deploy capital toward it. Managers of global capital pools are tentative about investing in new markets because of perceived risk and their own lack of experience, knowledge, and networks within these regions. They have limited understanding of emerging market conditions, regulations, and tech infrastructure, and limited knowledge of the needs and constraints of underserved users, and of the barriers faced in reaching and serving these communities.
The need for financing to support climate adaptation within emerging markets will reach $330 billion by 2030, but these markets received a fraction of climate financing over 2020—sub-Saharan Africa received only 3%, Latin America 5.5%, and South Asia 5%.
This is where we're able to add unique value. Through our global reach and networks, Mercy Corps Ventures has a deep understanding of emerging market investing and is able to take on early-stage and geographic risk that other impact investors and venture capital firms do not. We're willing to push boundaries to prove innovations and help ventures realize their impact potential.
To date, we've supported 38 early-stage ventures to scale and raise over $333 million in follow-on capital. Our portfolio is 50% female-founded and centers around resilience-building solutions in adaptive agriculture and food systems, inclusive fintech, and climate smart systems, so that those living in emerging markets can withstand disruption and plan for the future.
Alongside capital, we provide tailored post-investment support through our Venture Platform, we work with partners to pilot cutting-edge tech approaches to prove their potential, we publish action-oriented insights to inform later-stage investors of new solutions and markets, and conduct rigorous impact management and measurement.
In a world undergoing unprecedented transformational change, we know that entrepreneurs can drive the resilience of billions of people in emerging markets.
Find out more about Mercy Corps Ventures.
Help us develop creative solutions to crises across the world.