The urgent need for climate adaptation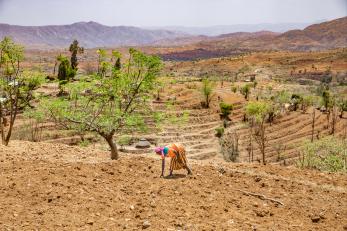 October 25, 2021
On Oct. 21, the New York Times hosted another episode of Netting Zero, an event series exploring the many facets of climate change and the solutions to the greatest challenge of our time. From food systems and fossil fuels to technology and sustainable cities, journalists came together with climate experts from business, policy, government, and civil society, to discuss transformative ideas to meet the climate challenge.
Mercy Corps' CEO, Tjada D'Oyen McKenna, was a panelist on the latest Netting Zero episode, "Collaborative Climate Action for Exponential Change," where the conversation focused on how communities, businesses, and governments can come together to find solutions to the fundamental risks posed by climate change. Tjada's message was simple: We are at a critical inflection point where communities feeling the worst impact of the climate crisis urgently need help to adapt now. While the climate emergency affects all of us around the world, the crisis doesn't affect all of us equally—we must include the historically marginalized communities in assessing and creating solutions.
The session was moderated by The New York Times' climate editor Hannah Fairfield and speakers included Jennifer Austin, Director of Strategy and Policy for the COP26 Climate Champions; Dr. Renee Lertzman, Founder of Project InsideOut; Damilola Ogunbiyi, CEO, SE forAll; Kaniela Ing, Climate Justice Campaigner and former Hawaiian state legislator; and David Wei, Managing Director, Climate Practice at BSR and International Policy Lead for We Mean Business.
Below is the event recording:
Urge U.S. leaders to take bold action on global climate change.