In moments of recovery and resilience: Top 10 photos of 2022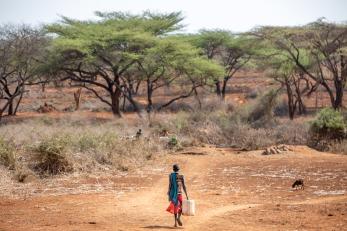 January 03, 2023
Every year, our team diligently assesses and plans the destinations for our photography assignments. Then, without fail, every year the plan goes out the window when world events intervene—2022 was no exception.
Early in the year, we pivoted and spent five weeks in Somalia and Kenya to capture the stories of communities living through a devastating drought that is driving near-famine conditions in the Horn of Africa. Then war broke out in Ukraine, and we were off to document Mercy Corps' immediate response in the region. Mercy Corps' support in these parallel crises did not interrupt our other crucial efforts around the world, including helping refugees in Uganda build sustainable livelihoods, working with villagers in Syria to obtain better access to water, and supporting families struggling in Afghanistan's crumbling economy. We photographed it all.
As I combed through our photos, I could see how critical our partnerships have been. From a small Ukrainian NGO setting up a day care center for displaced children in Ivano-Frankivsk, to an organization offering a safe educational and workshop space for LGBTQ participants in Cartagena, Colombia, our collaboration with local groups has been key to supporting the communities we work with.
The images below represent some of my favorite photos of the year. The range and saturation of colors tell the stories. The washed-out desiccated browns of a drought-stricken Kenyan landscape. Deep purple beans being tossed in the air in DRC. A bright rainbow mural splashed across a wall in Colombia. Despite the challenges that many communities faced, we also witnessed many people cope, adapt, and work toward a future where we may all thrive.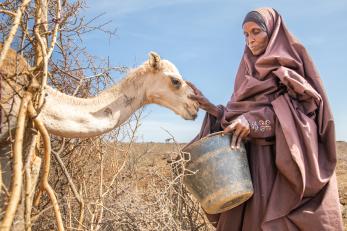 As rains continue to fail in East Africa, over 7.8 million people—nearly half of the country's population—have been affected. 213,000 are starving, over a million are displaced, and an estimated 386,000 children could die without lifesaving treatment for severe acute malnutrition. Mercy Corps is providing water points at camps for people who have been displaced after fleeing their homes in search of water and food. In addition to trucking in emergency drinking water for people as well as their livestock, we are providing crucial wages and employing approximately 8,500 Somalis to rehabilitate dried-out irrigation channels and improving infrastructure.
This was my first visit to Somalia. I met Fadumo Maxamed Ahmed just outside of Baidoa, as she fed the dregs of her morning tea leaves to her last surviving camel among the scrub brush near a camp for internally displaced people. She and her family fled from her home, as the drought killed their animals and made survival impossible. The textures and colors reflect the parched landscape. This photo highlights the connection between her and her camel, how valuable livestock are in the region, and the disaster that is unfolding as people and animals struggle to persevere under desperate circumstances.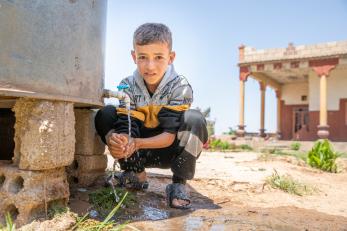 In Northeast Syria, Ali, whose name has been changed here for his safety, washes his hands near his family's home. Mercy Corps installed solar panels at the village water tank, drastically improving access to water for this entire town. With a consistent source of clean water, residents have also begun growing their own vegetables. The region has faced compounding challenges due to insecurity, climate change-induced drought, spiking grain prices as a result of the war in Ukraine, and spiraling currency values.
The look in Ali's eyes as the water washes over his hands and spills into the parched ground tells the story of how important and scarce water is in this part of the world. The stories I heard from families reminded me of how the confluence of national and global factors affects people on a daily basis.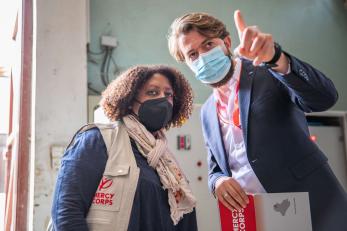 I was fortunate to spend some time traveling with Tjada D'Oyen McKenna, Mercy Corps' CEO, as she visited teams around the world. Here she received a tour of the Al Sahroon water treatment plant from Younis Sabahan Ibrahim, a Project Manager at Mercy Corps' Mosul office. The plant was heavily damaged during the ISIS conflict. Mercy Corps rehabilitated the water pumps, water tanks, sedimentation tanks and filters—improving water quality and accessibility for 500,000 residents of East Mosul.
Tjada traveled to Iraq and Lebanon as part of a week-long visit to the region. She visited educational programs, refugee camps, farms, and small businesses. It was inspiring to see the way staff and participants received her with excitement and a genuine, powerful sense of connection.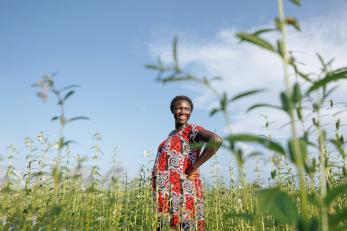 Rose Kujang, a refugee from South Sudan, stands in the sesame fields she shares with her farmer's group. Their group is supported by the Mercy Corps' DREAMS program, an innovative livelihoods initiative to help refugees launch sustainable small businesses while integrating into their host communities.
We worked with freelance photographer, Jjumba Martin, who captured this colorful photo. "I love this image an extra bit, because of the rawness of the facial and body expression of Rose," he said. "The fact that I took the shot slightly before everything was set, having Rose in a natural pose plus the positioning of the sun. For me, the warmth in the picture adequately communicates the hope Rose spoke of in their sesame garden. She expected a lot. I hope it all works according to their plan."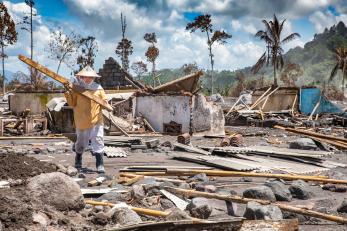 Lasiati tries to salvage anything she can find in her family's home, which lies half-buried in ash near Mt. Semeru in eastern Java. She and her husband managed to dig up their front door from beneath the debris. The volcano has been active recently, including dangerous eruptions in December 2021 and December 2022. Mercy Corps responded by providing Lasiati and her neighbors with cooking supplies.
When planning this trip to Indonesia, I intended to visit participants who had received support from Mercy Corps in the wake of the Mt. Semeru eruption in 2021. I had no idea I was about to have a front row seat to another eruption. As I walked across the fields of ash and debris, the ground was still smoldering, and the air smelled of volcanic gas. While residents have moved to a nearby village, it is hard to imagine living with the constant threat, physically manifested in a mountain you can see from your window.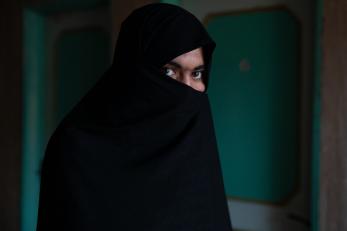 This was my first visit to Afghanistan, where I captured a portrait of 18-year-old Somia. She lives in a rural part of Afghanistan's Herat province. Her family relies on the sole income of her father, a wheat farmer. Since 2017, her village of more than 650 households has been affected by drought, limiting drinking water supplies and greatly reducing agricultural production. This year her father harvested only seven bags of wheat, a sharp drop from the 40-50 bags he once produced. "We sold two bags of wheat to buy soap and other household items," she said. "But they are already finished."
Mercy Corps distributed hygiene kits, providing soap to families to ensure they better protect their families from illness. Our community health workers also provided hygiene and sanitation trainings.
I love the eye contact in this portrait, and the contrast between her radiant eyes and black scarf. It makes me think of all the bright, talented young women I met who are struggling to find their place in a new Afghan reality.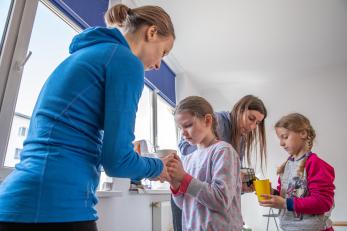 Teacher Dariya Gorshkova (left) pours water for Sofiya, while teacher Olena Maniv pours tea for Alisa, during snack time at their day care center. The center is operated by a local organization called NGO Kamyanytsya Austria, with financial support from Mercy Corps. It is for children that have been displaced by the war, providing free care for children ages 6-10. Their parents have a safe place to leave their children to play and learn while they figure out the logistics of relocating their families. I like the repeating patterns in this image, and the connection between the students and teachers—the bond that had grown between them in a few short weeks was powerful.
This was my first visit to Ukraine since the war started, and it was a short but dramatic assignment. It was clear how important Mercy Corps' initial response was, supporting local organizations as they did crucial work to help displaced families cope with the impact of the war. I returned later in the fall to see how our cash distributions helped people deal with extended displacement and prepare for the incoming challenges of a cold, dark winter, spending hours and days in underground bomb shelters as missiles rained down on the country.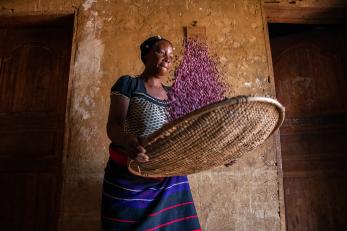 Jeannette Kadye Rukongeza, a participant in a program supporting food security in South Kivu province, sorts beans inside her home. She grows cassava and beans, and owns a small shop. She received financial and business training from Mercy Corps, which has increased her income, helping her to pay for school and medicine for her children. I like the symmetry of this image, and the way the fast shutter speed captures the colorful beans in midair.
This was my second assignment in DRC, although it was my first time photographing here. When I came in 2021, my first trip after being locked down due to COVID for one and half years, I spent a week in quarantine upon arrival. On the final day of quarantine, nearby Mount Nyiragongo volcano erupted. After two days of earthquakes, I was evacuated to Rwanda without having taken a single shot. So I was quite excited to return to DRC this year and gather some of the stories from the communities we serve.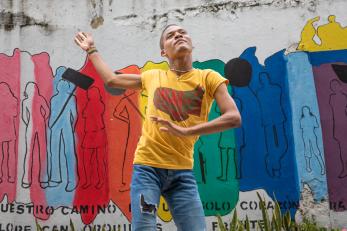 Miguel Angulo Parra dances the Mapalé, a historical Afro-Colombian style of dance that was brought over by enslaved people, and represents fishermen after a long day of work. Miguel is a Venezuelan refugee, professional dancer, and a participant at Caribe Afirmativo, a Mercy Corps partner that offers safe educational and workshop space for LGBTQ people and allies.
This is a great illustration of the power of Mercy Corps partnerships, and our ability to adapt to different cultural contexts. A unique program like this would not be possible in Syria or Iraq, but here it is making a huge difference in people's lives in Colombia. I love the bright colors and motion in this image, and the look of power and defiance in Miguel's expression and body language.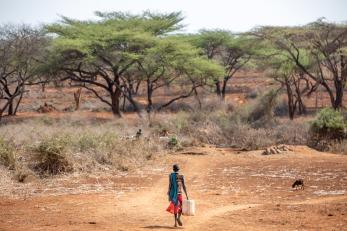 Every morning before it gets too hot, Nareu Letwamba walks eight kilometers to fetch water for her family. She was quiet as we walked through the hot, dry plains to a distant well. Nareu's daily journey is a reminder of the lengths people must go through to cope with climate disruptions like the drought that is decimating the Horn of Africa.
The long focal length of this photo provides a sense of distance and isolation, reflecting how communities that contribute the least to carbon emissions may bear the brunt of climate change. The causes may be coming from afar, but people often deal with the consequences alone. Mercy Corps has distributed emergency cash assistance to families in the Ngilai area, helping them to buy enough food to feed their families. Mercy Corps is focused on working with people like Nareu, to find ways to survive and thrive in the face of climate change.
Join us in building a more equitable world.