How can technology transform the refugee crisis?
March 13, 2018
This story is part of our special series, 7 for 7: Seven voices for seven years of the Syria crisis. View the complete series here ▸
 
Becoming a refugee doesn't just mean losing your home. It means being disconnected from every aspect of your life: your friends, your education, your social networks, and the technology that makes it all possible.
Seven years into the Syria crisis, more than 11 million Syrians are displaced or living as refugees in other countries. How can we reach them with digital tools like cloud computing, biometric data, blockchain, and AI? Read more in this interview with Jane Meseck, Senior Director of Global Programs for Microsoft Philanthropies, about how we're working together to use breakthrough technology to help refugees build better, stronger lives.
Why does the refugee crisis demand a technological response?
This crisis has not ended just because it may have faded from the forefront of the media. There are still too many people displaced around the world, and from Syria especially, being hosted by countries that can barely afford to support their own vulnerable populations. We've been involved in this crisis for the past three years, and we see an increasing need to bring technology to the situation, both in terms of power on the front lines and how we can support organizations that are helping people.
At first, our involvement was all about our first response: how can we help immediately? Three years in, we see more momentum now into how we can help people rebuild their lives and accelerate their inclusion into their communities through the help of digital technologies. Whether it's access to information through projects like Refugee.Info, or getting people the skills they need to start a small business or get a job, the role of technology is increasingly important in this situation.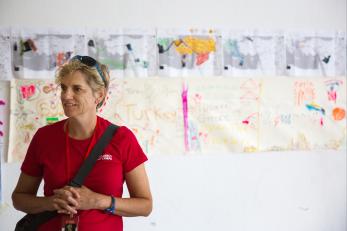 Why is refugee identification a critical issue and how is Microsoft using tech to solve it?
Digital identity is not only a person's identity, like I am Jane and I have proof that I'm Jane. It's also about what comes with that — the services I am eligible for, the education that I am certified for, and the different things that layer on top of having an identity. If I'm a refugee, it's also critical that I can transfer it with me when I move from country to country and service provider to service provider.
Digital identity is not only a person's identity ... It's also about what comes with that — the services I am eligible for, the education that I am certified for, and the different things that layer on top of having an identity.
We are working alongside humanitarian organizations like Mercy Corps to think about what beneficiary identification means, as well as a broader industry approach through ID2020 to try and determine the standards around identity and how we can use different technology tools to support the provision of identity. Some of this is new and early on, but it is a place we are very much excited about and committed to developing more.
What role can biometric technologies and blockchain play in that process?
For sure, biometrics is a crucial tool to help prove who you are. Blockchain, meanwhile, offers a decentralized way to have a digital identity that's safe and secure and proven. We're looking across a host of technologies.
We don't necessarily believe there is one solution that will solve all these problems, but we do believe there is a set of standards and a set of tools that can be used across the sector — so the solutions Mercy Corps creates for their beneficiary management system can talk to UNHCR's system, and so on. This is going to take a variety of solutions and technologies that talk to each other in a way that is secure, safe, and proven.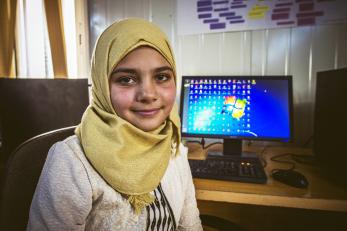 How are you using the power of the cloud to serve refugees?
Cloud as an industry is really accelerating as a way for organizations and companies to have a place to store their data and do computation from anywhere. It's super valuable. Nonprofits are increasingly taking advantage of the cloud not just to store things, but also to use its computing power.
One great example we've seen is with Medical Teams International in Uganda. They use a data intake system in their health centers in refugee camps that provides real-time data that can alert providers on potential outbreaks of disease. So if they start seeing more people coming in with malaria, they're able to use the data and the power of the cloud to say, oh wow, there's a high risk of malaria outbreak in this area, and deploy preventative measures.
This technology could allow organizations like Mercy Corps to combine their data with open public data to start doing predictive analytics. For instance, you could look at the weather and the price of goats to predict when people might be on the move. Did the price of goats just change significantly that provides some prediction that people are selling their goats because they're about to move? We see a lot of possibility in predictive analytics and are working to figure out how we can provide the data architecture to help make that happen.
How are young refugees using technology and what have you learned in your visits with them?
When we first started coming back from visiting refugees, people thought it would make us sad. And it was — it's tragic. But when you meet these youth, they still have dreams and passion and excitement for life, and their hopes for the future are like any other young people would have. You can't help but love that and want to support that.
When you meet these youth, they still have dreams and passion and excitement for life, and their hopes for the future are like any others young people would have.
The thing that struck me about the teenagers we met, especially the girls, is that they are still just fun teenagers. They were giggling, laughing, and wanted to take selfies. And they asked to build a website for their youth center. We throw our hands up and think, what could we possibly do to solve this huge problem? But then you realize these are just teens. They're hopeful, they still have dreams, they're begging to go to school. And they just want to take selfies and build a website. It was so powerful to see that.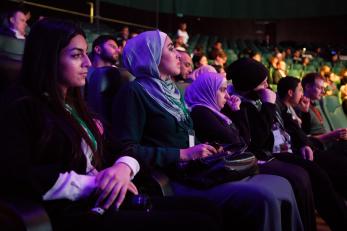 Zaatari camp, in particular, has a tremendous sense of community that I didn't expect. It's basically a small city. The last time I was there, there was a club of refugee geeks that were awesome. They were using technology to map the camp to help residents know where different services were. Because they don't have access to the internet in the camp, they are able to do it offline and come back to a center and upload it when they're online.
They looked at the situation like, you know what, someday I'm either going to go back to Syria, I'm going to build a business, or I'm going to need the skills to get a job elsewhere. They were using technology not only to do something fun, but to think about their future.
What are some of your blue sky dreams for how technology can impact this crisis?
When the crisis first hit, we provided a lot of software and cloud technologies to the nonprofits that were responding to help them get on a stable platform so they could have the right technology to do what they were doing. Now, three years later, we're looking at what digital technology can do to really transform their work.
Some of this is innovative technology, from identity management like we mentioned, to what education might mean for a student on the move. If you're a refugee moving from place to place still trying to get your education delivered to you, how do you take it with you as recognized proof that you've completed it? You may have graduated from high school and have a certified diploma, but how do you carry it with you in a digital form?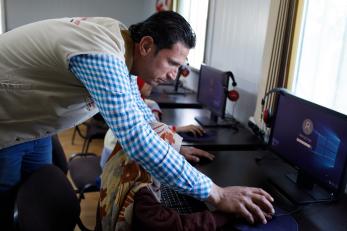 Another area we're looking at is artificial intelligence and how it might impact these scenarios. What could mapping look like? How do we use AI to create before-and-after mapping? How do we use AI to use predictive analytics on the ground?
We're also still looking at connectivity. When you bring connectivity to a community, you want to be sure you're supporting the local community and refugee community in an equitable way. Then you can build services and skills training on top of it. We're also looking at how we can build digital skills within the humanitarian organizations themselves, like skills training and even levels of certification that have employment value.
What excites you about working for Microsoft Philanthropies?
One of the big transformations we're undergoing in Microsoft Philanthropies is the creation of Technology for Social Impact, which is a focus on how we bring all of our technological services and assets to support the NGO and humanitarian community. It's a real ramp-up of how we support organizations with greater services, greater access to technology, and industry solutions to help solve some of these real problems. For me, the creation of this organization and the opportunity to help humanitarian organizations is really exciting.
One of the key things that we think about is that, as technology advances, how do we ensure there's a future for everyone? If there's a group that's really vulnerable to being left behind, it's this refugee population. We're really thinking about advancing a future that's for everyone. That's our mission, that's our goal. Whether it's through technology, education, or both, we work with organizations like Mercy Corps to ensure populations like refugees have a future.
Help us provide even more support to families in crisis around the world.
Ask your friends to contribute to our effort to help families survive, recover and rebuild.