Using technology to better support conflict-affected families in Nigeria
January 24, 2022
This article was originally published on Cisco's Transformational Tech blog.
"We had a better life before and now everything is out of control," says Hadiza, a mother of eight, whose family has been affected by the humanitarian crisis in northeast Nigeria.
8.7 million people in northeast Nigeria are in need of immediate humanitarian assistance, as the region has entered its 12th year of conflict, with no end in sight. Across the region, families have been entirely cut off from their agricultural livelihoods, as rural areas where many once lived or farmed are now largely inaccessible due to the risk of violence. Without employment opportunities, families like Hadiza's don't have the money to purchase basic essentials like food.
Mercy Corps has been providing support to these vulnerable communities in Nigeria since 2012. My team provides cash and vouchers to families affected by the conflict in northeast Nigeria so they can meet their basic needs.
Over the past decade, there has been a growing consensus in the humanitarian community that cash—in the form of vouchers, prepaid debit cards, mobile transfers, bank account transfers, or paper money—is a preferable form of support as compared to in-kind aid such as food, hygiene, or winterization kits. Cash offers recipients more flexibility and dignity, giving families the opportunity to make their own choices and prioritize their most urgent needs. It can cost more to deliver support from in-kind donations than to distribute cash due to the added cost of logistics and shipping. Cash also has a multiplier effect, helping jumpstart local economies, as it is typically spent at local shops who may also be struggling. The adoption of cash and voucher assistance only continues to grow—there was a 100% increase from 2016 to 2019 and it now makes up almost 18% of total international humanitarian assistance.
Deepening our impact through technology, with Cisco's support
When we started this cash program in late 2014, it was all done manually—we printed tens of thousands of vouchers and traveled far distances to distribute them in person. Most of the time we collected recipient information on paper, which was very time consuming and prone to human error. And for the families receiving the vouchers, this meant that lines were long and security risks were high as large crowds could become targets of violence. Paper vouchers were also easy to duplicate and prone to loss or theft. My team found it challenging to manually sort through data when analyzing participant selection criteria, verifying participant lists, and tracking expenditure patterns, making it difficult to ensure that the paper vouchers were being distributed to the right people. The time-intensive process of reconciling paper vouchers also led to delayed payments to market vendors. Without payments, they lacked the funds to restock their shelves in a timely manner, causing shortages and limiting the options of food available.
To address all of these challenges, with support from Cisco, we embarked on what ended up being a multi-year process of piloting different technology platforms to distribute cash and vouchers electronically. Cisco's support allowed Mercy Corps to develop a team of internal experts to identify, test, and implement technology solutions. In this case, our team in Nigeria worked with a Mercy Corps digital cash expert, who guided the development of tools that allowed us to create digital identities for families receiving assistance, which improved how quickly we could distribute cash, and reduced the potential of fraud.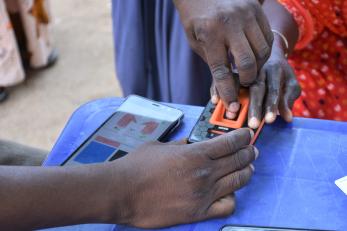 From paper to innovation
Now, instead of distributing paper vouchers, program participants receive a card loaded with a cash amount, much like a debit card. Recipients obtain a unique digital identity, which is linked to their individual card and used at local shops to purchase food items. After the initial distribution of cards, many families receive additional monthly cash payments, as well. These monthly top ups are automated, so we no longer have to travel each month to manually distribute paper vouchers. It doesn't matter where we are, we can log into the platform and view what is happening in various locations—the number of people who are redeeming their electronic vouchers and the particular food items they have received. The ability to reload cards and monitor transactions remotely has been even more valuable during the COVID‑19 pandemic when we are limiting travel and in-person interactions.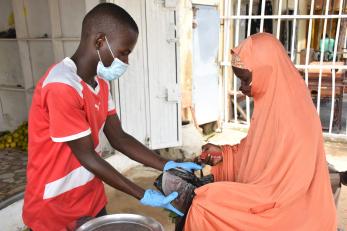 Each step of the process is both more secure and efficient. In fact, we now process four times as many vouchers in 75% less time! This means we can reach more people and pay market vendors on time.
The automation has also greatly improved our ability to analyze our cash program's impact. The new electronic system opened up more opportunities to learn, adapt, and improve the program in real time. For instance, because it made data more accessible and readable, we discovered that recipients weren't selecting nutrient-rich foods and lacked diversity in their diets. One of the limiting factors was that e-vouchers could only be redeemed for dry foods, which are important pantry staples but lacked nutrients. To remedy this, we worked with the market vendors to include fresh foods in the offerings and complemented the e-vouchers with information on the importance of dietary diversity. We also created digital shopping lists that made it easy for families to select a curated food basket full of nutritious food items.
Hadiza and her family have personally benefited from these improvements. She supports her eight children with monthly e-vouchers from Mercy Corps, and says that her family is healthier and stronger as a result. "We now eat a different variety of food to keep us healthy," Hadiza shares.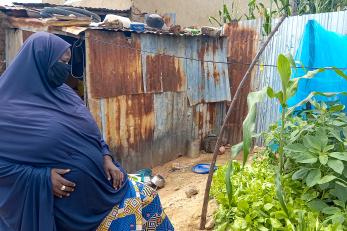 Mercy Corps' use of technology has allowed our organization to become a global leader in cash distributions for humanitarian aid. What we've done in Nigeria is just one example of how Mercy Corps is using technology to increase the scale, efficiency, and effectiveness of our work around the globe. And we aren't stopping with just cash assistance. Looking ahead, we are continuing to integrate technology in programs to support the self-sufficiency of Nigerians, as well as in other communities around the world. We are excited to incorporate these lessons learned as we look to leverage transformational technology to create and support people in income-generating activities, so they can once again provide for their families.
Help us develop creative solutions to crises across the world.