In Lebanon, one Syrian boy forced to grow up fast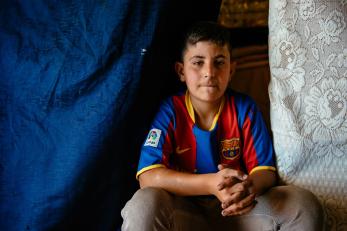 September 07, 2016
Hammoudi's deep brown eyes were the first thing I noticed when I met him in his family's tent in Lebanon.
They stare out from a boyish face, freckled and apple-cheeked. At 14, Hammoudi is a quiet and serious kid, and his penetrating gaze immediately gives you the sense that he has seen a lot — too much for someone so young.
The second thing I noticed was Hammoudi's hands. Sitting on the floor of his tent, his fingers interlaced in his lap, I spotted the telltale dirt and grease in his cuticles that I recognize from my own father, who also worked with machinery and equipment when I was growing up.
Barely a teen, Hammoudi has working man's hands.
He and his family fled their home in the suburbs of Aleppo four years ago after Syria's war came too close.
"Hammoudi and [his older brother] Mustafa actually witnessed the shellings. There was a shell that dropped right next to our house, so they saw that," says Hamida, Hammoudi's mother. "They knew, this was a war and we have to leave because it is not safe anymore."
So the family, including Hammoudi's parents and three siblings, went to Lebanon. The family has left behind the airstrikes and danger of Syria, but they also had to give up many things they didn't want to lose -- including any semblance of a normal childhood for Hammoudi.
Learn more about our work to protect Syria's children ▸
Education out of reach
More than half of school-aged Syrians in Lebanon are out of school. Hammoudi is, too. When his family first arrived in Lebanon, they found the same problem as so many Syrians: no local school could take him.
It's a priority for Hammoudi's dad, Abdelbasset, that Hammoudi and his siblings continue their education. In Syria, Abdelbasset had been a taxi driver. He had to drop out of school in ninth grade, and he was determined his own children would have the opportunities he had been denied.
So the family searched and searched and eventually enrolled Hammoudi in boarding school. He had been a good student in Syria, finishing the fourth grade before the family fled the war. Math and Arabic were his favorite subjects.
"When I was in school, my dream was to become a very smart engineer," he told me. "I like to build a lot of cool-looking stuff."
Just 10 years old at the time, Hammoudi missed being away from his family. Worse, the tuition rapidly ate through the family's savings over the course of the year.
Abdelbasset got a job selling strawberries on the side of the road every day for the three months of berry season. It was a little income, but not enough.
Eventually, he told me, he had to make some difficult decisions: "Do I pay rent or put my children in school or feed my family?"
In the end, it was no choice at all. Unable to pay tuition, he withdrew Hammoudi from school.
"I didn't want to leave school when they told me I had to because I didn't want to stop learning," Hammoudi says. "And I didn't want to leave my friends because I had some really great friends there."
Learning a trade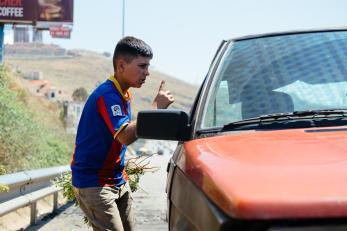 With no good school options for Hammoudi, Abdelbasset and Hamida did something they never wanted to do: They found a job for their young son in a mechanic's garage. He works as an assistant to the mechanic six days a week. Each week he makes $30, which he gives to his parents.
The money is helpful for the family who, like most Syrian refugees, lives in grinding poverty. But Hamida insisted it's not the main reason for sending Hammoudi to work.
"He's actually learning something and working and investing his time in something and not just playing around," she says. "When he grows up he will be able to have a craft and open his own business, hopefully."
As a mother, I recognize the pain that comes with doing the best you can, but knowing that it's not enough. When your child suffers, you feel the pain doubly.
"Of course I am very angry," Hamida says. "I feel guilty because Hammoudi should be in school and he shouldn't be working. And education is definitely much better than work at this age."
At the garage, Hammoudi mops the floor, hands the mechanic the tools he needs, and watches closely all the time. He says he wants to do more.
"The mechanic tells me all about the car parts, but I can not work on them. I'm just basically listening and the mechanic asks me to come and watch, but I don't really work on fixing stuff."
"I am a bit too young to work and studying would be better for me," Hammoudi says, echoing his mother's thoughts. "But this is how it is right now."
Helping families cope with challenges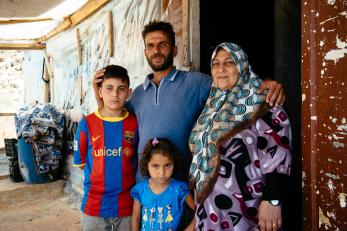 In this midst of this crisis that leaves too many refugees with too few options, Mercy Corps is focused on helping families to become strong, independent and able to shape a future for themselves and their children of their choosing.
Hamida joined a Mercy Corps women's group that gives her skills to cope with the stress she and her children endure.
Hammoudi joined an art therapy program that helps kids like him process the challenges they face as refugees.
"I was able to draw, which I love. I crafted my own home out of cardboard and things in nature," he says.
Through our art therapy program, he also created a stop-motion animation video about his experience working at such a young age and the frustrations he feels about not being able to go to school.
The program relieves some of his feelings of isolation.
"When I participate in these activities," he says, "it feels like I am not a stranger anymore. Like I'm not strange to people my age. I'm like them. It is a very good feeling that I am not that different."
"When Hammoudi was telling us about these sessions, he was actually doing what he loves," Abdelbasset says. "All the family was very happy that Hammoudi was happy and was benefiting. At least he's become a bit more at ease."
The day I visited, his parents saw Hammoudi's video for the first time. In it, he shares the story of his journey from Syria and his experience in Lebanon. His story, together with his art, reveal a boy wrestling with an awful dilemma: Is it time give up his dreams?
It brought Hamida to tears.
"I really, really loved the video because it depicts the story of our family," she says.
'I'm forgetting how to read and write'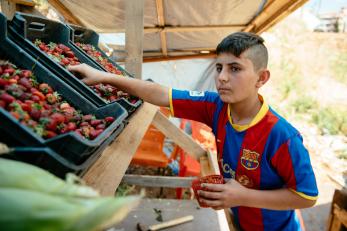 In the last year, many Lebanese schools have opened a second shift so that Syrian children can enroll in the evenings. As a result, more Syrian refugees have access to education in Lebanon than before.
But there are still significant barriers. Many families are uncomfortable with their kids out at night, fearing for their safety as they walk home from school. Most don't live close enough to walk, and transportation costs are high.
Hammoudi had an opportunity to enroll at an education center for some remedial schooling recently, but his family couldn't afford to get him there.
So for now at least, he continues his informal apprenticeship with the mechanic.
"The hardest thing right now is that I'm not in school," Hammoudi says. "I'm forgetting how to read and write and it is very, very annoying. And I have a feeling that I'm never going back to school."
I visited on a Sunday, his day off from the garage. He played cards with his cousin, who also lives in the settlement, and kicked a soccer ball. But he was listless, losing interest in the games after a few minutes each. He seemed unable to relax.
In my notebook I jotted, this war has stolen his childhood.
In the eyes of an American mom, Hammoudi has an unimaginable responsibility for a 14-year-old.
I ask him if he ever gets to be a kid.
He looks me straight in the eye and says, "I feel like an adult all of the time, because it is true. Because I am an adult."
Help us reach Syria's youth with the support and protection they need.
Ask your friends and family to contribute to our efforts to help Syrians fleeing the war.