Back in business: Supporting Black entrepreneurs during COVID
Six small business owners make it work with cash grants and support from Mercy Corps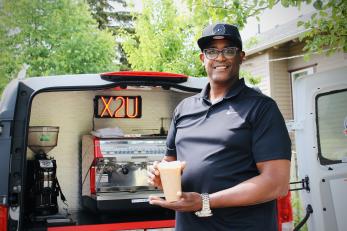 February 22, 2022
When the pandemic spread across the world in 2020, it felt impossible to imagine all of the ways it would have impacted our communities. While health and wellbeing were at the forefront of our minds, the small business owners we support every day faced the added challenge of sustaining their livelihoods during an unprecedented time. Many entrepreneurs of color, like Black-owned businesses, also had to contend with the barriers of systemic racism, among which was limited access to financing to keep their businesses afloat.
At Mercy Corps Northwest, our teams have supported small businesses through financing and education for more than 20 years. Through feedback from the community, we learned that entrepreneurs needed cash grants and training to adapt their businesses during the pandemic. Although millions of business owners applied for federal forgivable loans through the Paycheck Protection Program (PPP), Black-owned establishments were disproportionately denied funding—with 20% of businesses receiving no funding compared to 4% of white businesses. According to a report from the Federal Reserve Bank, only 43% of Black-owned businesses received all of the PPP funding they sought, compared to 79% of white-owned businesses. It was imperative to directly support Black entrepreneurs with cash grants and education so they could keep their livelihoods going.
From a braiding and natural hair salon to a mobile café, we were excited to help Black-owned businesses in our region not just survive the pandemic, but to thrive. By providing COVID‑19 relief grants, Black entrepreneurs were able to buy some time, stay afloat, and pivot their businesses in a changing landscape. I'd like to share stories from some of the Black small business owners and their journey toward growing something of their own. It has been deeply inspiring to see their entrepreneurial spirit propel them forward.
10:30 Braiding & Natural Hair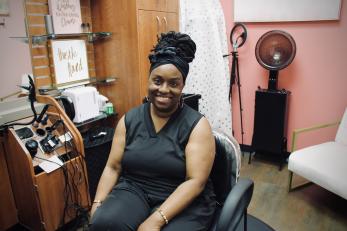 "A lot of people, African American and mixed race, tell me there weren't a lot of options for hair braiding available in Vancouver [Washington] years ago," said Regina Morgan, the owner of 10:30 Braiding & Natural Hair. "Being able to be one of those stylists here that offers a niche service helps the community to feel confident in themselves, to rock their natural hair, to love it, and to be free to be themselves."
After closing shop for a few months at the beginning of the pandemic, Regina applied for small business grants to help support a re-opening. She was turned down by every grant she applied for, until she received assistance from Mercy Corps. The grant helped her with rent and supplies, and she opened her salon doors again to a packed schedule of eager clients. Regina's salon has been so busy that she's hired her 18-year-old daughter to help out. Together, they're imagining what it might look like to expand into a bigger space.
Southern Girl Delights
In 2018, Dorothy Golson spent her savings to open her Southern Girl Delights food cart to bring home cooking to Vancouver, Washington. Born in Birmingham, Alabama and having lived in Georgia and North Carolina, Dorothy has long found comfort in southern food and wanted to share her love of it. Her food cart and catering business had been doing well selling favorites like her pimento cheese sandwich and cornbread waffles until COVID‑19 lockdowns in 2020. When restrictions were lifted, a Mercy Corps grant helped her purchase supplies, renew her business insurance, and bring her part-time employee back on staff. "Small businesses struggle daily to secure customers and afford our expenses," said Dorothy. "And then you add in the environment of COVID‑19. We would not survive without community support and resources. This grant was a lifeline for me."
Sister Products
Joyce McNair is the owner and maker behind Sister Products, a natural body and hair care line that quickly grew from a hobby to a small business. Based in Beaverton, Oregon, Joyce had been making hair oils and body creams for friends and family for over five years before starting Sister Products in December 2020. A year later, she participated in Mercy Corps Northwest's online holiday market where she learned the ins and outs of operating a digital business. "Having a lot of savvy about running a business has really helped me," said Joyce. "When I started, I really didn't know what I needed to know. If I could have come to Mercy Corps earlier, I would have."
Therapeutic Change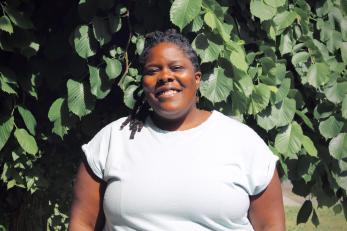 The COVID‑19 pandemic brought an influx of clients to Summer Brown's counseling clinic, Therapeutic Change, with many people struggling with the stress of restrictions, fear, and isolation. As a therapist, Summer had to figure out how to safely offer her services virtually. Not only did Summer have to mentally and emotionally adjust how to best support her clients, she also had to deal with a sharp decrease in health insurance reimbursements from her patients. The Mercy Corps relief grant helped her pivot during this difficult time and she was able to fulfill payroll and help her staff with technological updates to ensure everyone could work from home. Through it all, Summer's positive attitude has been at the heart of her work. "We're all doing the very best we can during this time, so give yourself grace that what you're doing is the most you can be doing at that time," said Summer.
XPresso 2 U
"When anyone starts a business, they go through the phase where they think, 'This is the greatest thing since sliced cheese. Everybody will want to buy my product,'" said Eddy Holford, owner of the mobile café business, Xpresso 2 U. "Then, COVID‑19 hit and that has been a gigantic detractor. I have many more ideas to grow the business, but I've been forced to rethink and revamp the structure for now."
Eddy adapted his business with the help of a COVID‑19 relief grant from Mercy Corps. He created a COVID‑19-safe neighborhood pop-up, which was an instant hit and offered a safe way for the community to gather outside by serving drinks from the back of his custom coffee shop van. "I'm like the ice cream truck for adults," said Eddy. "It's always nice to have an excuse to see people, catch up, and build relationships. It's not just a business in my mind since coffee itself is an action: 'Let's do coffee.' Coffee brings people together and is a reason for interaction."
Dakima Maria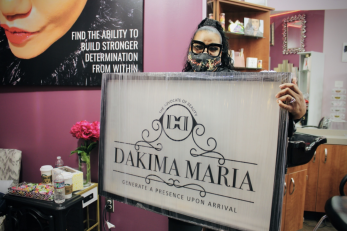 When Dakima Maria opened her eponymous beauty salon in early 2020, her appointment book quickly filled up with clients flocking to her Vancouver, Washington shop. As an entrepreneur, she was in the middle of expanding her hair salon business into a cosmetic and fashion brand—but it all came to a halt during the pandemic. She worried about how she could continue to run her business, until she received a grant from Mercy Corps. Dakima used the aid to pay rent, buy supplies, and continue to fund her cosmetic line. "Mercy Corps has been my angel," said Dakima, who went on to enroll in a small business course with Mercy Corps Northwest.
"I take my hat off to them," said Dakima. "Because I know that what they've done for me, they're doing for other people, too. And we're all striving to get back on track. But the best part is that in classes, we have each other. Education is key to me. Having the knowledge behind what you're doing is so much better than assuming."
Join us in building a more equitable world.