Soccer moves a generation towards peace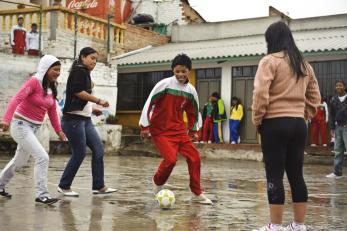 June 25, 2014
As cities erupt with roars of triumph or disappointment this month during the World Cup, we are reminded of the unifying power of the world's favorite sport.
Here at Mercy Corps, we know that soccer is also an incredible healing tool for struggling youth and fractured communities all over the world.
When children are displaced, surrounded by conflict, or recovering from disasters, soccer can bring joy to communities, unite diverse groups of people, and teach youth valuable life skills.
Our Sport for Change programs have used soccer as a positive force to help young people in places like Haiti, South Sudan, West Bank/Gaza, Liberia, Kenya and Peru. By engaging in positive play, they can recover from trauma, avoid violence and learn peacebuilding.
This week, coaches from our Colombia program are visiting our global headquarters in Portland, Oregon. The sports exchange, which is sponsored by the Bureau of Educational and Cultural Affairs' SportsUnited Division at the U.S. Department of State, is designed to build their coaching skills and help them learn new ways to positively impact the youth they work with.
After decades of civil war, many children and youth in Colombia are displaced and struggling or have been recruited into the armed groups that perpetuate violence in their communities. Child soldiers have become all-too-common in the last 50 years of conflict, and youth have few options to escape the cycle of fighting.
"Decades of civil strife have taken a toll on Colombia's youth and torn the country apart. Today there are some 18,000 child soldiers," says Maria Fernanda Cruz, our Program Manager for Women and Children in Colombia.
In partnership with the Department of State and the U.S. Embassy in Bogota, Colombia, Mercy Corps is currently working with coaches in three rural areas of the country to prevent youth violence through a soccer-focused program called Sport for Peace.
We've been using soccer in Colombia since 2007 to give young people a positive outlet — to prevent recruitment into armed groups and help former child soldiers rehabilitate and reintegrate into society.
For vulnerable youth in Colombia, these soccer programs offer a way out of violence and a path to a more peaceful future. In the world's most fragile places, soccer is not just a sport — it's a transformative force in the lives of young people, teaching them leadership skills and healthy ways to handle conflict.
"Soccer has an incredible unifying force that creates a healthy and fun outlet for youth to connect, build their confidence and lead positive change within their communities," says Cruz.
During their Mercy Corps visit this week, the coaches will take part in a skill-building workshop with the Portland Timbers coaching staff, attend a professional match and meet with a variety of local nonprofits that work with youth and the Latino community.
The exchange is just one part of their continued training, which will help the coaches act as positive adult role models in their players' lives.
When they return to Colombia, the coaches will have expanded knowledge and insight into how they can use soccer to positively impact the 1,400 young boys and girls they coach.
Equipped with new information and training, they will be better able to encourage healthy choices, deal with violent behavior, and teach their players conflict resolution and peacebuilding through the game they all love.