Side by side: Fighting xenophobia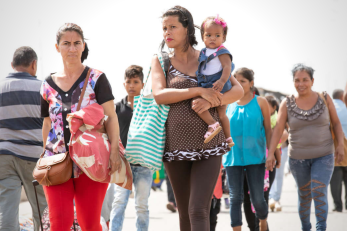 June 10, 2021
Mercy Corps' Colombia team is partnering with Colombian newspaper, El Espectador, on a special awareness campaign called Lado a Lado ("Side by Side"). It includes print and digital stories, social media events, radio, and television ads. Together, we're seeking to change the way people see migrants and to combat xenophobia and prejudice against Venezuelan refugees arriving in Colombia.
Our partnership aims to foster empathy, finding common ground with the challenges and difficulties we all face as humans together, living side by side.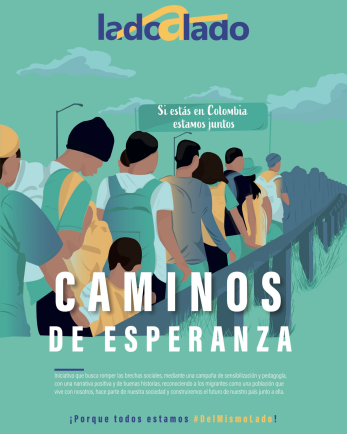 The following is adapted from selections in the original article. You can read the full original article in Spanish on the El Espectador website, which was first published March 5, 2021, by María Paula Ardila.
Crossing borders while female
Of the nearly 1.8 million Venezuelan migrants who have arrived in Colombia, just over 800,000 are women, whose faces, stories, and needs are often invisible.
Crossing borders is more difficult for women. The figures say that women migrate in much the same way as men, but they face dangers that most cannot imagine. 53% of the world's migrant women and girls are unaware of the risks of migration, such as sexual abuse, extortion, trafficking, and accidents during their travels, according to the United Nations.
Mercy Corps has been in Colombia since 2005, working with vulnerable populations through assistance such as cash transfers, supporting more than 21,000 Venezuelan migrant women on their path to move forward.
In their own words
In one of a series of stories called Caminos de Esperanza ("Paths of Hope"), four Venezuelan women who migrated to Colombia spoke with Mercy Corps team members about their dreams, their families, the challenges they faced leaving Venezuela — and how support from Mercy Corps offered them a chance to rebuild. We've shared abbreviated translations of Sofia and Marcelys' stories, below.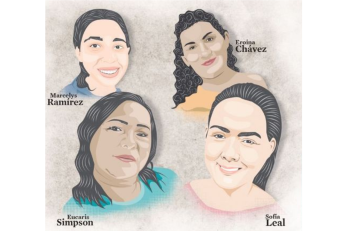 Sofía: teacher turned baker
In Venezuela, I was a mathematics and physics teacher, but I earned very little — they paid me about U.S. $30 a month. So we decided to go in another direction. The journey was quite hard, because I came out in the middle of the pandemic. We traveled overland for three days and crossed a river. I entered here [Colombia] as illegal, because my passport had expired and I could not renew it because our money was not enough for us.
It was a very tough decision... I always said that I was going to stay in Venezuela fighting; it is my country. But there came a point where we couldn't take it anymore. We would leave Venezuela or we would starve.
In Venezuela, I took baking courses because that's my hobby, and with the money Mercy Corps gave me, I was able to start over. I made the decision to make cakes and I've been in my business for three months now. I sell cakes for birthdays, weddings, and baby showers, and small desserts, cupcakes, and chocolate truffles. I hope that my business becomes a little bigger and that I create jobs for two or three members of my family, so that they can come from Venezuela. My dream is to have a dessert sales business where I can display them, and have advertising. I know that little by little I will achieve it.
The greatest lesson from all this is that we must do everything in our power to give our children a better future. I arrived with a suitcase full of dreams, hopes, and a lot of fear and uncertainty. Thank God, I have received help...and they love my desserts.
Marcelys: dreams of her degree
Three years ago I came to Colombia. My husband got a job as a mechanic's assistant, thank goodness. And I [worked] in a family home and later in a spa. I was also selling empanadas, cakes, chips, and patacones. Then I got pregnant and couldn't work anymore; I am 23 years old and I am the mother of an 18 month old baby.
One of the most difficult things we experienced was the day they were going to take us out of the house because we had not paid the rent; that was a very serious thing for us. But thank God I heard about the Mercy Corps organization and they helped me. I was able to pay the rent and we fixed the problem.
I do want to work, but now I can't because I don't have someone to take care of the baby. I would like to finish my degree and find a job to give my daughter a better future. We want to stay in this country because, thank God, it has given us so much. It would be a lie to say that I want to go or return to Venezuela.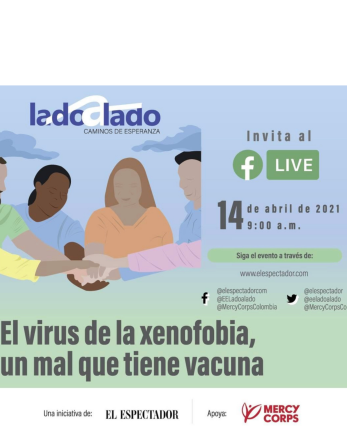 Despite how complicated it can be to migrate, more than two million Venezuelans left their country to other regions of Latin America because they had no other option. Stories like the ones shared in the Lado a Lado campaign serve to increase compassion and inclusion between groups where fear and politicization make a difficult situation even worse.
Learn more by following the Lado a Lado campaign on Instagram @eeladoalado or scroll through the collection of new articles on El Espectador. (Consider using Google Translate for an English translation.)
Join us in building a more equitable world.