Rebuilding Indonesian communities with the help of Airbnb's Open Homes Initiative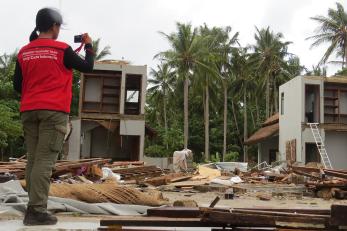 April 05, 2019
It's been almost one year since a string of natural disasters hit Indonesia.
Since a series of five earthquakes affected Lombok over the course of a month.
Since a tsunami and an earthquake struck Sulawesi and took the lives of thousands.
Since a tsunami and an earthquake hit the Sunda Strait, damaging thousands of homes and displacing entire communities.
Immediately after the earthquakes in Lombok, we were able to provide assistance to seven remote villages that received little-to-no government aid for their recovery efforts. Entire villages in Lombok were left without clean water to cook, clean or bathe with.
To date, Mercy Corps has built 261 new latrines, distributed ceramic water filters to increase access to clean water, provided information sessions on improving sanitation efforts, created safe space to provide a chance for survivors to heal from trauma and more.
Over 500 water filtration kits were distributed in affected communities in the Sunda Strait, which gave over 2,000 people access to clean drinking water.
In Sulawesi, field team members were able to bring over 605,000 liters of clean water, as a part of our commitment to bring 1.5 million liters of water to Indonesian communities in need.
The Indonesia field team aims to connect 35,000 people in Indonesia with information on sanitation and hygiene information.
The 122 members of the Indonesia field team work tirelessly to build a stronger tomorrow for the communities they serve, be it through increasing economic opportunities for farmers, improving disaster preparedness or increasing food security. However, when disasters strike, it can be hard for field team members to find safe lodging near or in the communities they serve.
Local lodging allows for team members to be in their communities, ready to help and provide assistance at a moment's notice, without having to travel from somewhere else.
In partnership with Airbnb, our team was able to access safe, comfortable, inexpensive lodging for 26 field team members working in Indonesia. The lodging, provided by local community members through Airbnb's platform, provided field team members a place to sleep, eat, host meetings and share experiences, all while being close to the areas they were serving.
Airbnb, a company that leverages technology to connect travelers with an accommodation marketplace with 6+ million unique places to stay in more than 81,000 cities and 191 countries, has been a partner with Mercy Corps since 2015.
Through their Open Homes initiative, the travel app and their host community is helping communities all over the world rebuild after disaster. Airbnb generously provides us with credits that enable us to access free lodging for field team members.
The residences being used by Mercy Corps are not just empty homes owned by Airbnb, they are homes owned by local people who want to give back to their community by allowing our humanitarian workers to stay in their homes. The owners of the Airbnbs receive full payment for humanitarian bookings.
Genadi Aryawan, the community empowerment director for the Indonesia field team, has stayed in multiple homes provided to him through donated Airbnb credits. He's staying with the Indonesia field team in Rudy's Villa, an Airbnb in his work area. Since Rudy's Villa is in the Sembulan Sub-District area, Genadi has quick, immediate access to the communities he serves.
"With the support from Airbnb, we have a home base close to the intervention areas. As a result, it increases our staff's mobility," Genadi says.
The Indonesia team also includes Water and Sanitation Engineer Raya Aditya. Raya designed the new latrines that are being installed in the Sembulan Sub-District area. According to Raya, the lodging Airbnb has helped provide has increased not only his productivity, but the productivity of his team as well.
"Of course, it brings a positive impact to us. A pleasant and sufficient sleep helps us work harder, make a better work plan to bring greater result," Raya says.
In addition to providing lodging to field team members, many Airbnbs serve as venues for field team meetings and provide a place for team members to talk strategy, exchange ideas and share experiences and stories about their different humanitarian projects.
Nuha, a hygiene promotion officer, benefits greatly from the versatile and varied locations that are available to her through Airbnb. She works with the chiefs of local villages and holds community meetings on topics ranging from water sanitation to proper hygiene practices.
She also stays in Rudy's Villa, which has a restaurant space attached to it, providing meals and a space for her and her fellow team members to connect.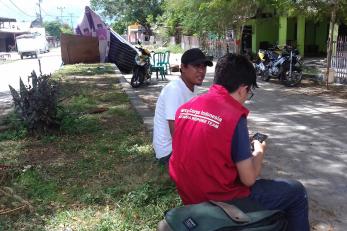 "Rudy's Villa has become a place for us to exchange stories about things that happened in the field, hence it strengthens the team's bond," Nuha says.
Rudy's Villa, located at the foot of Mount Rinjani in Sembulan, was once full of tourists. That changed after a string of earthquakes and subsequent landslides caused the mountain to be closed for tourists' safety.
Despite being the only safe lodging site in the immediate area, Rudy's Villa remains heavily impacted by natural disasters and the closure of Mount Rinjani. The lack of tourists coming through the area means a significant lack of income for the owners of Rudy's Villa.
By staying at Rudy's Villa, Mercy Corps is changing lives on an individual level, in addition to the community level, by helping the owners of the residence and restaurant stay in business.
"Having Mercy Corps Indonesia stay at our place has really helped us to stay in business. Ever since the earthquake, local tourists are no longer coming," says Mr. Ibun, the host of Rudy's Villa.
Airbnb doesn't provide lodging credits solely in Indonesia. They have provided and continue to provide credits for lodging for our first responders all over the world, including in Puerto Rico after Hurricane Maria, in Greece to assist in the 2017 refugee crisis and more.
To date, our partnership with Airbnb has supported 242 of our team members in finding lodging for over 12,837 nights in 42 cities across 11 countries and has helped strengthen the communities all over the world.
Airbnb's mission to create a world where anyone can belong anywhere, partnered with our mission to unite under the belief that a better world is possible, has helped create a stronger tomorrow for thousands of people all over the world. Whether that stronger tomorrow is another day business gets to keep its doors open or if it's the day an entire community finally gets the clean water they've been waiting for.
"Mercy Corps' belief in the intrinsic value and dignity of all people is aligned with Airbnb's mission to create a world where anyone can belong anywhere," said Kellie Bentz, head of Global Disaster Response and Relief at Airbnb. "Our Open Homes program is honored to partner with Mercy Corps as we look to find solutions to help extend belonging to those who need it most."
Help us provide even more support to the people who need us around the world.